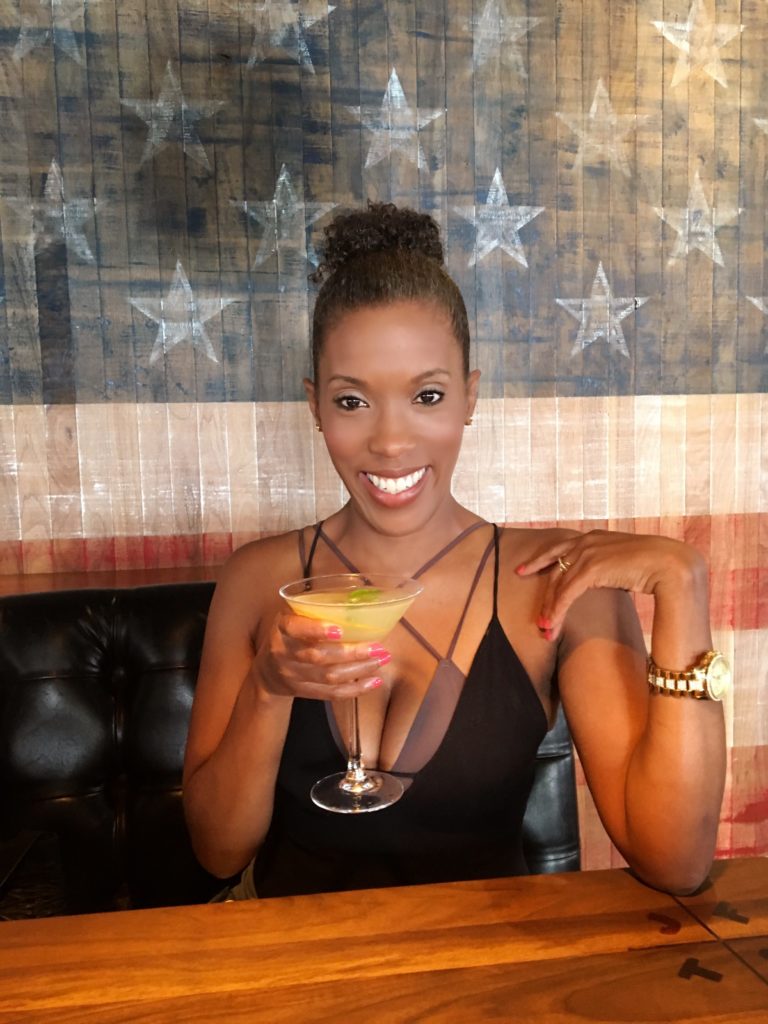 I have expressed many times that I love Jimmy's Famous American Tavern in Woodland Hills.    I usually dine at Jimmy's with my son and daughter, but  when I heard about the newest drink offerings for Summer  I asked a friend to join me.   I love trying new things especially at Jimmy's.
I know my friend  likes to have a cocktail or two, so this was the perfect time to catch up and have a good time.  I just knew she would enjoy this.
I told her we were going to have a couple of drinks, but she was in for a surprise when we arrived and realized that we were trying the new Summer selection.
The Summer selection of drinks include.
Summer 17' Cocktails:
The Pearfectionist – Tito's Vodka, Absolut Pear Vodka, Pear Nectar, Agave
SoCal Sour – Bulleit Rye, Lemon and Orange Juice, Diseño Malbec
Summer Sunrise – Ketel One, Blood Orange Juice, Blood Orange Liqueur, Sparkling Float
Blackberry Sangria – Troublemaker GSM, Sacred Bond Brandy, Schnapps, White Grape Juice
Peach Sangria – Simi Sauvignon Blanc, Sacred Bond Brandy, Peach Puree, Peach Schnapps
Classic Sangria – Simi Sauvignon Blanc, J-FAT Homemade Lemonade, Sacred Bond Brandy, Razzmatazz & Peach Schnapps
These cocktails are available at all Jimmy's locations.
This was all foreign to me because I do not drink.  My friend on the other hand conversed with our server about every drink as we sipped.    I thought okay…I brought the right person.  They included me in the conversation so I could learn a thing or two.
The drinks were made to perfection.  We put the bartender to the test because he made my friends drinks as he normally would, but for a non drinker he had to go a little light.
As the tasting of the first round began and I was enjoying the fizzle of the Summer Sunrise.   I began to think,  "This is not too bad."  As we waited for our next round  we decided to order calamari.  This calamari is always a hit.  It definitely went well with our drinks.  Honestly, everything taste good with our drinks.
As the cockails were brought to our table we could not help but notice how appealing they were to the eye.  The colors of summer stood out through the clear glasses. Some of the glasses were a little different.  We fell in love with the glass the SoCal Sour came in.   The first time my friend placed her drink on the table she thought it was spilling over.  When we discovered she could lightly push it and it would not spill we continued to do it.  We were definitely impressed.  The glass was not the only thing she liked.  Of course she loved the drink.
As we sipped on drinks like the Blackberry Sangria we then ordered dinner.    We were surprised to learn there was a summer menu at this location with several new options.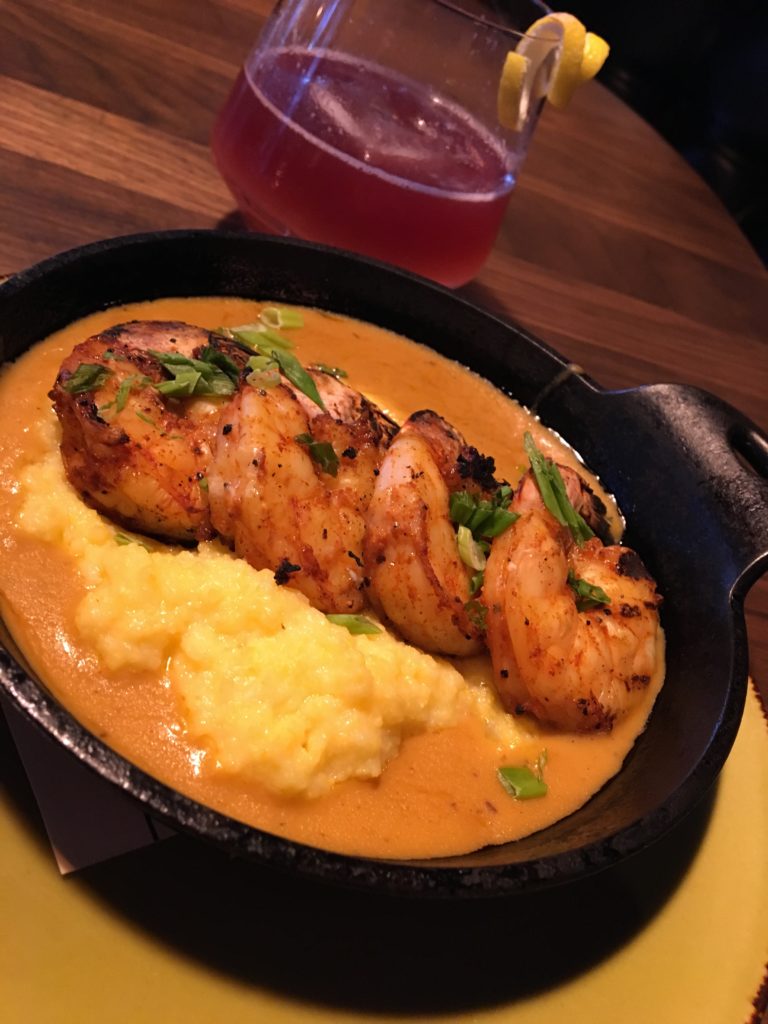 My friend ordered shrimp and grits and I ordered BBQ chicken with coleslaw and cornbread.  We also had a small order of mac and cheese.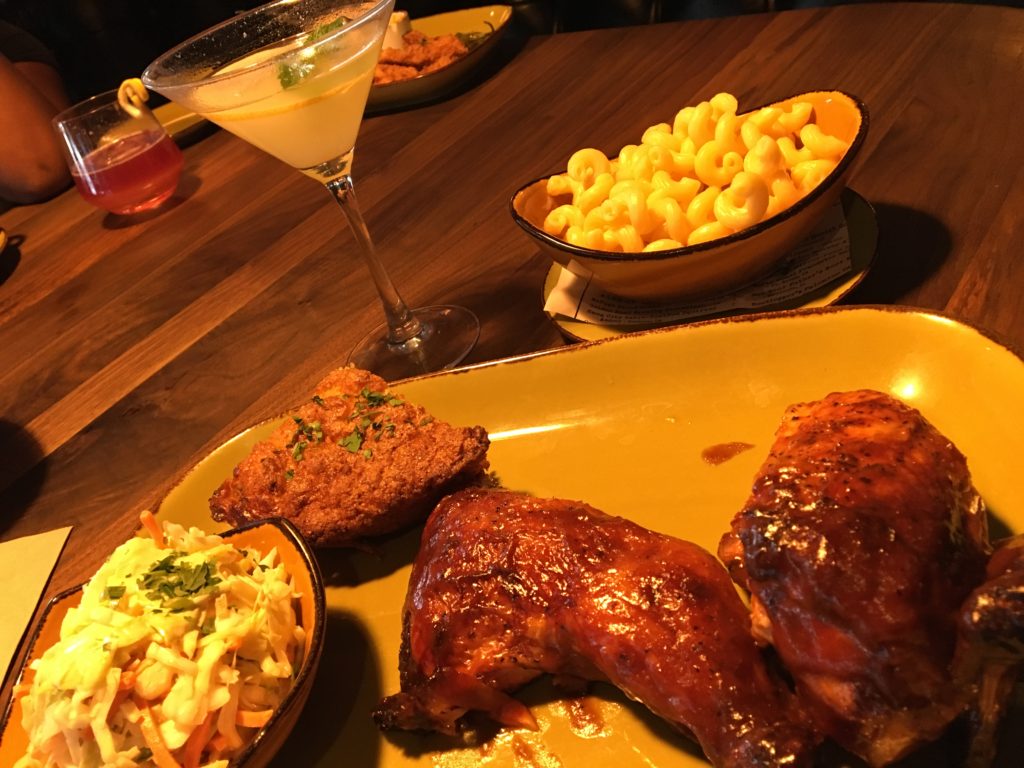 Inviting her  to taste these summer food and drinks with me was so enjoyable.  We were able to catch up over this new Summer menu.  We laughed and talked with one another.  A few times our server joined in.   It was fine, because I feel like I know him.    I always sit in his section every time I dine here.
Summer is in full swing and it is not too late to try the new Summer selection at Jimmy's Famous American Tavern.