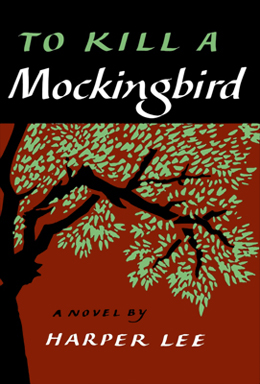 The last time we wrote about books, it was to provide a gift guide just before Christmas, full of the kinds of suggestions that might work for anyone on your Christmas list. This time around, we want to take a slightly different approach, and instead delve into classic literature.
Why, you may ask? Well, because a ton of people actually start the New Year focused on reading more! Statistics actually show that "read more" is the fifth most common New Year's resolution (after eating healthier, getting more exercise, saving more money, and focusing on self-care). And, if you're determined to read more and broaden your literary horizons, what better place to start than with some of the all-time classics? Okay, so you might want to mix in a few modern page-turners like Artemis, the new book by The Martian author Andy Weird, or the new Dan Brown book, Origin. But you should mix in some classics as well, and these are a few of our suggestions.
To Kill A Mockingbird by Harper Lee
To Kill A Mockingbird is a Pulitzer Prize-winning novel and a classic depiction of the South in America. While it touches on some difficult subject matter (namely, racism and sexual abuse) it is also an iconic tale of courage, and one that's packed with a surprising amount of humor. To Kill A Mockingbird was made newly relevant when a lost manuscript for a follow-up was published in 2015. That follow-up, Go Set A Watchman, was not as impactful – but To Kill A Mockingbird remains a classic, and is even at the top of the list at Goodreads (arguably the premier online destination for reading advice) of popular books everyone should read.
Don Quixote by Miguel de Cervantes
There is truly no consensus best novel of all time. But Don Quixote appears at the top of lists on this subject about as often as not. Essentially a sprawling satire on the age of chivalry, it is a massive novel, and a fairly serious endeavor for any reader – but one that's well worth the time.
Hamlet by William Shakespeare
Hamlet is technically a play, as are all of Shakespeare's books. But if you never read much on your own and 2018 is your year to pack in some classics, you should certainly read something or other by the man many believe to have been the greatest writer who ever lived. There are dozens of options, but Hamlet is one of the easier and more engaging reads, as well as one of the most frequently quoted (alongside perhaps Romeo & Juliet and Macbeth). To learn Hamlet – a tale of love, betrayal, and political strife – is to understand the best of Shakespeare.
Dracula by Bram Stoker
Dracula is a good choice for this list because it can seem somewhat more modern than many of the other books here. Universal released a film just a few years ago called Dracula Untold, and the studio also partnered with NetEnt to put a video game online in recent years. Proclaimng that "the vampire king returns" in this game, it offers a creepy atmosphere and modern graphics surrounding traditional Dracula narrative elements. The book itself though is still worth reading. Despite dating back to 1897 it still feels like a piece of modern gothic horror in ways, and it's an iconic piece of literature. For pure entertainment, too, it's about as good a choice as there is on this list.
The Great Gatsby by F. Scott Fitzgerald
The Great Gatsby, like Dracula, might feel a little more modern than it otherwise would thanks to a fairly recent movie. Baz Luhrmann took a bold approach to bringing the novel to like, and installed Leonardo DiCaprio in the iconic titular role. The book is still worth a read, however, not least because it's actually very quick to get through. Some would argue the plot is straightforward or that the symbolism throughout is a little blatant. But this is as close to a definitive "Great American Novel" as there is, and Gatsby himself is a character any literature fan should be familiar with.
Moby Dick by Herman Melville
Moby Dick is probably one of the more misunderstood books that makes it onto lists of classics. It's a massive volume, and its mere status as a classic that can run over 700 pages (depending on the version) can make it look dry and uninviting. The truth, however, is that Moby Dick reads like a combination between a fable, a fantasy tale, and a standard adventure story. It's definitely long, and has its slower parts, but it's a surprisingly fun read also.
"Want to showcase your product to my audience? Then check my advertising options."  Click here.