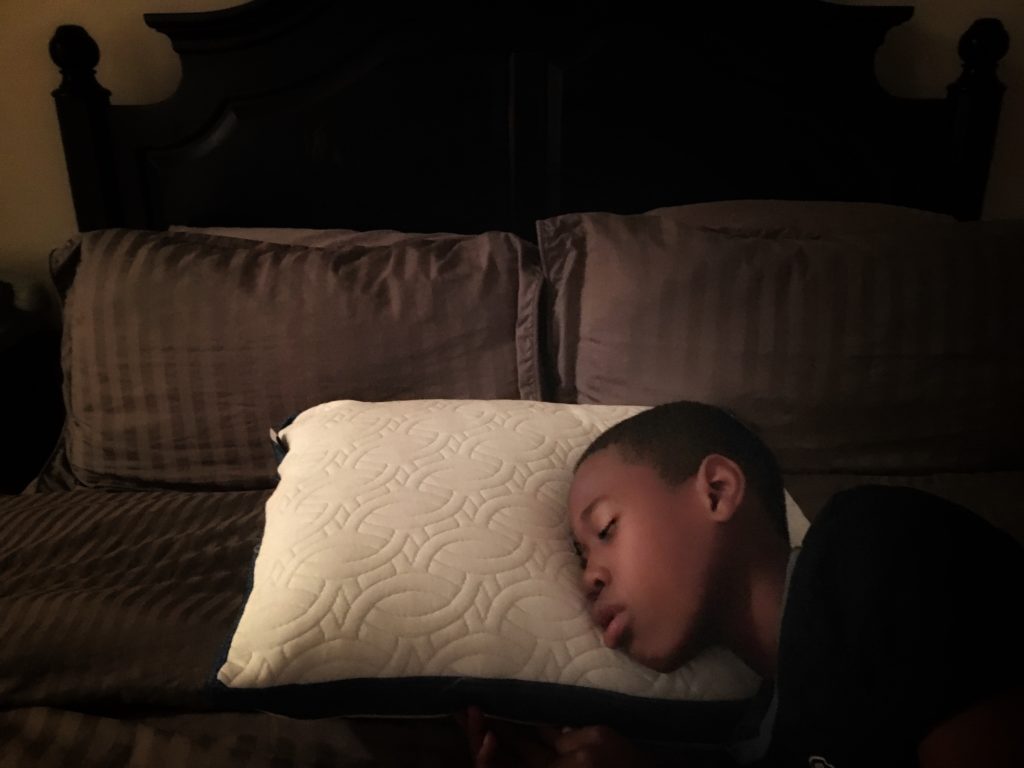 Everyone in our family has a comfy pillow except for my daughter.  For the past couple of years she has been asking for a memory comfort pillow.  She is going to be surprised when she opens her new Tanda pillow.
Periodically she complains about being sleep deprived.   A lot times when I speak with her, the first thing she says is, "I did not sleep well last night. " It has gotten to the point that when I speak with her I immediately ask, "How did you sleep?"
Things are about to change with her new Tanda pillow.
This comfy pillow is recommended by sleep specialist Dr. Robert S. Rosenberg, author of The Doctor's Guide to Sleep Solutions for Stress & Anxiety, the plush pillows feature breakthrough ATROS cooling technology that is scientifically proven to help induce sleep.  The new technology, also featured in the Tanda mattress that is setting new standards in the bedding category, taps into research that reveals that the cooler the environment, the better the sleep.  The new pillow pulls cool air the room and transfers it to the body for an overall cooling sensation.  The pillow's Opti-Breeze foam and distinctive technology offers cuddly, cooling comfort for a restful sleep and an end to the search for the cool side of the pillow.
This is perfect for my daughter because she says her head feels hot sometime.  She kind of a hot head….  Seriously she does say that her head gets hot.  She is not in menopause.  Her head just gets really hot at times. This pillow will be perfect for someone that is going through menopause, especially during summer months.  When you are going through menopause everyday feels like summer.
Just yesterday, my daughter swore she had a fever and needed.   I do not know what she did.  When I was speaking with her I did not think that her new sleep foam pillow will be of great help.  If I did remember I would have given her gift early.  I am happy I did not remember.  There is a running joke in my family about how bad I am at gift giving.  I always give everyone their gifts early  if I find that they need it.  
I am sure the combination of  revolutionary fusion of memory foam and innovative cooling technology will ensure my daughter will rest comfortably.

Since I am gifting this to my daughter I took it out of the package to test it out for a minute or two.  My son and I agree that this pillow is very soft and is a big memory foam pillow.
I am confident this will aide her in a good nights sleep. The Tanda pillow has many foam pillow memory benefits.
This is the perfect holiday gift for someone that is sleep deprived and/or are looking to sleep in comfort.