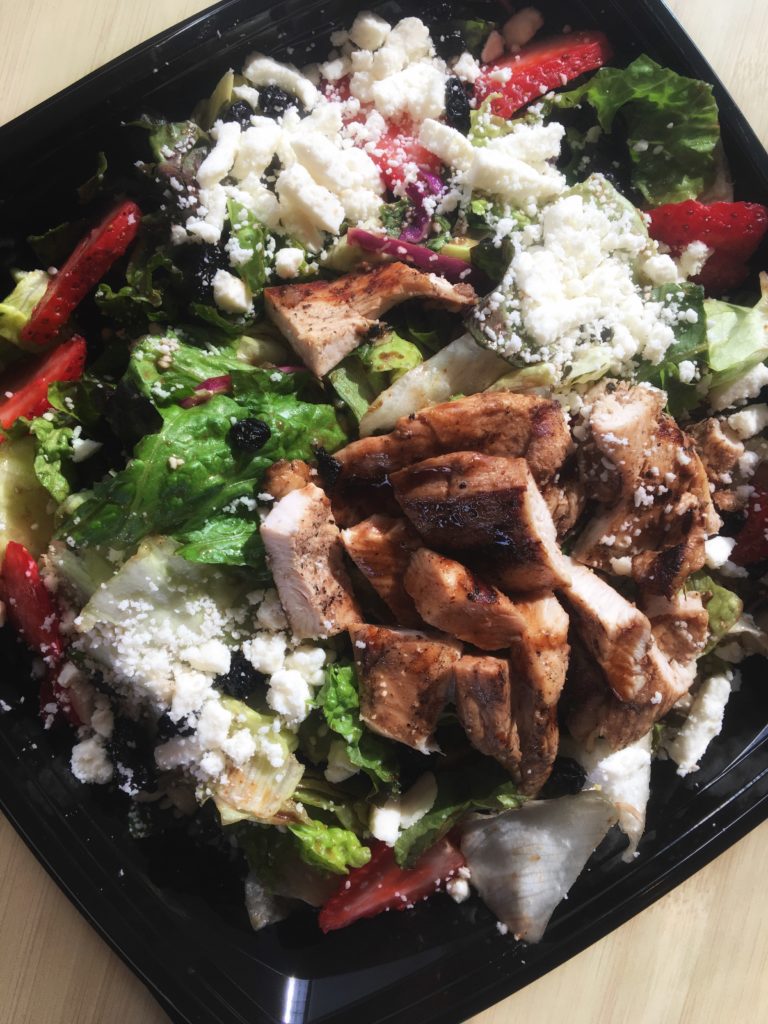 It had been years since I dined at The Habit.   After hearing The Habit Burger Grill has brought back the fan-favorite Strawberry Balsamic Chicken Salad this summer; I had to try it.
I do not eat beef and I had only eaten the chicken sandwiches at The Habit.   I was looking forward to trying the Strawberry Balsamic Chicken Salad because this would be another option for me.  Sometimes I want to eat fast food that's healthy, also or  I just want to eat low fat fast food meals.
The Habit's Strawberry Balsamic Chicken Salad features a refreshing blend of perfectly seasoned chargrilled chicken breast atop a bed of hand-cut garden greens with fresh sliced strawberries, dried blueberries and feta cheese crumbles, tossed in a house-made strawberry balsamic vinaigrette making for a delightful option for any summers day.
This is definitely the kind of salad I like.  It kind of reminds me of salads I prepare at home.   I like this one because I do not have to prepare it and of course I love that is so delicious.
My son and I actually dined at The Habit on his birthday.  It feel on a weekday and we had plans to celebrate over the weekend.  After a day of activities we stopped by The Habit and ate dinner.
I had in mind to only eat the salad, but as I stood in line I could not resist ordering  a chicken sandwich and fries as well.  My son and I shared all of this.  Hey,  it had been years since I had eaten here and I wanted to eat everything.  My son had never eaten here before.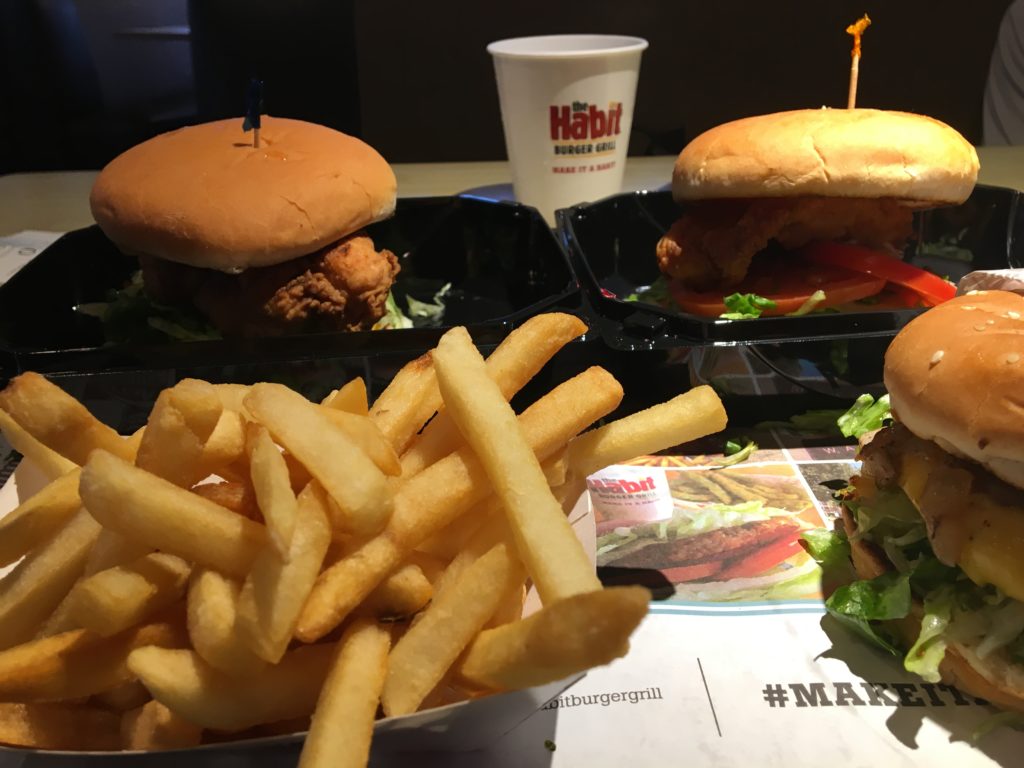 I only tasted a small portion of the chicken sandwich and fries.  I had forgotten how good the food is at The Habit.   It satisfied my craving.
My salad was so delicious and filling in a light  kind of way.     The portion size was actually perfect for the two of us.  I shared some with my son although he had the sandwich and fries. He insisted on eating his salad first and then everything else.
Our salad was tossed.  We were given the option to have the dressing on the side.  I wanted to make sure the dressing was on every piece fruit and vegetable.
Like I said, it had been years since I had eaten at The Habit.  While we waited  for our food I was quickly reminded that The Habit is not like your typical fast food restaurant.  They offer great service and food.  I usually do not order salads at fast food restaurants.  But, this was definitely an exception.  It was good to see  the chicken was chargrilled right there on the spot and not taken out of a freezer and microwaved.  The lettuce and fruit were fresh and crisp and I loved the dressing.  I should have asked for a small amount of feta because I like the taste, but I always want to taste just a hint of it.   There was nothing we did not like about the salad.
We enjoyed are meal so much that we have returned since our last visit with my daughter.   Thanks to the Strawberry Balsamic Chicken Salad we are eating at The Habit again.  It has been a hit with my family.  I like that the prices of the food are so reasonable and I can stop looking for healthy foods to eat at fast food restaurants. The Habit has it.  The limited time special is available now through summer at participating Habit Burger Grill locations, and is priced at $7.75.