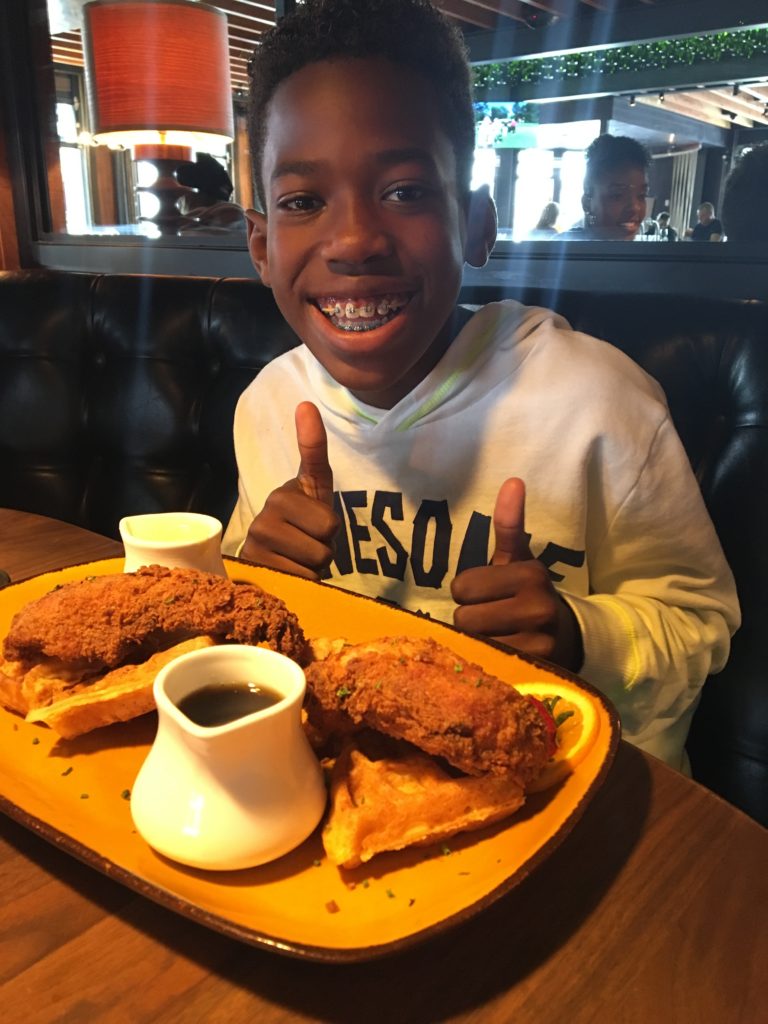 My son finally got try the Buttermilk Fried Chicken and Malted Ale Waffles at Jimmy's Famous American Tavern in Woodland Hills at the Village.   This was a big deal because when we dined at Jimmy's  for dinner he tried ordering chicken and waffles.  We did not know chicken and waffles are only served during brunch.   We were okay with that because that gave us a reason to dine at Jimmy's again.
I did not have to ask him if he liked his meal because he literally devoured it.   I had contemplated asking him if I could taste it, but I was too slow.  By the time I got around to asking, it was gone.  Now I am curious about this dish.  Clearly, it is something I need to try.
Prior to our brunch date we had dined at Jimmy's for dinner and were not disappointed.  Now it was time to see what they have to offer for brunch.  Jimmy's now offers brunch Saturday and Sunday 10:00 a.m – 3:00 p.m.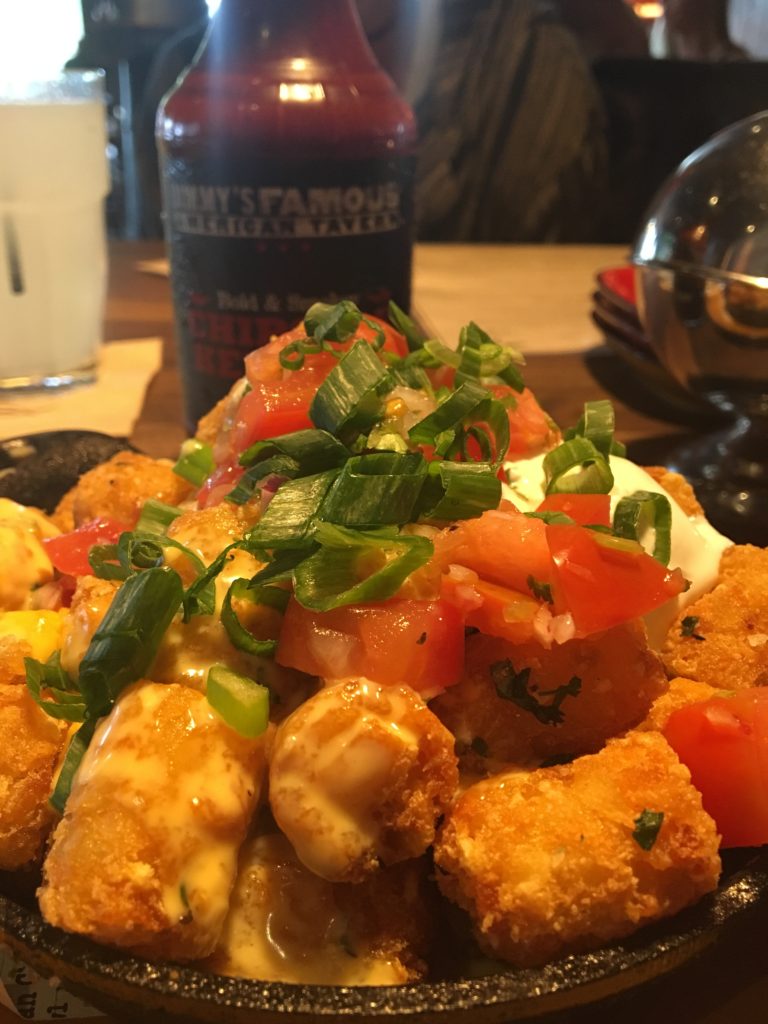 My son was the only one that knew what he was ordering.  As we looked over the menu we decided to start with Tots.  These are not like ordinary tots.  We chose to have them topped with sour cream, salsa fresca,  and cheese.  I am not sure if we were told they are called tatchos, but that is what we started calling them.  I could not eat just one.  They were so delicious.  Have you ever had something so delicious you could eat it all and everyone else at the table is thinking the same thing, but you do not want to be the one to hog it?  Well, that was me.  I did not eat them all or eat more than everyone else.  Trust me I wanted to.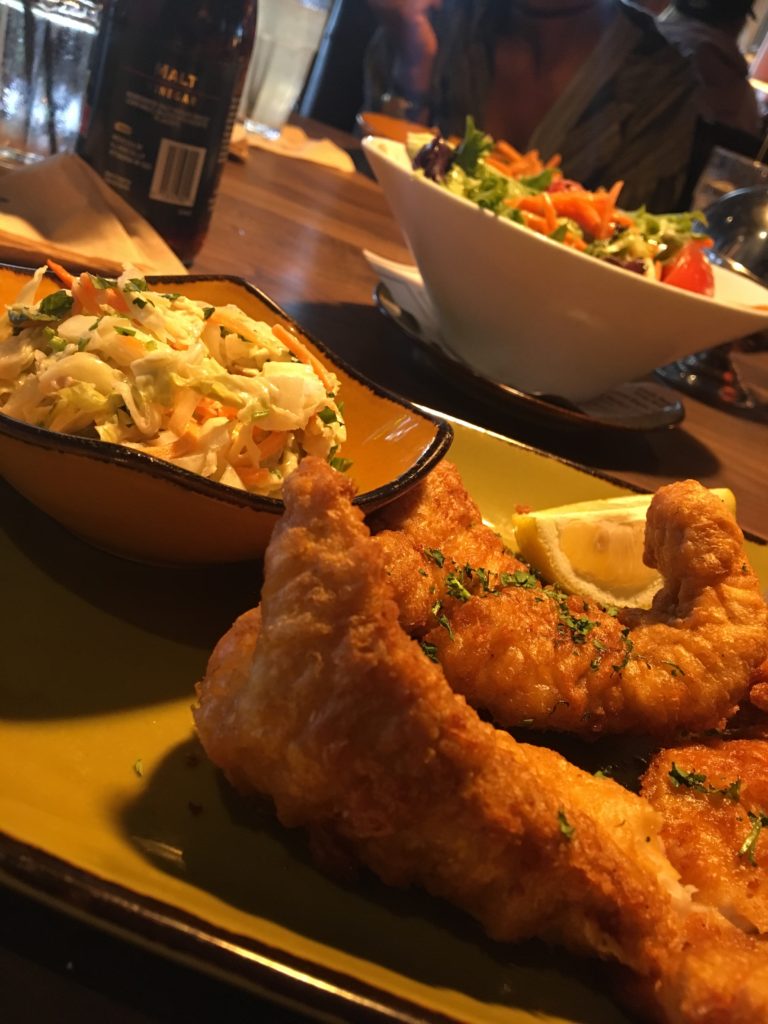 It was okay that I did not sample my son's meal, because I ordered the Ale Battered Fish and Chips.  I actually substituted my fries for salad.  French fries are my favorite food, but I decided to go just a little lighter although I was eating fried fish and had just eaten tots.  I love fried fish and do not eat it often so this was a treat.  It did not help that the fish was fresh and perfectly fried.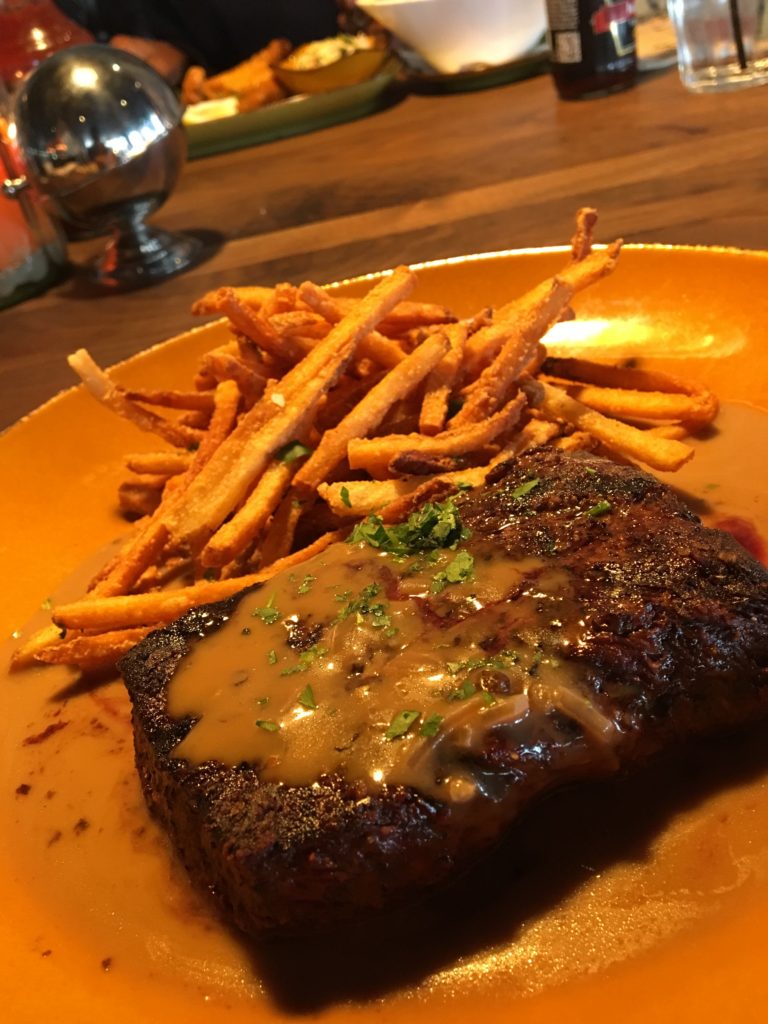 My son and I ordered from the brunch menu, but my daughter was craving steak so she ordered from the dinner menu.  The chef gladly obliged her and allowed her to order the Tavern Steak.    She just started eating steak recently, so getting a good steak while dining out allows her to see how it should taste.  She was very pleased.  It soothed her craving leaving her wanting more for the next time we dine at Jimmy's.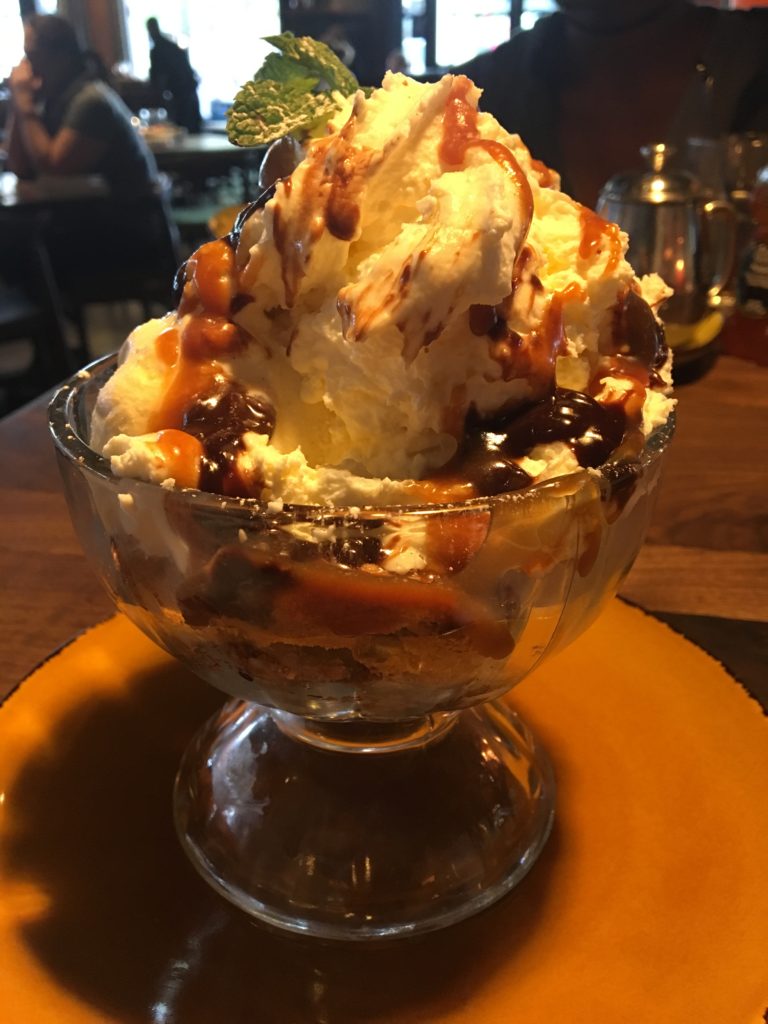 Believe it or not we saved room for dessert.   We decided to try the Jimmy's Old School.  This was the perfect dessert for us, because we love warm cookies and ice cream.    This is not just a simple ice cream and warm cookies.  This is Warm Chocolate Chip Cookies, Vanilla Bean Ice Cream, Hot Fudge, Whipped Cream & Roasted Peanuts that serves two or more people.    This was the perfect size for the three of us.  We could have shared with one more person.  Like everything we have eaten at Jimmy's we liked this as well.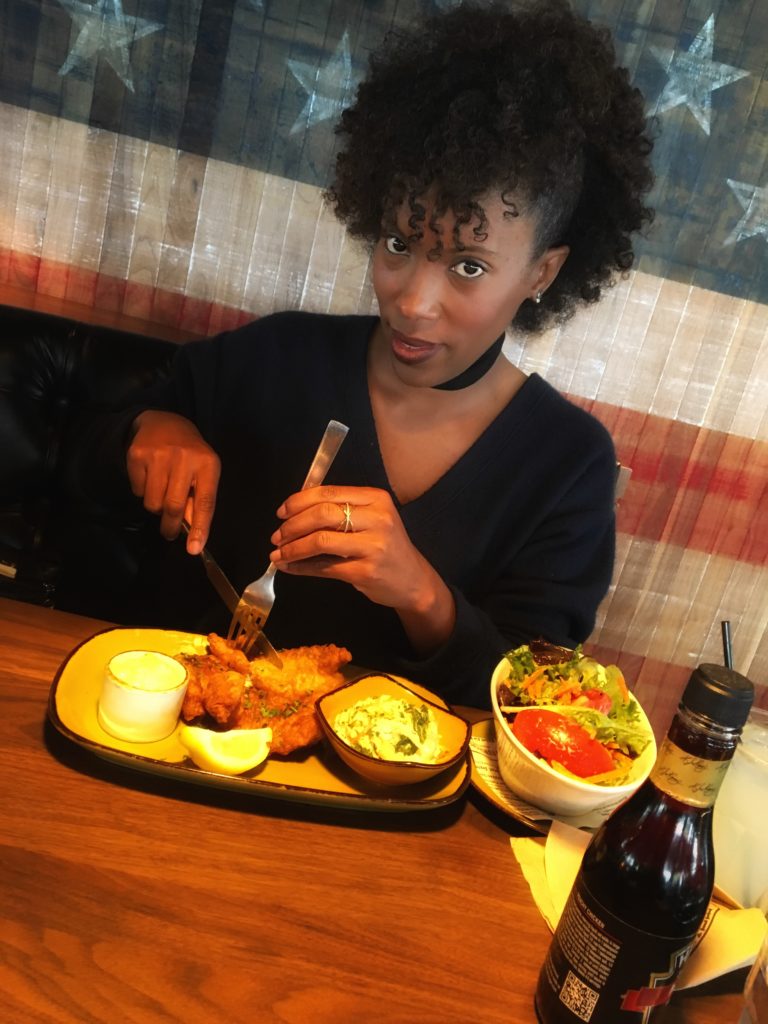 Dining at Jimmy's is not a quick in and out experience.  It is one of the best brunch restaurants.  With all of the delicious food, good music, friendly staff and great atmosphere we could have filled up all of the brunch hours, but my son had to rush off to a birthday party.   We always have a wonderful dining experience here.