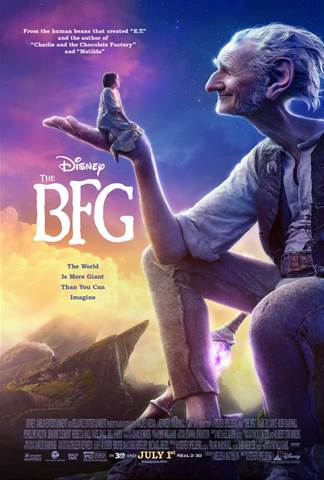 The BFG will be in theaters on July 1st!
Prior to attending a screening for the film I knew my daughter read BFG as a child and really liked it.   I did not expect to see the movie and love it, although I had seen the trailer a few times.
The movie begins with orphaned Sophie being taken away from her orphanage by a Big Friendly Giant.   As BFG escapes with the child they travel quickly through a beautiful land of darkness and colors.  When they arrive in his cave like home it is apparent Sophie can hold her own and she realizes the giant is not a scary giant out to harm her, but is friendly and kind.
Not only his he harmless he is dream catcher.  I instantly thought of the many questions I had as a child or questions my children have had about dreams. "Where do they come from?"  "Was I dreaming?"  "Are dreams really real?"
Although, he has this great ability he has to deal with man eating giants that have been invading the human world and bullying him.  Of course he and Sophie set out on an amazing adventure to deal with the other giants.  While on this journey Sophie's strong personality and the developing bond between the two allows the BFG to see he can handle the giants.  They bring out the best in each other.
Sophie learns that she can dream and good things will come her way.
The unlikely friendship is heartwarming.
When I asked my son what did he learn from the movie he said, " I learned that everyone can be brave and don't judge people."
The BFG is a must see film for this summer!  There is nothing I did not like about this film.
Disclosure: Sponsored post.