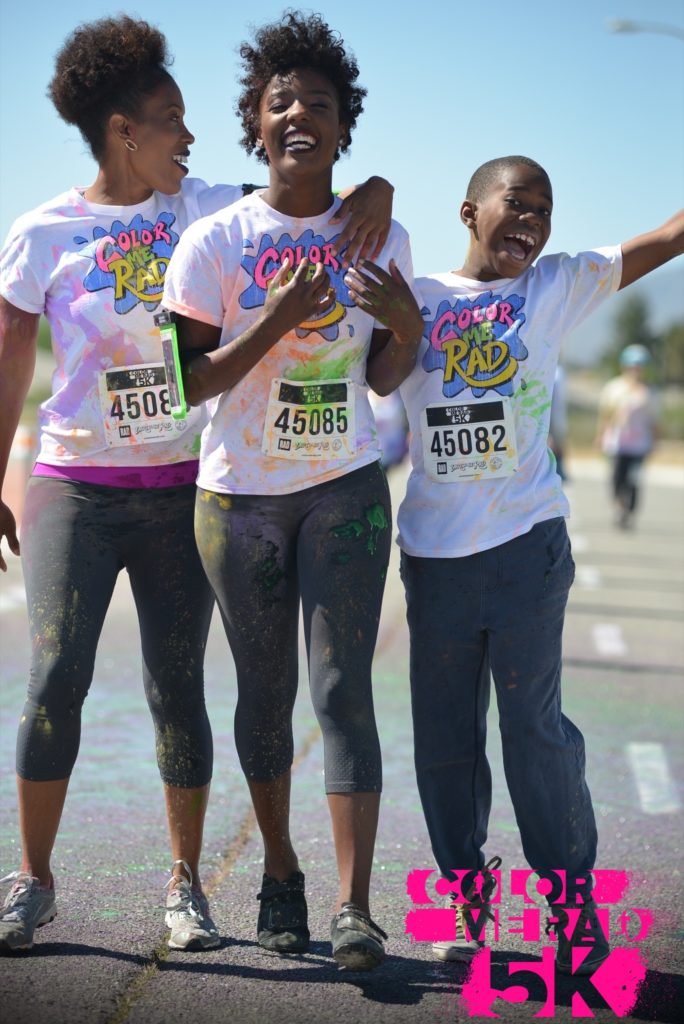 This was my family's first time participating in the Color Me Rad 5k in Lancaster, CA.  We have participated in similar races and we were excited about this one.
The Color Me Rad 5k is a race I will never forget.
When arrived we noticed there were not very many people.  As we were checking in I asked the young lady if we should hurry for our wave.  She told me there was another wave in 15 minutes.  We decided to go for the later time and take some items back to our car.  Which was a short walk.  When we returned we had 5 minutes to spare and to our surprise no one was there.  What happened to the next wave?
We walked aimlessly around looking for the other racers.  No one seemed to help.  Finally, someone told us which way to go.  As we finally got into the race we saw two women in tutu's.  YES!  we were finally in the race.
Our Color Me Rad race experience:
As we approached the first station they missed throwing color on us.  They were busy with the two tutu's.
A couple of stations missed us because they were throwing color on each other or themselves.
We could not find the slime station.  No one had slime on them. (We were slimmed with a gun at the beginning of the race)
We got a cool shirt and phone holder.
We made the best of the race, in which we walked the entire race and just enjoyed each others company.
Despite everything we were happy to receive our Color Me Rad pictures.
Disclosure:Product/compensation was received in exchange for post.