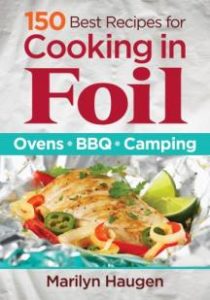 I will never run out of foil recipes with my new 150 Best Recipes for Cooking in Foil: Ovens, BBQ, Camping
cookbook.   When I was in college my roommate introduced me to foil packet meals and it has been something I have loved to do.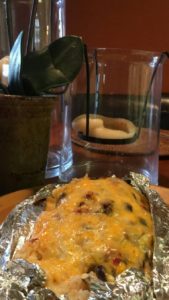 Last week I decided to make a Santa Fe Chicken and Rice dish that I found in my new cookbook.   It was very simple to prepare.  The only thing that I did make two changes. The recipe said to bake in a preheated oven for 15-20 minutes or until chicken is no longer pink inside.   It took my chicken about an hour to fully cook.  I waited until it was moist and tender.   The other change I made was, I substituted canned corn with frozen corn.
Sante Fe Chicken and Rice Recipe
Preheat oven to 425 f
4 double sheets heavy duty-foil, top sheets sprayed with nonstick cooking spray
1 can (14 to 19 oz/398 to 540mL) black beans, drained and rinsed
2 cups frozen corn kernels
1 can (10 oz/284mL) diced tomatoes, drained
1 can (4 1/2 oz/127 mL) diced green chiles
1/2 tsp ground cumin
4 boneless skinless chicken breasts (each about 4 oz/125g)
2 cups cooked rice
1/2 cup shredded Mexican cheese blend
In a medium bowl, combine beans, corn, tomatoes chiles and cumin.
Place a chicken breast on each prepared foil sheet.  Spoon bean mixture over top, dividing evenly.  Arrange rice around chicken.  Fold foil into tent-style packets and seal edges tightly.  Place packets on a baking sheet.
Bake in preheated oven for 15 to 20 minutes or until chicken is no longer pink.
Remove from oven and open packets with caution, allowing steam to escape.  Sprinkle with cheese and loosely close packets, without touching cheese.  Let stand for 2 minutes or until cheese is melted.
I liked that this recipe did not require a lot of seasoning.  The dish was pretty flavorful and my family liked it.  M son wanted to add lots of cheese, because it added to the flavor and he also loves cheese.   I can see where someone may decide to lightly season the chicken,  but we liked it this way.  Lord knows I need to stay away from salt.
Cooking in foil is:
quick and effortless
easy to store and transport
perfect for busy people
moist and flavorful
150 Best Recipes for Cooking in Foil has recipes for breakfast, lunch, dinner side dishes and desserts.  I will be looking for a new dish to prepare next week.
Disclosure:Product/compensation was exchange for review.