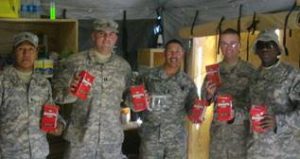 May is Military Awareness Month!   Community Coffee Company's Military Match program has helped Americans across the country send more than 4.2 million cups of coffee to active-duty personnel worldwide for over a decade.
When customers purchase 4 bags or boxes of Community Coffee online, the company doubles each order, donates a Signature Military Mug and sends them to any APO/FPO address provided.
How it works:
STEP 1:
BUY 4 – Buy your favorite Military Match Set of four 12 oz., 16 oz., or Single-Serve 18 ct. coffees.
STEP 2:
GET 4 FREE – They will match your purchase with an additional four items, and send all eight items to the APO/FPO or military base address you provide.
STEP 3:
A FREE MUG! – They will even include our Signature Military Mug with your shipment.
"The Military Match program gives us an opportunity to boost the morale of those who give the most to our country – the men and women of the U.S. military. While they're serving, away from their family and friends, we can now offer them a taste of home every day."
– Matt Saurage, 4th Generation Owner
After watching this video I was moved by Community Coffee Company's desire to help others especially by sending care packages for military overseas.
They are so generous they are giving me the opportunity to giveaway three blends (in ground or K-Cups) to one lucky winner.  The winner will be able to choose the blends they'd like to receive in K-Cup or ground.
Disclosure: Product/compensation was received in exchange for post.