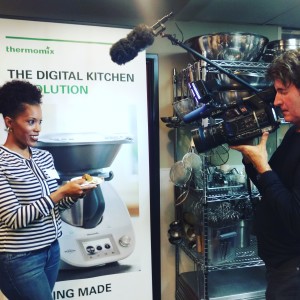 Thermomix has made it's way to the US and I need one in my life!
Last week I was able to see how Thermomix can change the way we cook.   It has many functions that will allow any chef, cook, someone learning to cook or homemaker to prepare amazing dishes at ease.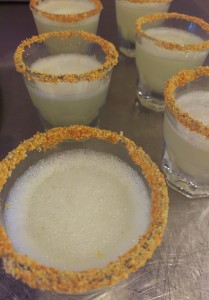 Before I saw any of the demonstrations I was greeted with a Margarita that was prepared in a Thermomix.  I do not drink, but I decided I would sample it anyway.  I usually do not like any alcoholic beverage, but this was delicious.  I began to think someone just prepared this very well.  That is true, but as I sampled a few things I began to think maybe the actual product had something to do with it.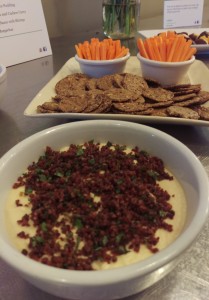 While sipping on my drink, I sampled the hummus.  They could have just given me the entire bowl.   It was also delicious!   As I stood telling myself not to devour the hummus, others were raving over the avocado soup and caviar.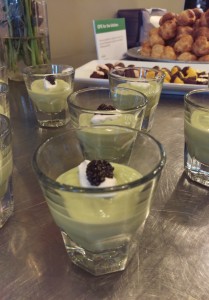 Sampling these items left me with much anticipation.  I could not wait to watch the Thermomix demonstrations.  With the help of  a Thermomix representative, I and  two other people made Chiken Garam Masala in less than 30 minutes.   Please note everything was chopped and diced for us in advance.  All we had to do was follow the recipe and let the machine do the work.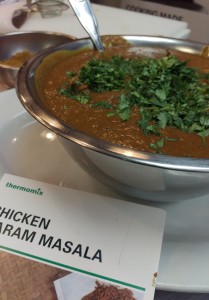 As we added in the ingredients I could not believe my eyes, especially when it cooked the chicken in lightening speed.  I may be exaggerating, but it was fast.   Like the other dishes  the Chicken Garam Masala was delicious also.
It is close to impossible to make a bad dish when using a Thermomix.  I was impressed by the following:
It offers users the combination of digital ease-of use and healthy cooking.
It has close to 200 recipes in it's data base, recipe chips.  (There is also an online community with over 2000 recipes)
The recipes are available at the touch of a button. (Guided Cooking)
It is touchscreen and single selector.
The motor has speeds up to 10,700 rpm
It has the function of 12 appliances in one.  (Mixing, steaming, weighing, blending, stirring, grinding, emulsifying, whisking, kneading, cooking and chopping)
It has a scale
Initially, I was a bit intimidated by the appliance, but when I discovered all of these wonderful features I began to think if I had one of these at home I would be fine.  I would not begin with my own recipes, but rely on the recipe chips until I am comfortable.
I was definitely impressed by the capabilities of Thermomix.  It would save me a lot of time, while enjoying new and old recipes.   I loved the simplicity and accuracy of it all.