My daughter can now stop asking my mother every few months for the biscuit recipe that has been in our family for many generations, because I will have Lily & Val's Keep Sake Kitchen Diary .
Lily & Val's Keepsake Kitchen Diary is the perfect combination of memories and recipes in one place! There really is no other cookbook like it. The company has combined a recipe keeper with a journal to record the precious memories, moments, and stories associated with food. In addition to being functional, the book is beautifully and thoughtfully designed.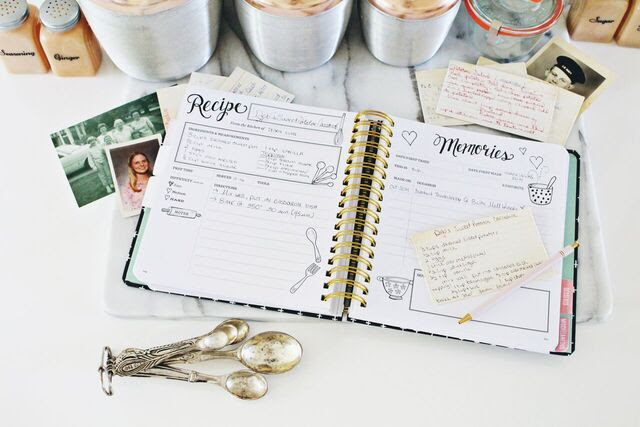 The Keepsake Kitchen Diary includes these unique features:
Thoughtful organization with room for up to 200 recipes
Divided into 6 sections: starters, soups/salads, main courses, side dishes, desserts and miscellaneous
Pockets included for storing photos and special tokens
12 tear-out recipe cards to share
Beautiful hand-drawn illustrations
Durable binding and coated covers to protect from light spills
I cannot wait to get my new Kitchen Diary.  I have found and created many great recipes on my own, but there are many recipes  in our family and I wish I had them written down.  Aside from that my son loves to cook and my daughter has just decided a month ago that she should really learn to cook.  They both get excited when they know they are preparing a meal, side dish or dessert that has been in our family for years.  Having this cookbook will allow us to have so many great recipes documented and they will be passed down to future generations.
This cookbook makes a great gift for family and friends that want to pass recipes and traditions down to the next generation. Lily & Val also has a large selection of handmade greeting cards, gifts and is the premier chalk art brand responsible for the ever-growing trend of chalkboard prints!
Disclosure: Product/compensation was received in exchange for post.