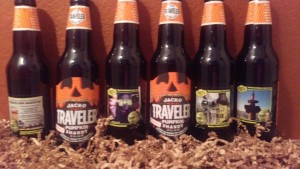 My daughter who is a pumpkin lover, could not have turned 21 at a better time.  Just as she turned legal age, the weather changed as well.  During this time of year she eats and drinks almost everything pumpkin.
Now with fall officially upon us, 

her

choice of beverages tend to change right along with the clothes

she's 

wearing.  
After developing a cult following in select states last year, Traveler Beer Company's much-anticipated pumpkin Shandy, Jack-O Traveler, is now available for the first time ever throughout the U.S.
Unlike other pumpkin-flavored beers, Jack-O Traveler is a seasonal craft Shandy made with real pumpkin and delicious autumn spices. Representing the darker side of shandy, Jack-O is deeper in color and is the perfect combination of bright refreshment and seasonal spice. 
This beer

is

not like any other or at least I think

so.

When the beautiful package arrived containing the beer I instantly smelled a combination of pumpkin

, spice

and beer.   My daughter immediately placed a b

ot

tle the freezer, mind you she does not drink beer.  She wanted it to get cold quickly so she could try it.  She has had one beer in her life time and was convinced she did not like beer.  After her beer was nicely chilled she popped open the bottle and drank what she describes as delicious, refreshing and a bit strong.  Strong in a good way.  
Yesterday, I opened the refrigerator to find that another bottle had been opened.  She had another one.  It had been some days afterwards so do not think she is drinking a lot.  She has now asked me to save

some

bottles so a few people can try it.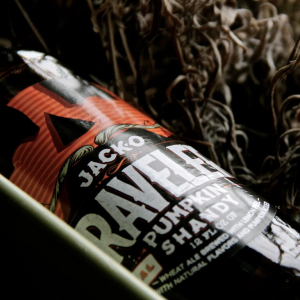 Inspired by the old European pub classic, The Traveler Beer Company takes the traditional Shandy and combines it with American craft beer innovation and passion.  Rather than mixing ale with a fruit-flavored soda, Traveler's craft American wheat beers are actually made with real fruit.
Here is  more information on Jack-O Traveler.
Disclosure: Product/compensation was received in exchange for review.
Don't be afraid to be free!!!