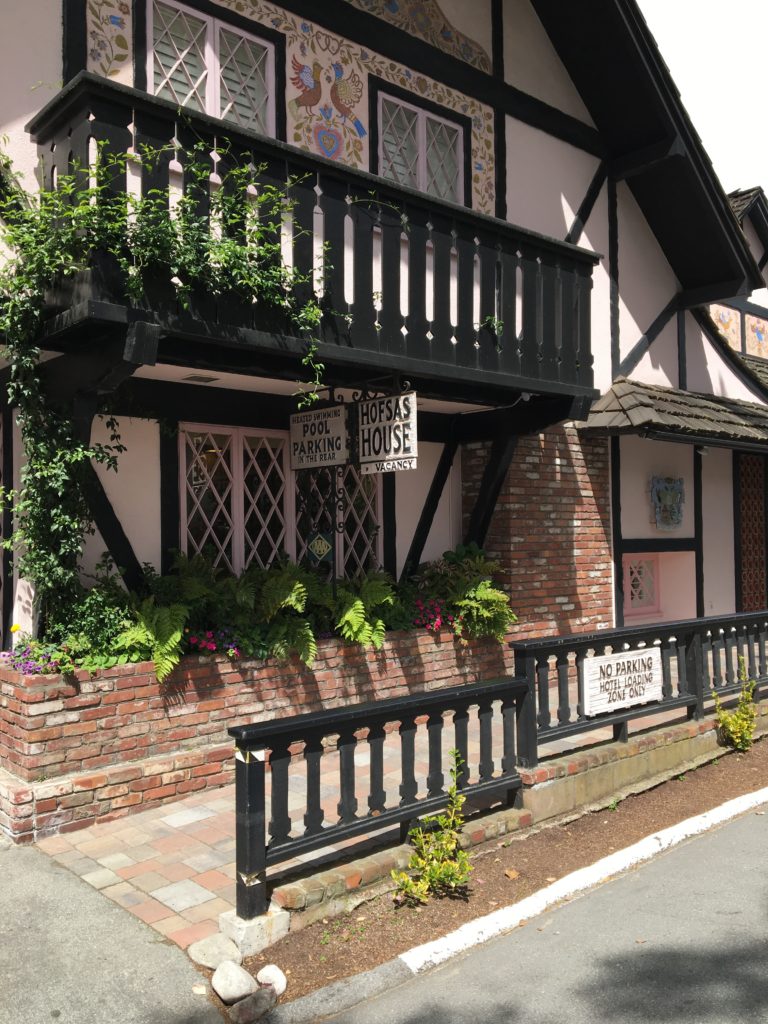 This year I decided to take my parents to Carmel- by- the Sea to celebrate my mother's birthday.
Every year should be celebrated, but I felt like this is the year for celebrations.  Hofsas House is celebrating their 70th anniversary!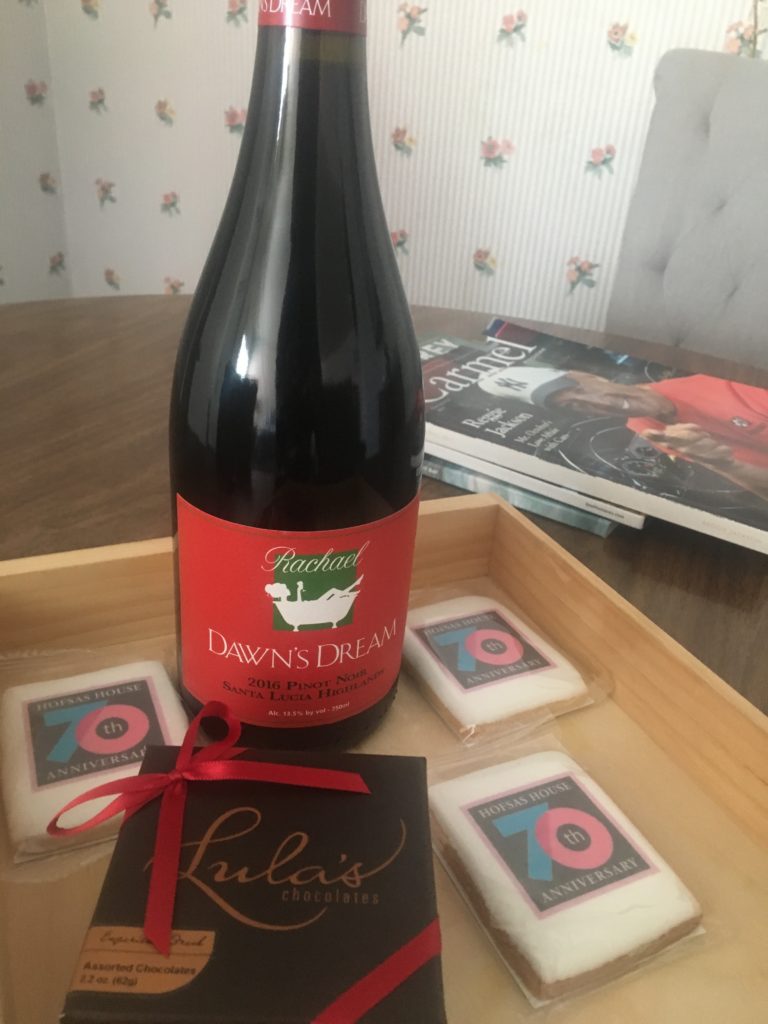 My parents did not know what to expect on this trip.   They just knew that I told them they would have a good time.
Upon our arrival we were greeted by the lovely Hofsas House owner, Carrie and her friendly staff.
As we were given a tour of our our large two bedroom suite,  I instantly noticed  wine from Dawn's Dream Winery and chocolates from Lula's Chocolates nicely placed on a table in my room for us to enjoy.
I  knew parents would like Hofsas House because I knew it would bring back some memories for them.  Just as I thought, they both said the hotel and suite reminded them of our home in Germany  when we lived there for a few years  when I was a child.
This suite remind me of my childhood bedroom.  I grew up with my own bedroom with two twin beds (one for my guest) and my siblings in their own rooms.   Unlike my childhood bedroom, this suite had two queen beds and a small kitchen and dining area.  If I had all of this I may not have ever left home.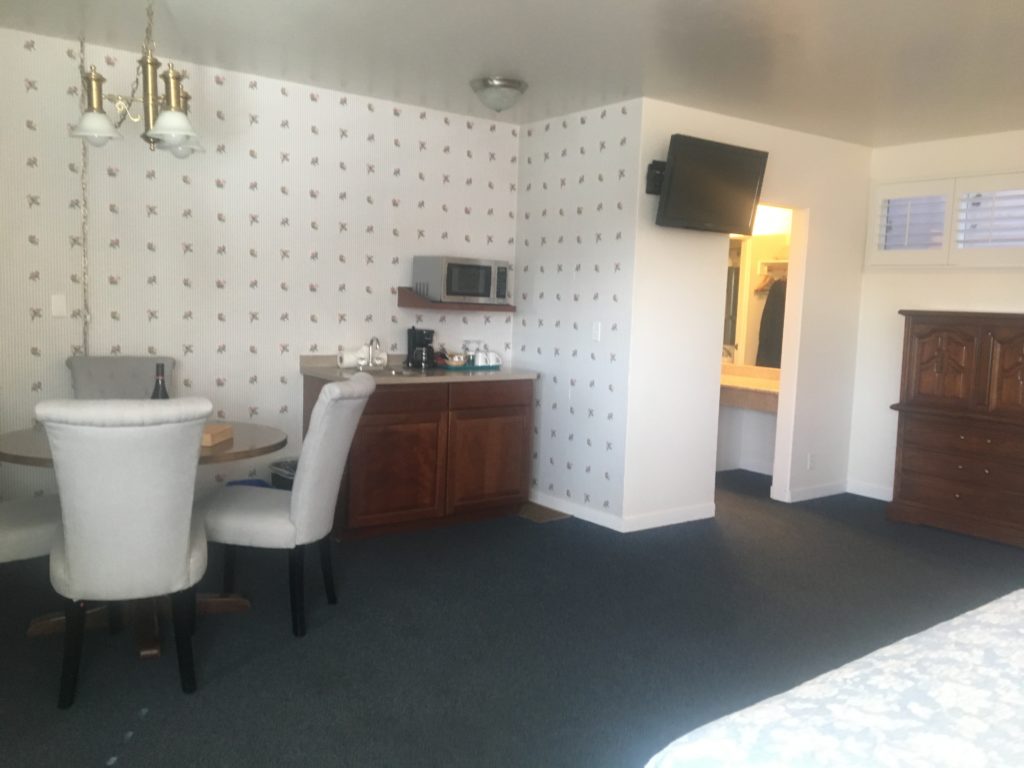 I could not believe how spacious this suite was.  It included three sitting areas in the master/main bedroom and two large bathrooms in each bedroom.
After we were settled into our rooms we dined at Carmel Belle for lunch.  Carmel Belle is known for their delicious  sandwiches and salads.  I had intentions of ordering a salad, but after some discussion we each ordered a chicken salad sandwich.  My parents loved this sandwich.  I have spoken to them since our trip and they have mentioned that sandwich.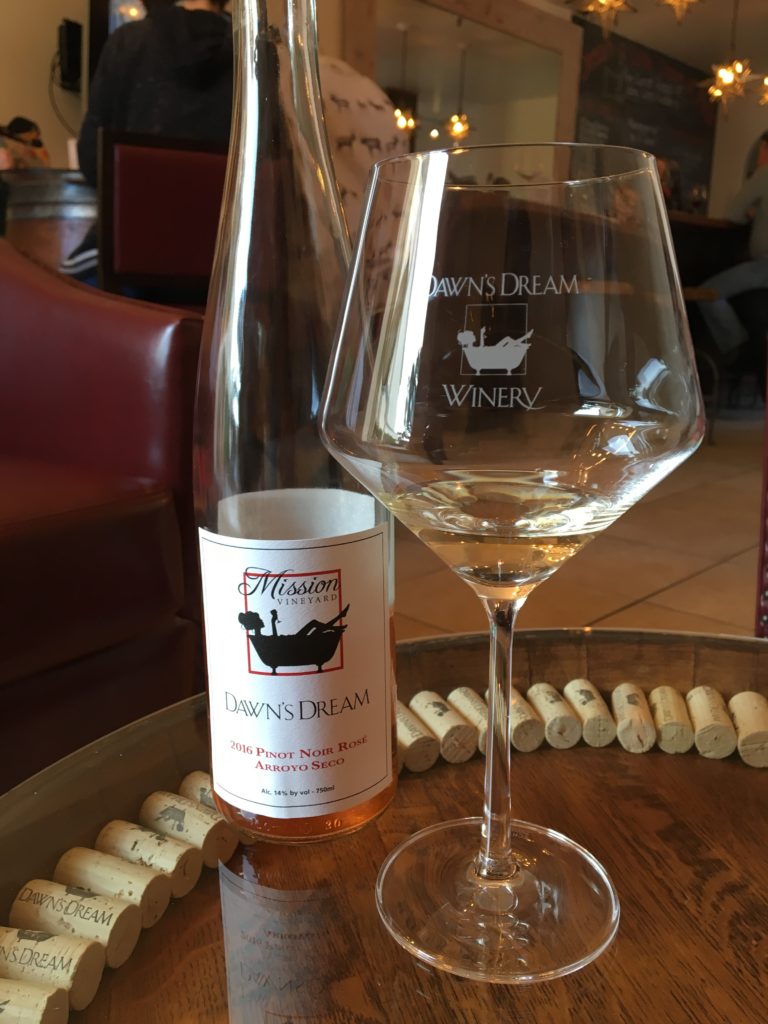 I was doing good so far.  My parents liked everything.  I could not wait to take them on the Wine Walk.   Our first stop was Dawn's Dream Winery.  After topping four varieties of wine: Pinot Noir, Rose', Chardonnay and Viognier we continued on the Wine Walk while exploring the beauty of Carmel-by-the Sea.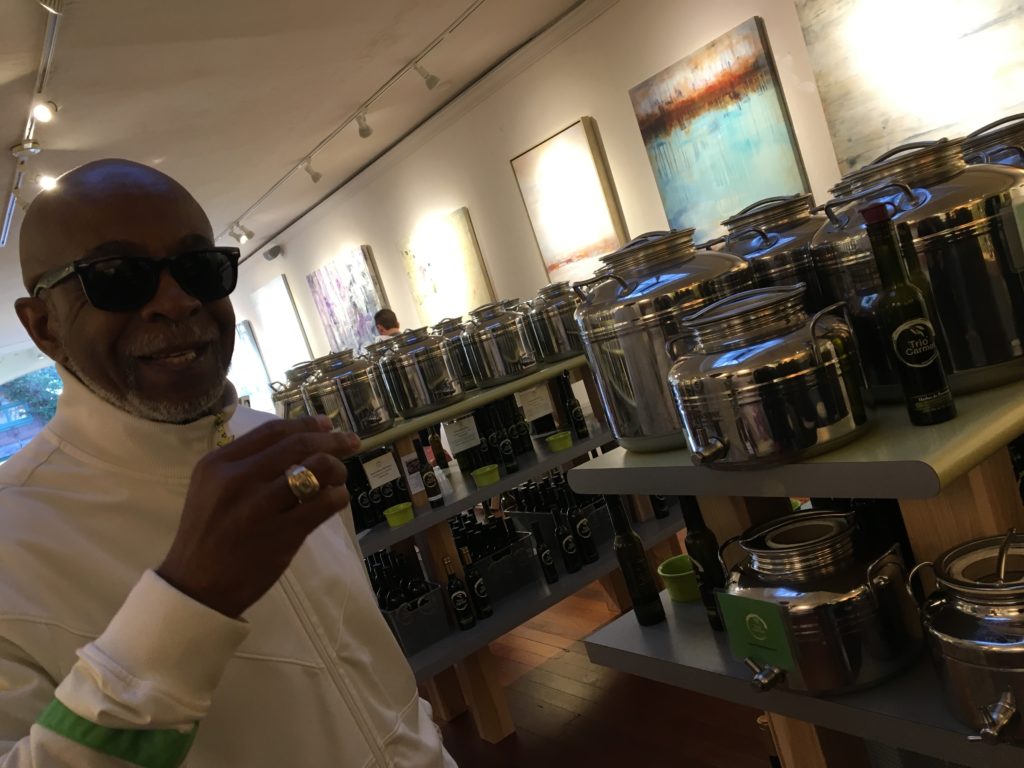 After a while of wine tasting my mom decided she needed to get some rest.  My dad and I took her back to Hofsas House and we continued to enjoy Carmel-by-the Sea.
While on the Wine Walk we ventured off.  My father had never tasted a variety of olive oil.  I was eager to take him to try some.  We enjoyed peach, pomegranate and many other flavors.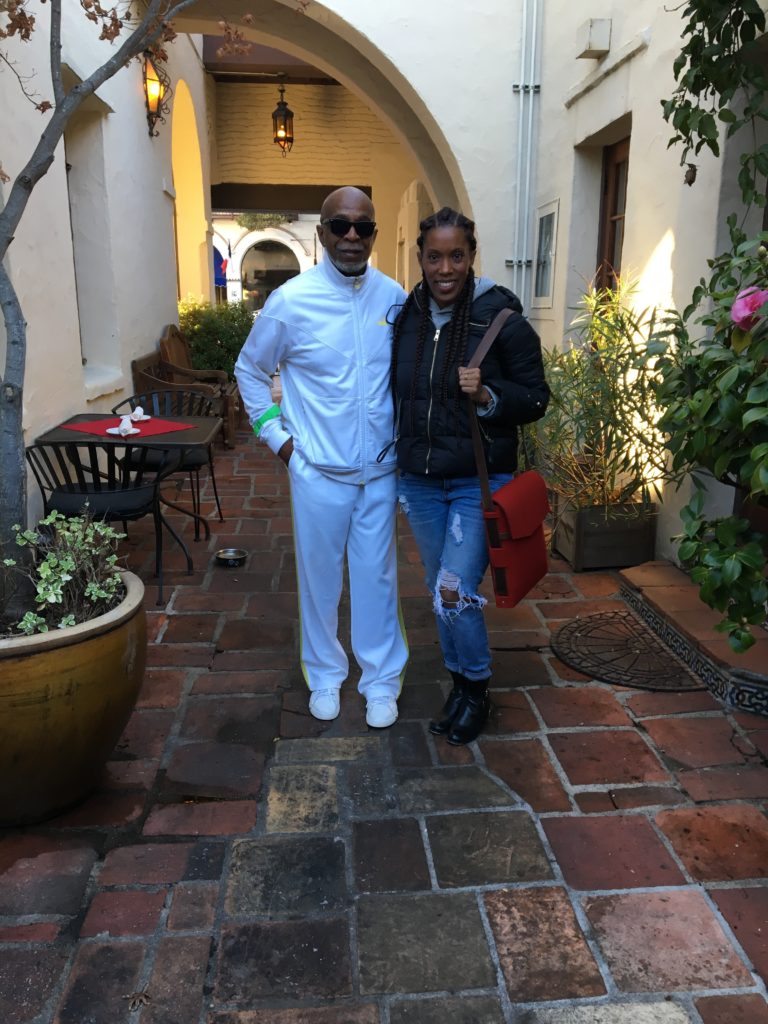 The Wine Walk is a guaranteed way to see many stores, restaurants art galleries and hidden passageways.    I could not help but laugh at my father because he was convinced we were lost each time we made a turn down a hidden passageway.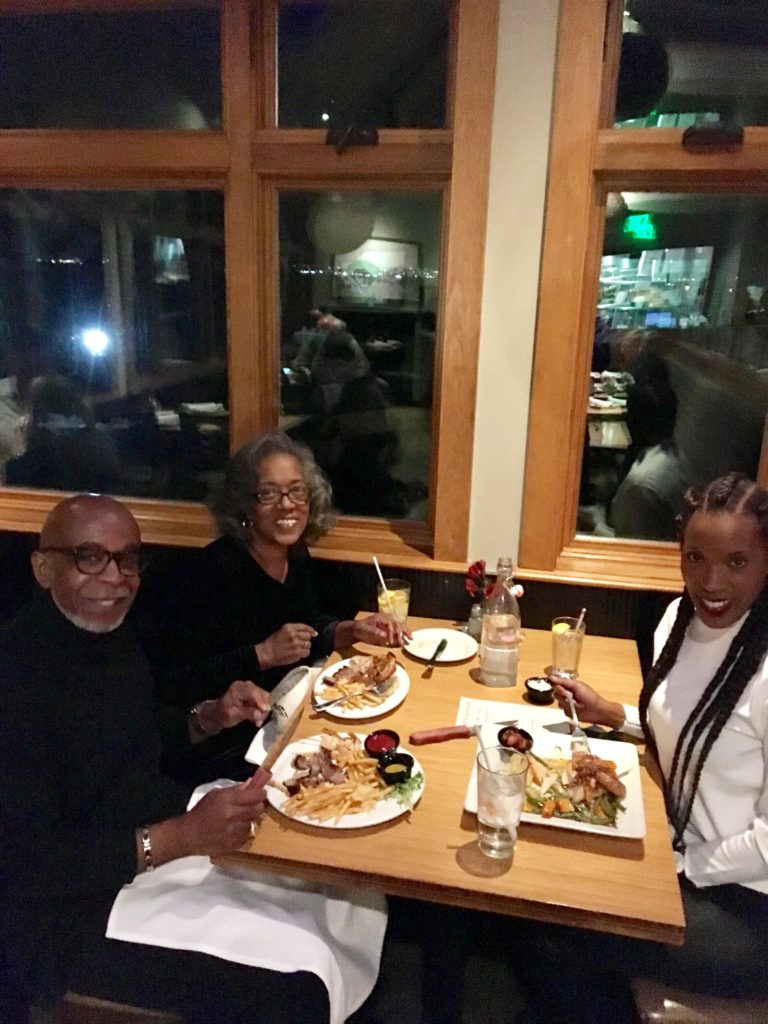 There is so much to see and do in Carmel- by- the Sea and surrounding cities.  Less than 10 miles away  we dined Pacific Grove at the Beach House .
I selected this restaurant because I knew they would enjoy the ambiance and food.
The hostess seated us at a table with a view of the dimmed lights of Monterey Bay.
As we sat, talked and listened to light music in the background we enjoyed Feast of Lanterns FireCraker Shrimp, for starters.   I could have eaten this by myself.  I absolutely loved the crispy shrimp that was tossed in a spicy,  Thai aioli.
Thank goodness we shared the appetizer because we had to eat our entrees.  My mouth was bigger than my stomach.  My parents ordered Steak, Scampi and Fries.  I ordered Roast Half Chicken.
My parents loved everything about the Beach House.  Little did they know I had more in store for them.
Aside from eating, walking and tasting wine we went on the 17 mile drive.
Staying at Hofsas House made this trip very memorable.  My parents and I had a great time.  This was a great way to celebrate my mother's birthday.
There are many activities and events in Carmel By the Sea and Hofsas House is always in the know.
Hofsas House Hotel Happenings:
Join Hofsas House throughout 2018 at it's poolside meeting room to sip local wines, enjoy small bites and support Peace of Mind Dog Rescue!   
Sip Carmel-by-the- Sea "Local's Favorites" featuring wines from Monterey County. Each month will feature a local wine that we love!
Enjoy a  selection of delicious nibblles.
Support  the Peace of Mind Dog Rescue, which is a resource and advocate for senior dogs and senior people on the Central Coast.  They find loving homes for dogs whose guardians can no longer care for them and for senior dogs in shelters.  Since October 2009, POMDR has rescued over 1,100 dogs left behind.
May 4                 5:30pm – 7:00pm  Bernardus Winery
September 21    5:30pm – 7:00pm Twisted Roots
Cost $15 per person, includes one glass of wine and nibbles.  Additional glasses of wine can be purchased for $5.00 per glass.
100% of the proceeds benefit the Peace of Mind Dog Rescue.
Space is limited to 40 attendees.  Reservations required. To make a reservation, contact Carrie at 831-624-2725 or carrie @hofsashouse.com.
Hofsas House also offers special packages:
Get Artsy Package – This package includes a stay in the Room 47 – the very room Maxine Albro painted.  Mention Hofsas House "Get Artsy" package with the code "HHArt" and receive a gourmet cheese tray and bottle of wine upon arrival.   Hofsas House can help arrange a tour of Carmel's art galleries and artists' studios with Carmel Cost is $25 per person, reservations are required and participants meet for the tour at Carmel Visitors Center.
Wine and Chocolate Package – Upgrade your stay at Hofsas with a four pack of handcrafted artisanal sea salt caramels from Monterey's Lula's Chocolates and a bottle of award winning Monterey County wine.  Cost for this package is $25 Use the code "HHChoc" when booking this package.
Tail Wagging Package – Guests receive complimentary Doggie Welcome Package – This package requires a minimum two-night stay, $30 fee per night for one dog and $50 per night for two dogs.

Hofsas House Dog Frisbee
Hofsas House collapsible dog bowl
Special dog bed
Letter from Tank, their onsite Pet Concierge
Special dog amenities package
Tips and recommendations for your four-legged friend's stay
Walking trail and hiking guide
A package of treats
Coastal Canine Magazine – offering the best four-legged options for visiting Carmel.

Relax at Cinq Mondes Spa Carmel – Hofsas House is partnering with Cing Mondes to offer guests a relaxing and soothing Spa package that includes a 60 minute massage or facial.  Cinq Mondes signature facial is the "Ko-Bi-Do" for its unique use of Dermapuncture, or "acupuncture without needles," as an anti-aging facial, and its signature massage is the Moroccan massage.  The Ko-Bi-Do facial is $150, and one hour massage is $125.  All Hofsas House guest will receive a special gift from Cinq Mondes.  This package must be booked at least 72 hours in advance and is subject to availability.
"Want to showcase your product to my audience? Then check my advertising options."  Click here.