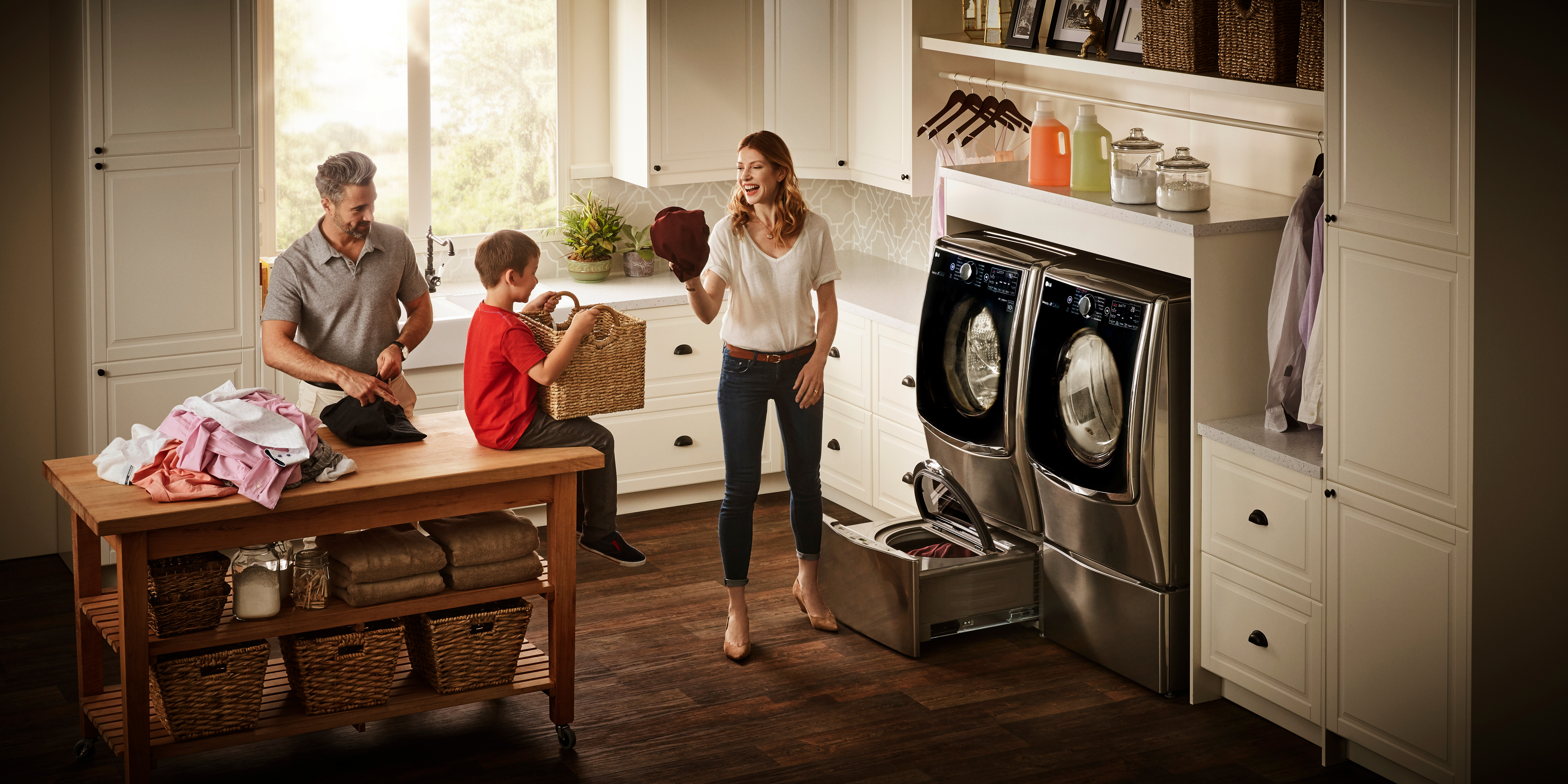 I need  LG's TwinWash system that is available at Best Buy in my life!
It absolutely bothers me when I or someone in my household wants or needs to wash a small load in the washer.  In my mind I feel like I am wasting water and power.  In my opinion it does not make sense to wash a small load in a big washer.
With LG's TwinWash system you get the best of both worlds. If I had this double load washer I would not feel as bad about washing small loads in my big washer because I would use the LG SideKick pedestal.  I am excited about the front load, but the SideKick pedestal is even more exciting!
When it comes to washing delicates, fitness wear or things that need to be hand washed this is when I get frustrated with washing because there is always one item of clothing or just a few that need to be washed.  LG has created a solution to my problem with the LG SideKick pedestal washer.  It can be used it simultaneously  while doing a bigger load up top on the LG front load washer.  This is great because we would get more clothes washed in one sitting.
I do not think there would be a time that I would not use the SideKick pedestal, because there is always a small or delicate load that needs washing.  There are times when I have a full load with a few pieces left over and I wait until I have another load.  It is the worst when I want to wear that one item that did not get washed and then I am washing it alone.  Just wasting water, energy and time.
I am always concerned about washing smaller loads in a large washer because I feel like I am using too much water.  The size of the SideKick seems perfect for my smaller loads and it does not seem to  use too much water.  I live in California and we try to conserve water.  I need this LG smart washer!
Not only does this two drawer washing machine have mega capacity to tackle any size load, they are energy efficient while giving you the best cleaning performance.  No wonder more households have chosen LG laundry over any other brand!  My household needs one of these for sure!
Discretely styled with a concealed control panel, the LG SideKick not only functions as a secondary washer, but also raises your front-loading washer to a comfortable height and matches the pedestal beneath your LG dryer.
LG SideKick pedestal washer:
1.0 cu. ft. capacity is just the right size for cleaning smaller loads as often as you need
Delicates, hand washables, and workout wear get the special care they deserve
The LG direct drive motor has fewer moving parts for greater efficiency, plus a 10-year warranty
Magnetic remote control offers a convenient way to start, stop, or select a cycle
The innovative LG TWIN Wash is all about efficiency, helping you get more clothes cleaner in less time. With a combined capacity of up to 6.6 cu. ft., the TWIN Wash boasts an ergonomically elevated and angled door that makes loading and unloading easier. Plus, the LED control panel is located on the door, right at your fingertips.
TurboWash 2.0 feature saves up to 30 minutes on larger loads with outstanding cleaning performance
TurboSteam technology deeply penetrates fabrics for greater cleaning power
The full-width lid helps prevent spills thanks to an easy-to-fill detergent tray with recessed design
Wait…I am sold on the TurboSteam.   I recall washing clothes in the past and wondering if they were really clean after washing them because I was using a basic washing machine.  Believe it or not some people do not know that not all washing machines get your clothes clean.  I like that the LG TWIN Wash stands by cleaning your clothes.   My family is very active and we need a washer that can tackle tough stains and dirt.
Purchasing this two in one washing machine saves money and time.   You can save when you purchase it as well.   From 1/11 – 4/25 you can receive up to $500 off a LG laundry solution for your home.
Head over to Best Buy and start saving while washing with the new LG front load washer!
Disclosure: The reviewer has been compensated in the form of a Best Buy Gift Card and/or received the product/service at a reduced price or for free