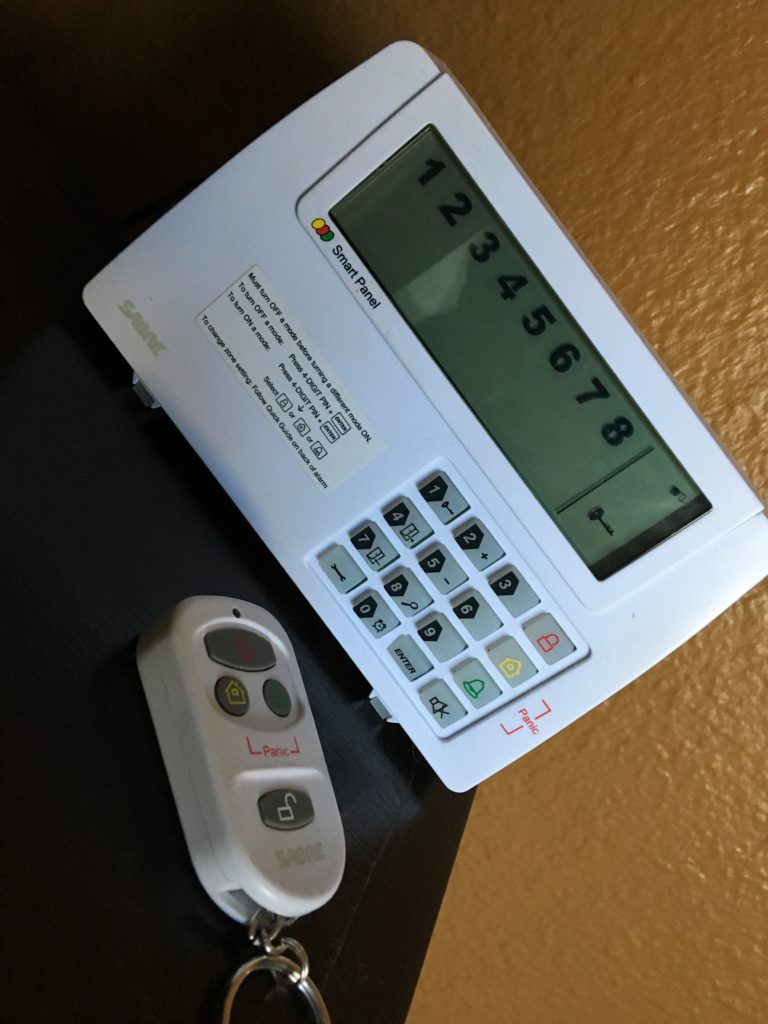 Living in one of the safest cities has allowed me to feel very comfortable.   Although I know my community is considered safe, I do not want to be too confident and not have added protection for my  home. You can never be too safe.
I recently ordered a SABRE Wireless Home Alarm System.
When it arrived my 12 year old son was eager to install it.   My daughter was convinced  the home security installation would be difficult for my son.   To our surprise he properly installed it.
SABRE Wireless Home Alarm System:
ATTENTION-GRABBING: Extremely loud 120 dB alarms help wake/alert homeowner or renter, helps deter intruder and possibly notifies neighbors (audible up to 750 feet/230 m away)
WIDESPREAD, CUSTOMIZABLE PROTECTION: Includes (1) tri-color LCD display smart panel, (1) motion sensor with directional mounting bracket, (2) door/window sensors and (1) key fob remote control – helps identify point of entry more accurately with eight distinct zones
ATTRACTIVE & CONSUMER-PREFERRED: Superior to other home security products, this premium white system looks great inside your home
USER-FRIENDLY & SECURES LARGER PROPERTIES: 4 operation modes (alarm, alert, home and standby); smart panel with tri-color LCD display; handheld key fob includes panic feature; entry/exit delay setting; this system has the ability to add an unlimited amount of sensors, plus sensors mount on either side of alarms; sensors can be placed up to 500 feet/150M from main control panel
EASY INSTALLATION WITH AN EXTRA LEVEL OF SECURITY: No wiring needed; provides battery status update with a low battery indicator; AC adapter is the main energy source to the smart panel, but users can also insert their own backup batteries (requires 2x9V batteries, not included; key fob requires 1x12V battery, included; door/window sensors require 4xAAA batteries, not included)
We decided to place the  home security alarm on a table in the living.  If we mounted it on the wall it would require batteries.  Since it is placed on a table,  the house alarm system is plugged in and I do not have to worry about replacing the batteries.
I am anal about organizing everything in my home.  I placed the security system on a table and the cord from the plug is not visible. The security alarm system looks fine on the table.  The table is not too far from the door so it easy to enter the code before the alarm goes off if we are not using the remote.
We have been using this alarm system for about a month and love the extra protection.
Every time we exit or enter a door the door sensors beep.
The wireless alarm system can definitely grab someone's attention.  The alarm is very easy to use, but it took me a while to figure out how it worked. Sometimes I tend to make easy things harder than they are.  The remote is very easy to use. I was able to set the alarm with the remote and the count down began for me to close the front door.  I closed it and then remembered I forgot something inside.   I opened the door and the count down began to shut the alarm off.  I began pushing every button except the right one on the remote.  As I ran over to enter my code, time was up and the alarm began to loudly blast.  A feeling of panic and embarrassment crept through my body.  I did not want my neighbors to come out because I could not figure out how to shut the alarm off.  I was able to shut it off by inputting the code.   Later that day I asked my son to give me a tutorial on how to use it properly.
Now that I know how to properly enable and disable able the alarm I  am very impressed with the SABRE Wireless Alarm Home System.
"Want to showcase your product to my audience? Then check my advertising options."  Click here.