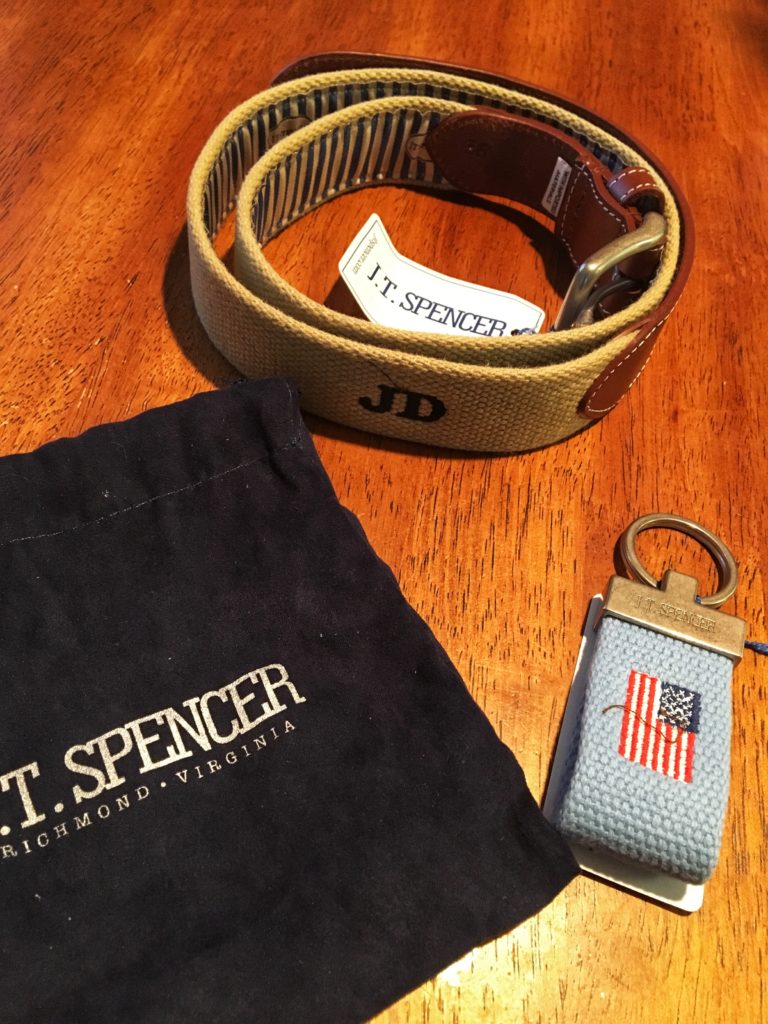 When it comes to finding the right gift for my dad,  I am always looking for something that is high quality.
This Christmas I know he will love the belt and key fob I got from J.T. Spencer Accessories.
I thought it would be fitting to order my dad a J.T Spencer American Flag belt considering he served in the U.S. Army and loves nice quality things.  He is a kind of cool dad.  I ordered the khaki colored one and had his initials monogrammed.
The belt is 1.25″ wide and stitched on premium luxury cotton before being finished with a full grain, rich mahogany leather and solid brass buckle plated in an elegant brushed nickel finish. Proudly Made in USA.
I am hoping I ordered the correct size.  J.T Spencer suggests, for the best fit please add 2 inches to a men's pant size. For example, a person who wears size 36 pant would wear a 38 in JT Spencer belts. For odd sized waists please add 3 inches to the belt size (ie. 35 inch waist wears a 38 inch JT Spencer belt)  That seems pretty easy.  Well…my dad told me his waist size was one thing (he had lost a little weight), but my mother says it is something else.  She is convinced it the belt will fit.   We shall see on Christmas day.
I also ordered an American Flag key fob.  This is perfect because I do not know when was the last time he bought a key ring.  I am sure the one he has was pretty stylish and fashion forward for that era, but he needs something up to date.  This key fob is a classic piece that will never go out of style.  At just 3″ long it is a perfect fit for pockets and purses.
Proudly  made  in  Richmond,  VA,  J.T.  Spencer  offers  1.25″  wide  belts,  stitched  on  premium  luxury  cotton,  finished  with  a  full  grain,  rich  mahogany leather  and  solid  brass  buckle  plated  in  an  elegant  brushed  nickel  finish.

Designs cover everything from the time-honored American Flag to designs.  J.T.  Spencer  makes  an  effort  to  offer  unique  motifs  on  timeless

and  classically  styled  products  that  appeal  to everyone.

 Available at

J.T. Spencer

  as well as fine retail outlets, prestigious golf, yacht,  athletic  and  country  clubs  along  with  universities  and  colleges  across  America.

 J.T Spencer services the green grass golf industry as an official licensee of Peter Milller.

Monograming  is  offered  for  under $20

Custom colored belts are available at no additional cost – all of the designs featured  on  the  website  are  available  in  any  color  combination  as  a

custom  order at no additional cost.

One  of  a  kind  belts  available for  an additional charge.
Retail  Price:  $85  (sizes  above  46 are $95)
I am sure my father is going to love his J.T. Spencer belt and key fob.
Happy Holidays!