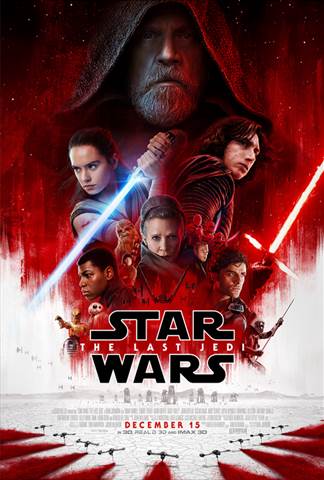 Star Wars: Last Jedi is in theaters everywhere!
My son and I were able to see it at Disney Studios last week and loved it!
Many people have asked me what I thought of the film.  Mind you they are all huge Star Wars fans.  Considering I am a new Star Wars fan, I have been treading lightly with my word usage because I do not know if I am spoiling the film for anyone.
The Last Jedi plot: Luke Skywalker's peaceful and solitary existence gets upended when he encounters Rey, a young woman who shows strong signs of the Force. Her desire to learn the ways of the Jedi forces Luke to make a decision that changes their lives forever. Meanwhile, Kylo Ren and General Hux lead the First Order in an all-out assault against Leia and the Resistance for supremacy of the galaxy.
The Last Jedi picks up a little after The Force Awakens with the diminishing Resistance, that is led by the fearless General Leia Organa (Carrie Fisher), locked in an uneven struggle with the First Order. This battle is one of two battles that director Rian Johnson's film follows for the two and a half hour run time, that quickly flies by.
When Carrie Fisher appeared my son leaned over with excitement.    He kept saying, "There's Carrie Fisher!"  It warms my heart that General Leia, who was once Princess Leia when I was his age brings him excitement, although she is gone.
The wait was finally over for many Star Wars fans who have waited decades to see the return of Luke Skywalker (Mark Hamill).   It was interesting to see a Luke Skywalker after he has lost pretty much everything.   He has have even lost his confidence in taking on another student.  Throughout the film I was routing for his heart to soften.  For minute I questioned his strength, but by the end it was made very clear that Luke Skywalker still had it in him.
Throughout the film Kylo Ren (Adam Driver) repeatedly  says the past has to die. He believes that the only way he can make a path for himself is to leave everything he ever thought he knew behind, and that is what The Last Jedi accomplishes.
The Last Jedi is an awesome farewell.
The Last Jedi has quit a bit of action, humor and drama to keep you engaged,  take it from someone that has just become a Star Wars fan.  I knew the basics so I was able to catch on.
The Last Jedi answers many questions.  From what I gather there are some questions that are unanswered, but that only leads me to believe we will have to wait to see.  The heroes had a lot of work to do, but we were able to see that they could accomplish everything that will help them in the future.  Like everything there is a process. And they are willing to go through it.
As the credits rolled and the room fell silent.   I did not want the film to end.
It has been in theaters a few days and is winning in box offices.
Latest Star Wars news:
According to studio estimates on Sunday, it  raked in over $220 million at the North American box office.  This means the Last Jedi is the second best opening ever.  It is trailing behind The Force Awakens.  Numbers like this should not leave fans or movie goers wondering how the movie was or if they should see it.  The numbers speak loud and clear.
The Last Jedi is more than a must see film.
Like STAR WARS on Facebook: https://www.facebook.com/starwarsmovies/ 
Follow STAR WARS on Twitter: https://twitter.com/starwars 
Follow STAR WARS on Instagram: https://www.instagram.com/StarWarsMovies/
Follow STAR WARS on YouTube: https://www.youtube.com/user/starwars
Visit the official STAR WARS: THE LAST JEDI website: http://www.starwars.com/films/star-wars-episode-viii-the-last-jedi
STAR WARS: THE LAST JEDI opened in theatres everywhere December 15th!