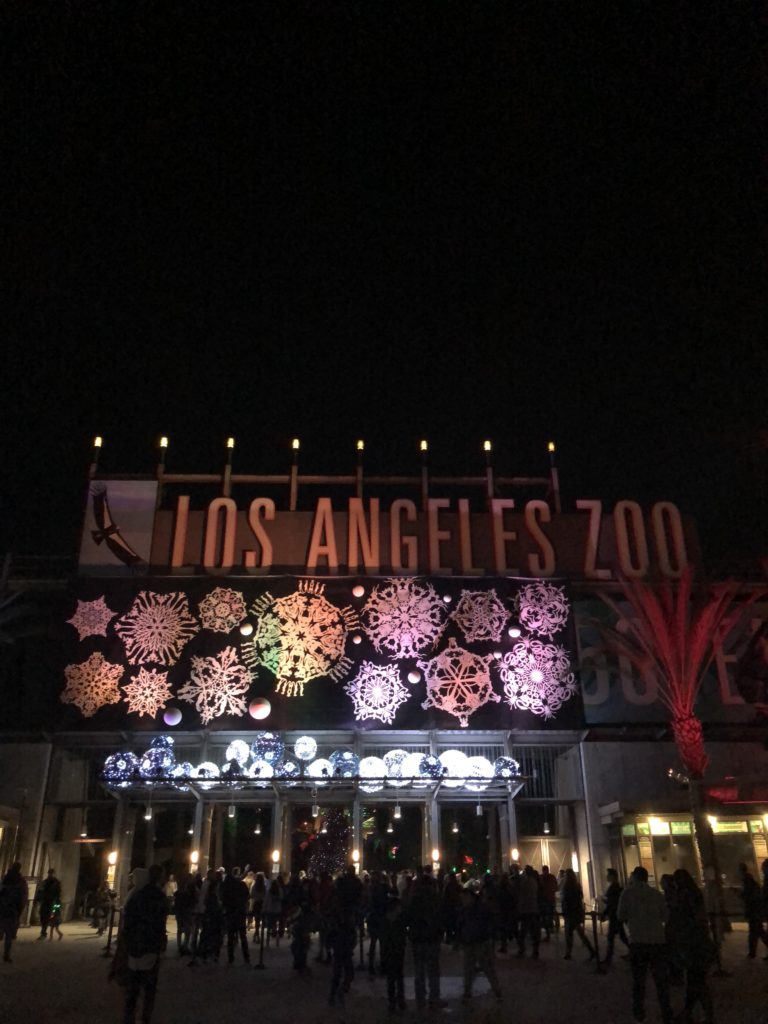 Every holiday season my family does a 25 days of Christmas activities countdown until the day of Christmas.  This year, on the second day we went to LA Zoo Lights.
From Friday, November 17, 2017, through Sunday, January 7, 2018 (except November 23 and December 24/25) everyone can enjoy LA Zoo Lights. Los Angeles' holiday "must" destination under the stars sets the Zoo aglow with LED lights by the thousands, a disco ball forest, glittering twinkle tunnel, stunning 3-D animated projections and much more. A burst of breathtaking new features raises the bar for awe-inspiring nighttime holiday delight, among them a dynamic, musical holiday tree experience, a reimagined water show, a glittering "North Pole" setting for Santa photos, glowing "Northern Lights" featuring animal constellations that come to life, and an all-new "Wild Wonderland" finale spotlighting endangered and vulnerable species.
If you are looking for something to do on New Years Eve LA Zoo lights has you covered.
FAMILY NEW YEAR'S EVE at L.A. Zoo Lights celebrates the coming of 2018 with an evening of fun on Sunday, December 31, 6 to 10 pm. The special all-ages party features "skip-the-line" express entry to L.A. Zoo Lights, dinner buffet, dessert, a ride on the Conservation Carousel, a festive photo booth courtesy of PRIMs Photo Booth, a DJ dance party, soft drinks and a cash bar. At 9 pm, party-goers can enjoy a glass of complimentary bubbly — champagne for adults, sparkling apple cider for kids – along with a live broadcast of New York's Times Square ball drop, after which guests are welcome to experience L.A. Zoo Lights until closing. FAMILY NEW YEAR'S EVE tickets, which are limited and sell out quickly, are $69 for adults and $45 for children. Greater Los Angeles Zoo Association members save $5.
L.A. ZOO LIGHTS, was awarded USA Today's "10 Best Zoo Lights" honors in 2015 and 2016 – and nominated again this year!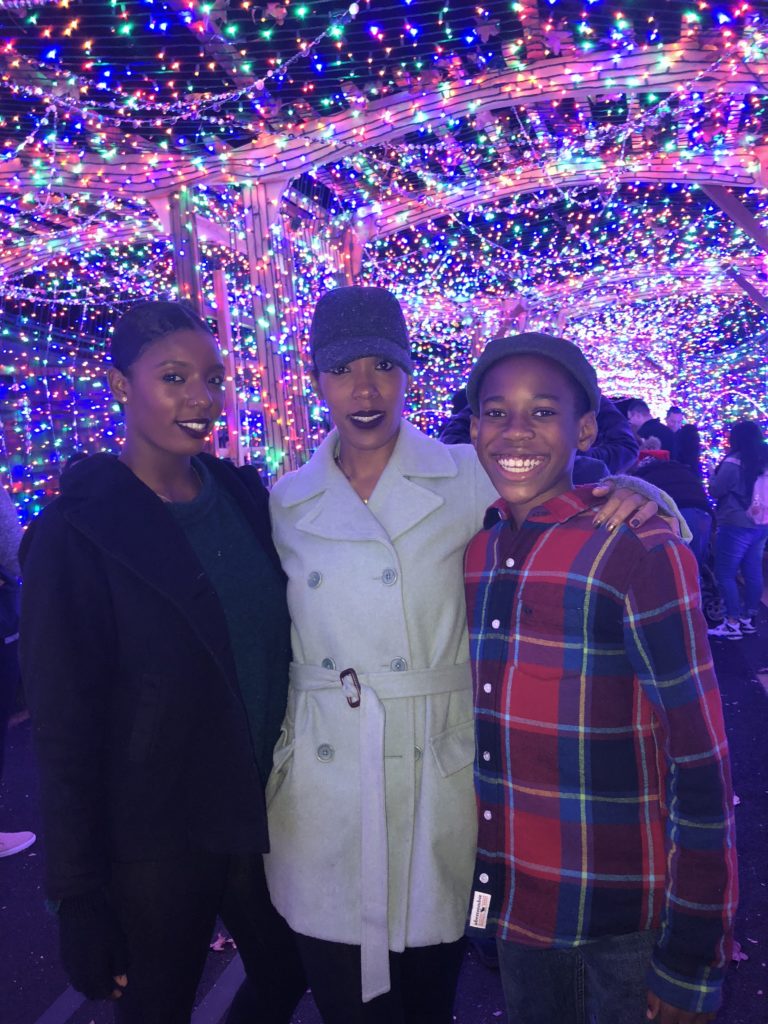 This is the second year we have enjoyed the festive  holiday lights.   As soon as we entered the gates my daughter was eager to see one of her favorite light displays from last year.   She thought it had the best lights.  To her surprise it was not there.   After circling the area we decided to move on because we knew there would be so many awesome lights to see.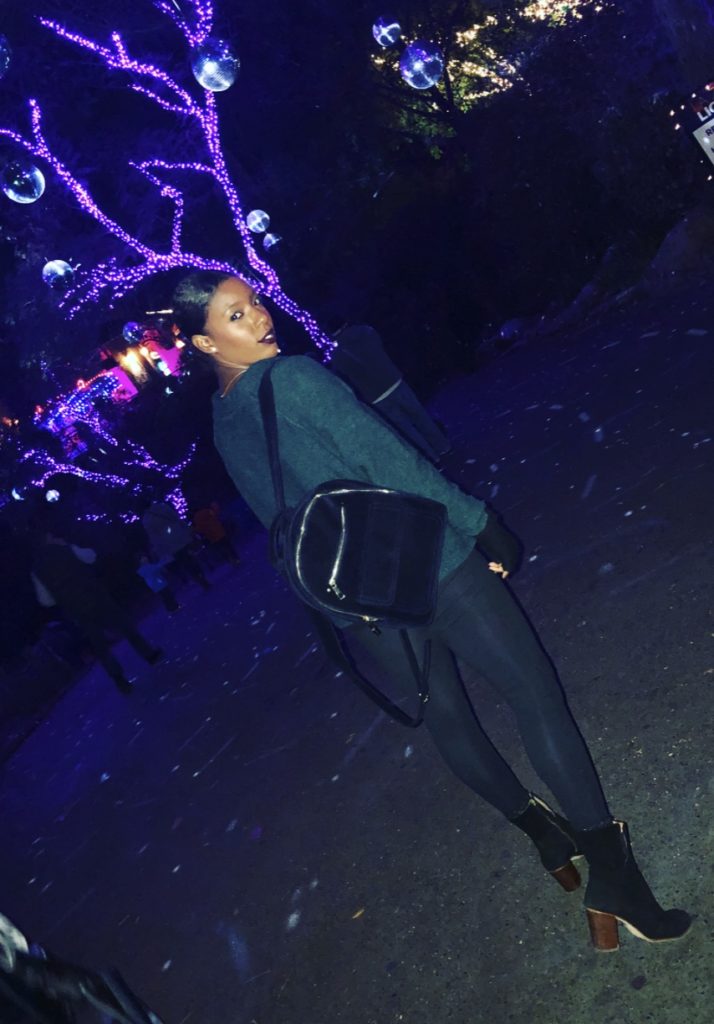 As we walked along  the 60 – 90 minute self guided tour  we sang along with the music that played as we enjoyed the lights.  We saw many familiar lights.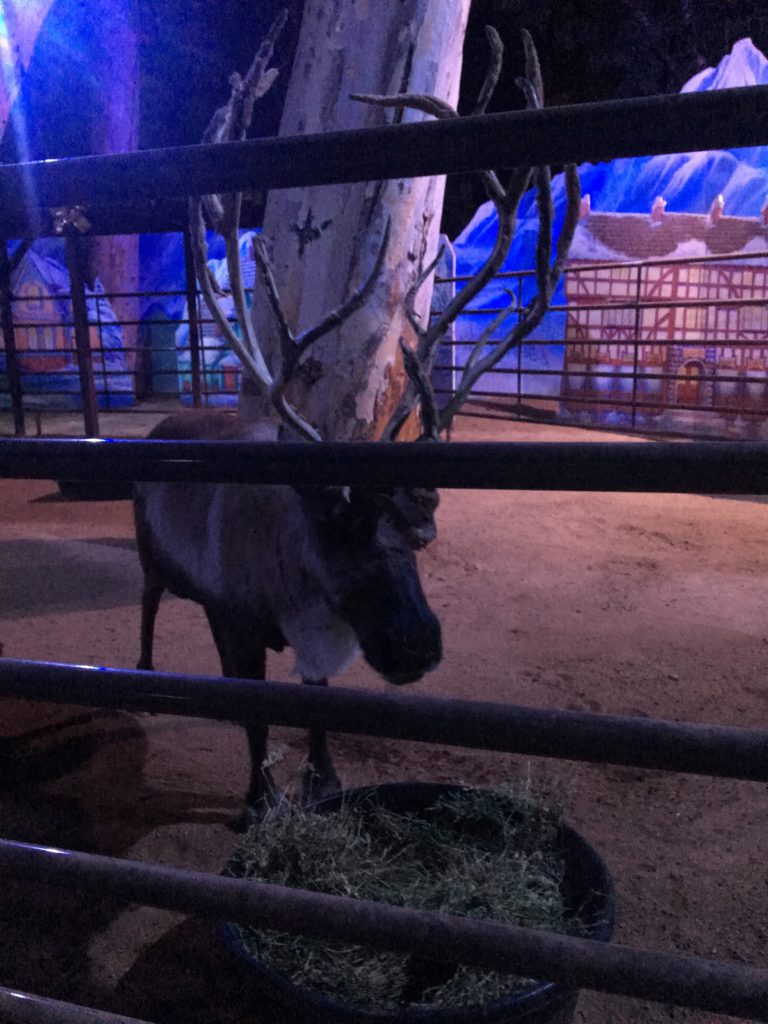 While taking in the zoo light show we stumbled upon a herd of reindeer at Reindeer Village.  This was exciting for my son.  He stood starring at them and trying to get their attention as they ate or walked around.  He even had the opportunity to touch reindeer antlers and learn about them.  After a while, I literally had to pull him away.   I had to remind him we needed to see more lights.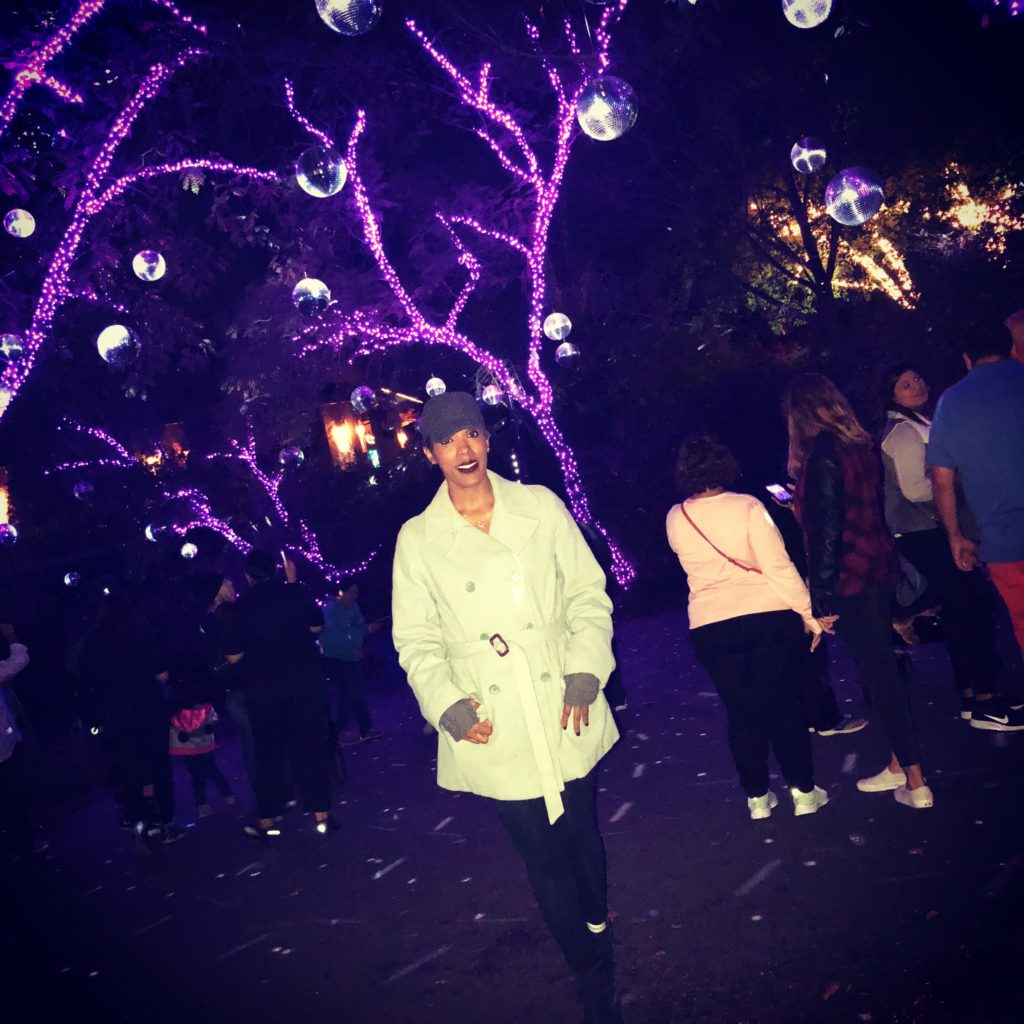 As soon as we walked away from the reindeer we were back to looking at lights and taking photos.  It is close to impossible to not take a picture of each display.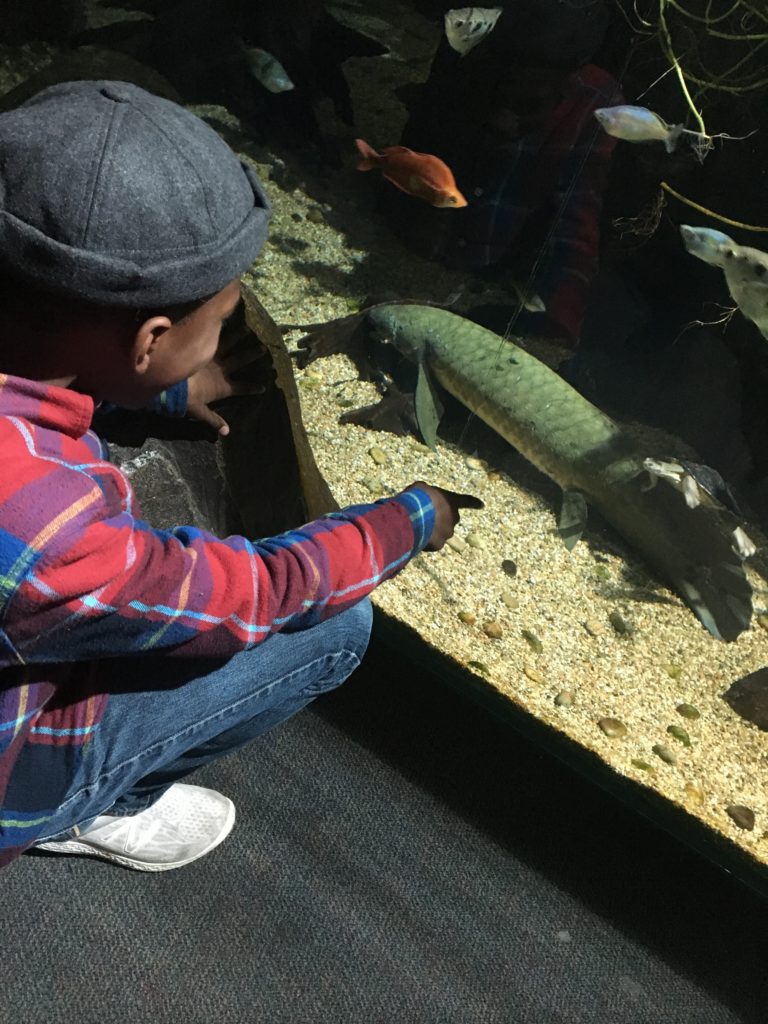 LA Zoo does a great job at incorporating zoo christmas lights and animals with the event.  Like with the reindeer my son could have stayed in the LAIR looking at a multitude of amphibians, and invertebrates.

After a night of zoo lights 2017  we made our way to the exit,  we stopped and enjoyed some live music.  We sang along with the singers. We even danced a little.   This was a wonderful way to kick off the holiday season.
L.A. Zoo Lights 2017 Features
"Preview Week" $10 Discount Admission for Adults (13+)
and Children (2-12) from Nov 17-22 with Online Purchase,
Special Unlimited-Visits Season Pass with Express Entry,
Exclusive HOLIDAY HAPPY HOURS for Ages 21-and-Up on December 7 and 14
and FAMILY NEW YEAR'S EVE For All Ages
Friday, November 17, 2017, through Sunday, January 7, 2018
(except November 23, December 24 and December 25)
6 to 10 pm Nightly
Los Angeles Zoo and Botanical Gardens
Admission to L.A. Zoo Lights is $10 with online purchase for all ages (2 and older) and times during "Preview Week" from November 17 to 22. Thereafter, admission prices vary and range from $14.95 to $19.95 for adults (13+) and $11.95 to $14.95 for children (2-12). Children under age 2 are free. Tickets for members of the Greater Los Angeles Zoo Association are $10 during the entire run, the deepest member discount ever offered. A special unlimited-access L.A. Zoo Lights Season Pass, with express entry privileges nightly, is $49.95 for adults and $44.95 for children ages 2 to 12. Tickets for HOLIDAY HAPPY HOUR are $75 per person (ages 21 and up), or $70 for GLAZA members. FAMILY NEW YEAR'S EVE tickets are $69 for adults (13+) and $45 for children (2-12), or $64 and $40 for GLAZA members. Holiday Happy Hour and Family New Year's Eve benefits require a separate ticket, even for Season Pass holders. All L.A. Zoo Lights events and evenings take place on a "rain-or-shine" basis, with no rain checks issued. Visit LAZoolights.org for details and to purchase tickets. To become a GLAZA member and receive discounted ticket pricing, go towww.lazoo.org/membership or call 323-644-4747.