It is that time of year again!  The sixth annual Four Seasons Westlake Village 'Let It Snow' is back  every Friday and Saturday evening December 1 –  December 16 2017.
I was surprised when my 12 year old son asked me if we would be attending the event this year.   I thought he may have outgrown it.    With him being the youngest of two, I welcomed his eagerness to see Santa, drink hot chocolate, decorate cookies, eat s'mores and jump in the bounce house.
This was perfect for me because our family does 25 days of Christmas activities.  Attending the 'Let It Snow' event on December 1 was the perfect way to kick off our family tradition.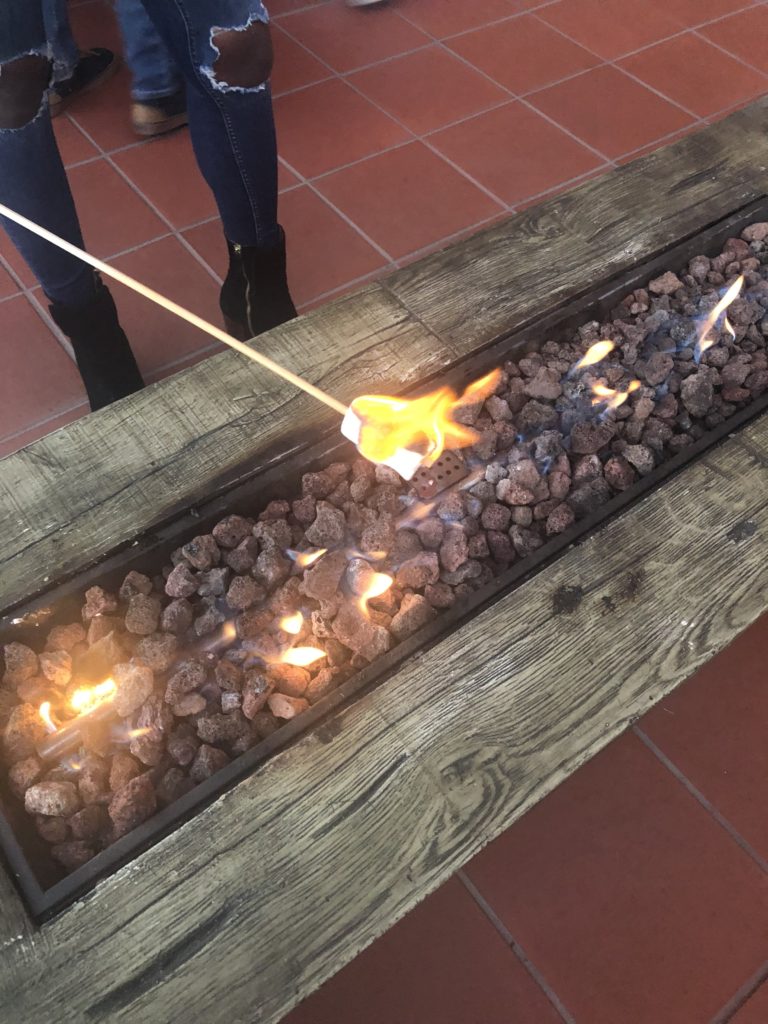 As soon as we arrived, with familiar strides through live snow we immediately went to the  s'mores station.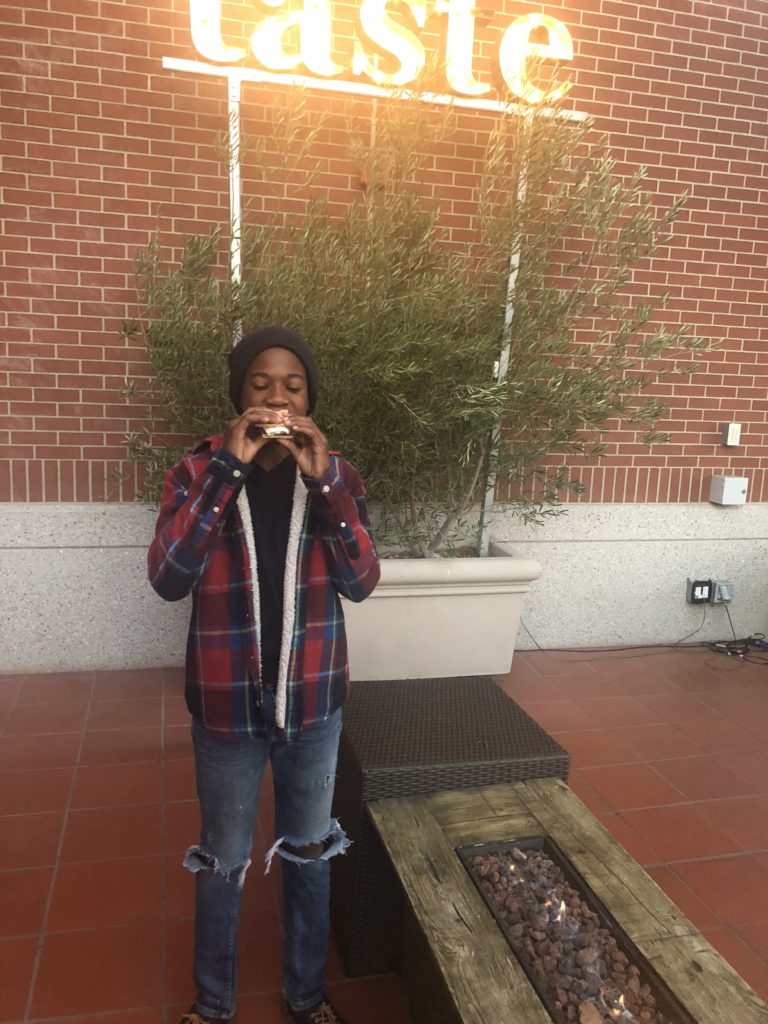 I tried to refrain from eating a s'more.  I did good the first time we went to the s'more station.  As my son stood and ate his s'more my daughter decided she would indulge as well.   I did well until we returned later that evening.  As parents and children made s'mores and expressed how delicious they tasted,  I decided to join in on the delicious fun.   It was worth every calorie.   It did not stop there, I had a cup of hot chocolate as well.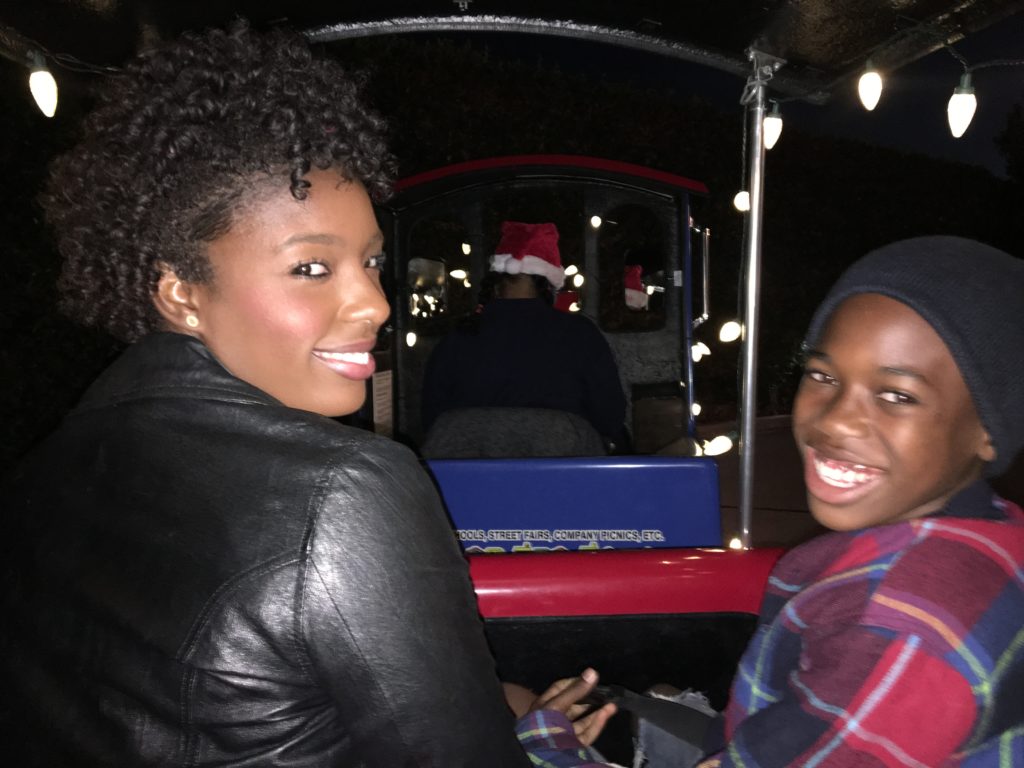 Hot chocolate was perfect as we walked to the holiday express train ride.   I sat behind my 23 year old daughter and 12 year old son.  As we waited for the ride to begin I felt so thankful that they both willingly rode the train.  When it comes to enjoying the holidays our inner child is awakened.   We happily enjoyed the Christmas lights,  friendly elf and Grinch that handed out candy canes.
After the train ride my big boy wanted to decorate a cookie.   We all agreed the cookies that are used for decorating are the best!   We jokingly said, "We should all participate in this activity."  My daughter  and I watched my son decorate his cookie.  Each cookie was decorated with Jelly Belly jelly beans and frosting.  One toddler had the right idea.  He only wanted jelly beans.   His mom asked for a couple of cups of jelly beans and he was fine.
After one candy decorated cookie,  two s'mores,  and a cup of hot chocolate, my son was ready bounce in the bounce house.  My daughter insisted he was too big.  I agreed with her to a certain extent.   I know he will soon not want to do these things and I will miss these days, so I let him jump.
There were two bounce houses.  One for older children and one for younger children.   As my daughter sat cringing with embarrassment my son jumped until I made him come out.  As I was telling him to come out and he looked at me with pleading eyes, some other parents were taking their smaller children out of the other bounce house.  A few of the kids threw tantrums and their parents were trying to comfort them and explain why it was time to come out.    One parent enticed his child by suggesting they go get a  s'more in order to get him out of the bounce house.  The pleas and cries were only an expression of how much they all loved bouncing.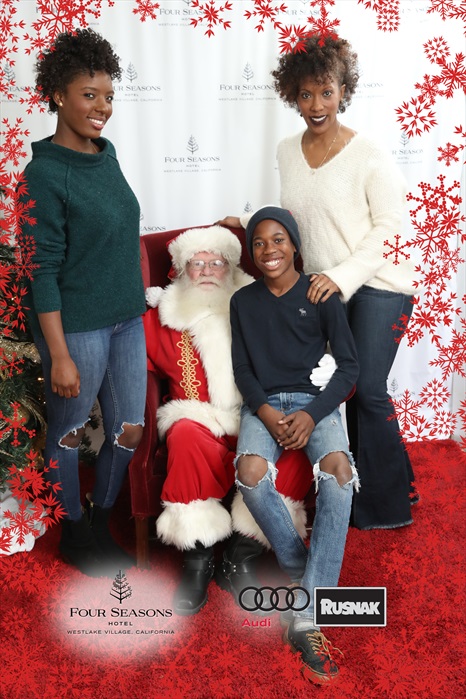 In the midst of all of the fun activities we paid Santa a visit.  We could not come to 'Let It Snow' without seeing Santa.  We were able to take a professional photo with Santa and tell him what we wanted to for Christmas.  We are all confident that he will make sure we get just what we asked for.
I am happy we were able to kick off our 25 days of Christmas at the Four Seasons Westlake 'Let It Snow' event.