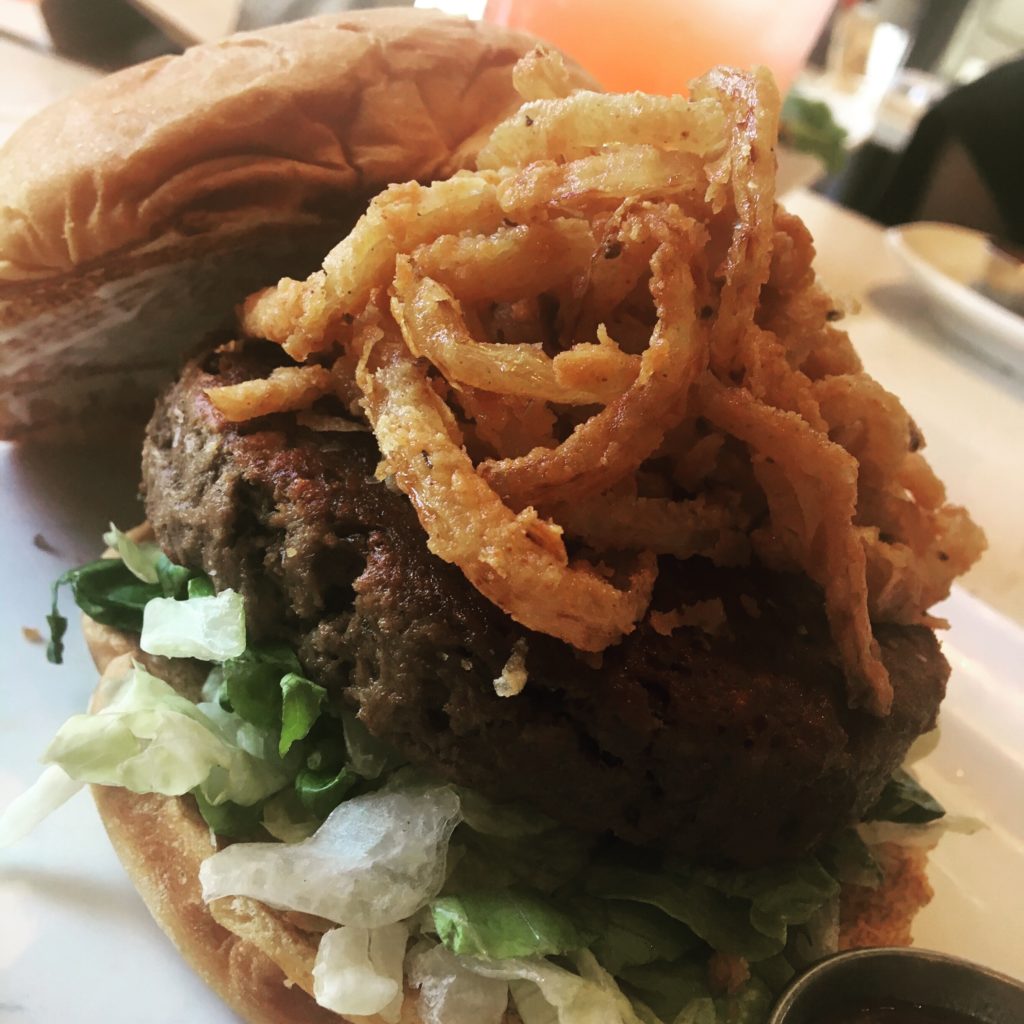 This past September marked the launch of   The Impossible Burger at The Counter in select locations Los Angeles and the Bay Area, with a full nationwide launch in October. The Counter has partnered with the Impossible Foods team to create an insanely crave-worthy plant-based burger and salad that will be sure to wow guests.
The Counter will be the only place to order up a build-your-own Impossible Burger. They have also launched The Counter's signature Impossible Burger with a delicious Herbed Goat Cheese, Tomatoes, Grilled Red Onions, Mixed Greens, Spicy Tomato Jam, Dijon Balsamic, on an English Muffin and their Impossible Salad, including Mixed Greens, Lettuce Blend, Quinoa, Alfalfa Sprouts, Toasted Almonds, Grilled Red Onions, Roasted Grape Tomatoes, with a Sesame Ginger Vinaigrette that is 100% vegan.
I tried my first Impossible Burger at another restaurant and was very impressed with the plant based burger.  I think I was most impressed with how much it looked like a meat burger.  I really liked the taste.  My like for the Impossible Burger went to love when I ate an Impossible Burger at The Counter in Santa Monica.
For this dining experience I brought my son along.   He had been wanting to eat an Impossible Burger ever since  I told him about the first Impossible Burger I had.
We both were excited to build our burgers.  As we sat looking over the menu we could not decide which items to check off.   Initially, I went in thinking I would build a very light vegan burger.  That went out of the window after I realized there were so many food items  to choose from.
We both ordered a burger with fried onion strings, hickory bbq sauce, mayo, and lettuce.  I ordered 1/3 pound and my son 1/2 pound size patties.  We both ordered a side salad.
My meatless meat burger was just the right size and very filling.  It was a challenge to eat the entire plant based protein burger.   My son was determined to eat his entire plant based burger.  He did not realize it would have two plant based burger patties.  He wanted one.   Aside from the size of the burger he found it to be a bit challenging to eat because  he drank soda prior to eating his meal.  I do not allow him to drink soda but I allowed him to order one on this day.  It was extremely hot outside and this was our mother and son dinner date.    As result he could not finish his meal.  He had to take it home where he devoured it.
The Impossible Burger at The Counter is the best Impossible Burger I have eaten.  I could not believe that it was not a meat burger.  It was cooked to perfection.  It was well seasoned.   I enjoyed every seasoned bite.  Although I built my own burger I am sure this burger would taste could with only the bun or just alone if you are trying to go really lean.
We absolutely loved the Impossible Burger at The Counter.    I have been telling people about this new vegan meat.   I told a friend about the burger that is at The Counter.  He his convinced that all Impossible Burgers are the same.  I tried explaining to him that this is not true.    He just could not understand.  Maybe one day he will realize they are not.  I thought the same thing until I tried the one at The Counter.
I cannot wait to dine at The Counter again.  I will definitely order an Impossible Burger.
Head over to  any of  The Counter burger locations and try an Impossible Burger!