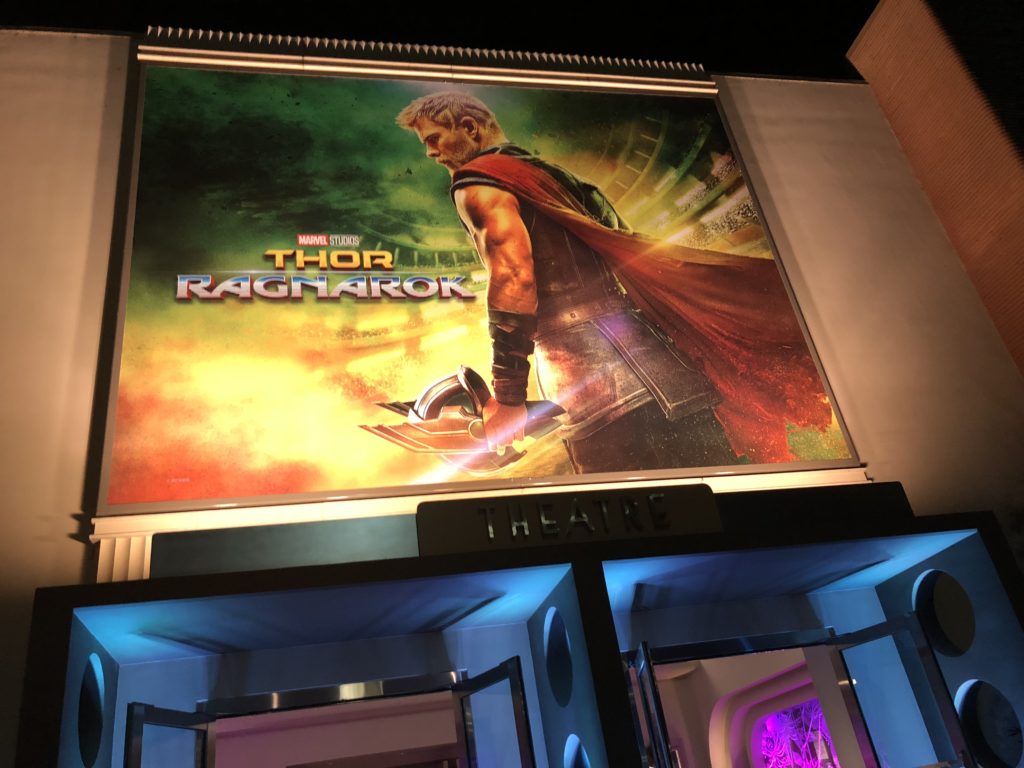 After seeing THOR: RAGNAROK  I truly understand the hype about this movie.  It was so good!   I do not watch movies twice, but I would definitely see this again.
As I sat in Disney Studios waiting for the movie to begin,  I had no idea what I was in for.  I should have known something when my son and I were headed out and my daughter arrived in town and pleaded to join us.  Little did I know this was a must see movie.
Within the first few minutes of the movie starting the theater erupted in laughter.   The laughter was none stop throughout the movie.
This was my first THOR movie but it was easy to follow the Thor Ragnarok storyline aside from a having heard a little of the backstory from my daughter.
Thor Ragnarok Plot:
In Marvel Studios' THOR: RAGNAROK, Thor is imprisoned on the other side of the universe without his mighty hammer and finds himself in a race against time to get back to Asgard to stop Ragnarok—the destruction of his homeworld and the end of Asgardian civilization—at the hands of an all-powerful new threat, the ruthless Hela. But first he must survive a deadly gladiatorial contest that pits him against his former ally and fellow Avenger—the Incredible Hulk! THOR: RAGNAROK is directed by Taika Waititi and returns Chris Hemsworth starring as Thor and Tom Hiddleston reprising his role as Loki. They are joined by Cate Blanchett, Idris Elba, Jeff Goldblum, Tessa Thompson and Karl Urban, with Mark Ruffalo and Anthony Hopkins.
I was excited about the all star cast after watching the Ragnarok movie trailer.  I was excited see Cate Blanchett play the villain, Hela.   She did not disappoint me.  When we left out of the theater my daughter said, " I did not like Hela."  Of course!  We were not supposed to like her.  She did her job.  Aside from her acting, she looked amazing!  As a villain she gracefully sauntered around at times sprouting antlers that seemed appealing and although they were meant to be evil.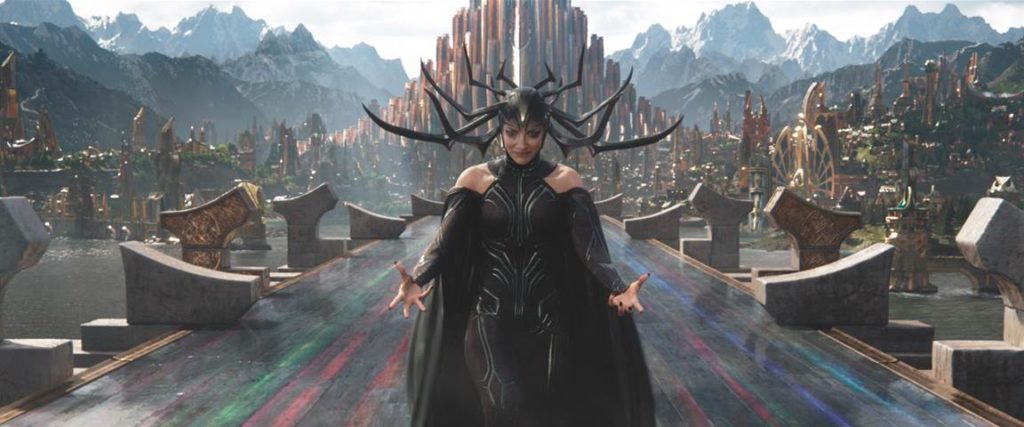 I was taken by surprised to see Chris Hemsworth as the movies breakout comedy star.  I had no idea he would be so funny.  As he fights to save his home world he displays his strengths and fun side with lots of charisma.
Most of the film focuses on the battle between Thor and his long lost sister Hela as she tries to take over Asgard.   During this war between the two  siblings Thor faces a few obstacles.  For example:  He has to fight his friend Hulk. As he stands in the middle of the stadium to fight his opponent and realizes it is Hulk, he says with excitement,  "I know him from work."  This type  comedic timing was incredible.
Just seeing the Hulk brought on cheers.  Watching the hefty green guy fight Thor was completely unexpected for me.  It is when he turns into Bruce Banner  we witnesse Mark Ruffalo amazing performance as two amazing characters.  I did not know if I wanted the sun to go up or down.
Another standout character was Valkyrie, an alcoholic bounty hunter who once fought against Hela and now works for The Grandmaster,played by Tessa Thompson.  It was kind of hard to see Thompson as this character.  It was so different from her previous characters she has played in the past as an militant, black activist.  It is good to see her taking on new roles.
The film is rated PG-13.  There was one scene that an orgy is mentioned.    I know teenagers today know a lot of things, but adding statements like this only adds to it.  There are some teenagers that have not been exposed to such things.  As an adult I was a bit uncomfortable.
Aside from the one line that was a bit uncomfortable everything about this movie was enjoyable.  Marvel hit the mark with the slap stick comedy and action.   In my opinion it is the best reviewed Marvel movie.
THOR: RAGNAROK opens in theaters everywhere November 3rd!
Like THOR: RAGNAROK on Facebook: https://www.facebook.com/Thor/  
Follow THOR: RAGNAROK on Twitter: https://twitter.com/thorofficial
Follow Marvel on Instagram: https://www.instagram.com/marvelstudios/