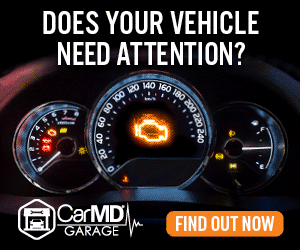 CarMD recently released a new online service called CarMD Garage that enables vehicle owners and used car shoppers to access upcoming maintenance and repairs, warranty coverage, recalls, technical service bulletins, and other information to help save on cost of ownership.  A proprietary CarMD feature is predicted diagnostics, which shows owners and shoppers the likelihood and cost of repairs over the next 12 months.
This strategic partnership with CARCHEX enables CarMD users to save on extended warranty coverage to get peace of mind – especially if they have a high probability of a pricey repair.
My daughter and I are both looking to buy new cars.  Until then we are also making sure our current vehicles are in tip top shape and are trying to prevent paying for unforeseen repairs.
I used CarMD Garage Vehicle Health Report to see what issues our cars may have.  I started out with the free diagnostic report.
I ran the report on one of the cars, because it was the only car I could easily get the VIN to.  I could have just typed in the make and model of each car, but I really wanted to run a report using the VIN.
After I input the VIN and hit submit a maintenance report appeared within seconds.  I was aware of some the items that appeared.  There were a couple of things I was unaware of.  Aside from seeing the needed repairs I was able to see a few recalls that were issued on this particular car.
The free report was very informative.   Ironically, I was scheduled to take this car to the mechanic last week and had to reschedule for this week.  I would not have ran this report last week to diagnose this car.   I am so happy I did this week.  I like my mechanic and trust him, but this report allows me to feel like I am a little more knowledgeable.
For an additional fee I was able to get an estimate for the cost of repair.  I have something to work with when I am given a quote or am charged something.  I can always refer to my  CarMD Garage report.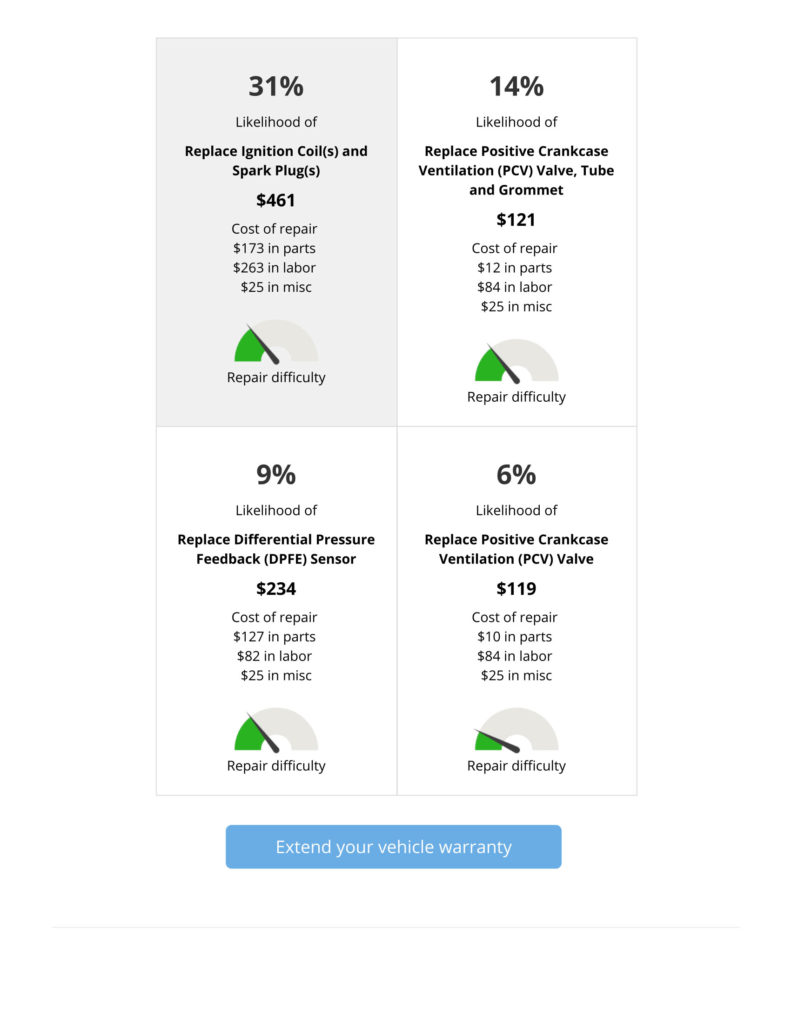 CarMD is a leading provider of automotive diagnostic information, and CARCHEX, the industry-leading provider of direct-to-consumer Vehicle Protection Plans, today announced a strategic partnership to provide CarMD customers with additional means to reduce unforeseen car repair costs. Through the partnership, CarMD® Garage customers will receive $100 off CARCHEX Vehicle Protection Plans. To learn more, click here.
"This partnership with CARCHEX is a value-add for CarMD customers who tend to be cost conscious when it comes to their cars and trucks," said David Rich, CarMD's Technical Director. "CARCHEX's Vehicle Protection Plans nicely complement our CarMD Garage Vehicle Health Reports that provide vehicle owners with insight on the likelihood and costs of upcoming maintenance and repairs, as well as warranty, recall and other cost of ownership details."
CarMD Garage reports are based on tens of millions of in-use repairs compiled by CarMD over the past 20 years. For instance, a top five most common check engine light repair is "replace mass air flow sensor" at an average cost of $378, while other repairs such as replace engine, transmission or catalytic converter can cost thousands of dollars. With this insight, car and truck owners can predict upcoming repairs and make educated decisions about whether to keep, sell or purchase an extended warranty for an out-of-warranty vehicle with a high likelihood of a costly repair in the next year.
"This partnership enables us to connect with CarMD's audience of vehicle owners who seem to appreciate insight to help reduce the cost of car ownership," said CARCHEX CEO Jason Goldsmith. "Your automobile is most likely your second largest investment that you use on a day to day basis. A CARCHEX Vehicle Protection Plan will ensure that your vehicle is in the best mechanical condition and can help you avoid expensive repair bills."
A turnkey online tool for car and truck owners. CarMD Garage is an online service that enables anyone to input a vehicle's year, make, model – or vehicle identification number (VIN) – and mileage to generate a free CarMD® Garage Vehicle Health Report with information that can reduce the cost of vehicle ownership and extend a vehicle's life. CarMD Garage reports include VIN decoder, average MPG, safety recalls, Technical Service Bulletin (TSB) count and upcoming maintenance. Optional in-report purchases include maintenance details and costs, predicted diagnostics likelihood with parts costs and labor times, and detailed TSBs. To view a sample CarMD Garage Vehicle Health Report, click here. To get your free CarMD Garage report, visit www.carmd.com/garage.
CARCHEX plans are fully transferable, and like a car warranty, can increase a vehicle's resale value.  Additional benefits include 24/7 roadside assistance, towing benefits and rental car. Plans are customizable, allow you to choose the repair location and can be paid with an affordable payment plan. To learn more about CARCHEX Vehicle Protection Plans, including the $100 discount for CarMD customers, click here.
About CARCHEX
CARCHEX is the industry-leading provider of direct to consumer Vehicle Protection Plans.  Protecting automotive consumers for over 18 years and providing exceptional customer service has translated into an A+ Rating with the Better Business Bureaus.  To learn more about CARCHEX and to get protected, visit www.carchex.com.
About CarMD
Based in Irvine, Calif., CarMD is a leading provider of automotive diagnostic information, products and services that leverage and empower the capabilities of the on-board diagnostics (OBD2) port. CarMD has also amassed a database of vehicle insight, including maintenance and repair data, which it uses to support the CarMD Garage online service. For more information about CarMD's products and third-party data solutions, visit www.carmd.com.