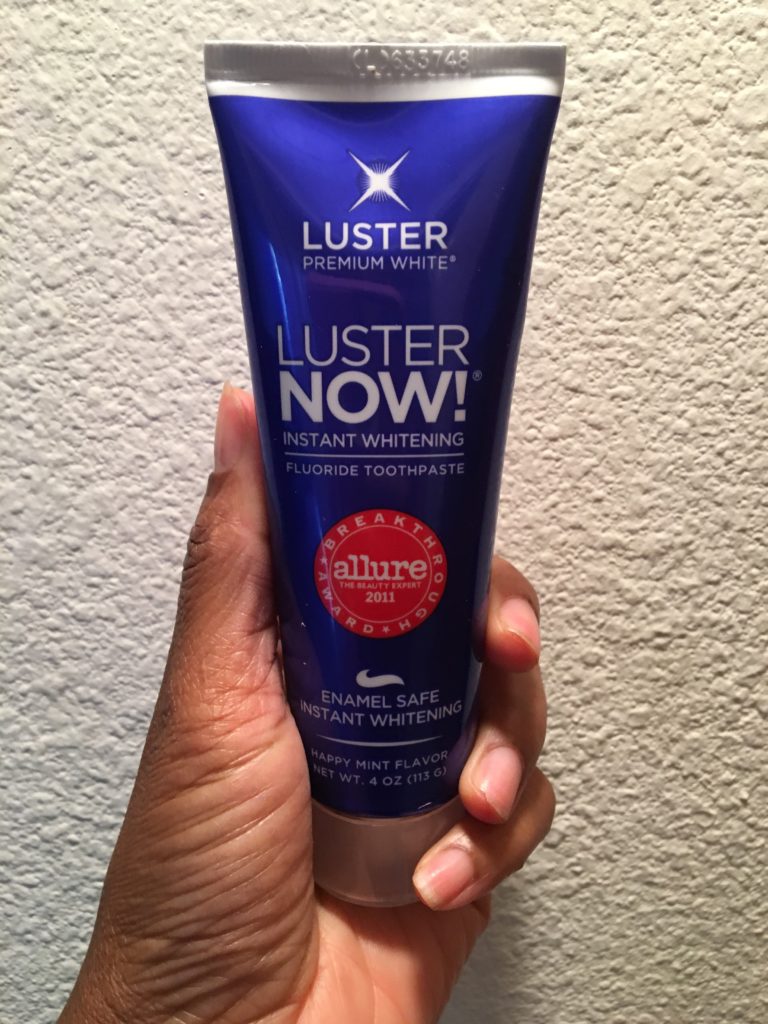 For the past two months my family has been using Luster Toothpaste.
We could not have started using it at a better time.  My 12 year old son is wearing braces.  He is now brushing his teeth more often.  He is also transitioning from kids oral toothpaste and needed something that was whitening, long lasting and not too strong for his young mouth.
We have used both the Power White and Luster Now for one month each.  They have worked very well.
I was concerned the taste would be too strong for my son. It was not,  but when we first started using both toothpastes we did experience a bruising sensation on our tongues.  Our toothbrushes were fairly new.  I thought maybe that may have had something to do with it.  But, it did not occur with occur with our old toothpaste. My daughter said she did not experience that sensation.  After a couple of  weeks the feeling went away.  I think some mouths can be a little sensitive when trying new toothpastes or toothbrushes.    Now our palates have adjusted to the toothpaste and everything is fine.    I loved that it leaves our mouths feeling fresh and clean.
For the first 30 days we used Power White Deep Stain Eraser Fluoride Toothpaste.  It kept our teeth looking nice and clean.  My son is very conscious about having food in his teeth and wants to make sure his teeth are clean and white.  He is concerned, but I still have to get on him about brushing his teeth.  Brushing once a day is not enough.  Knowing he does this I felt confident about him using this toothpaste.
Power White Daily Teeth Whitening Maintenance:
Luster Premium White is distinguished by having no messy strips or trays, no inconvenient or expensive office visits, and best of all, no tooth sensitivity thanks to breakthrough technology and premium ingredients including stabilized peroxide.
Luster believes teeth whitening should be more effective, use safer ingredients and not cause tooth sensitivity.  So that's exactly the kind of products they have created. They have carefully sourced the best ingredients to make each product as safe and effective as possible. These daily maintenance products are exactly what you need to whiten then maintain your bright, white smile.  All of their toothpastes contain Fluoride for everyday oral health, so you do not need to use a separate cleanser and whitener. Luster products are all-in one whitening and cleaning solutions.
This two in one toothpaste will not only cleanse your teeth and freshen your breath, but it will also whiten surface and deep stains. There is no need to buy a separate cleanser and whitener. Power White Deep Stain Eraser Fluoride Toothpaste combines these two steps in one.
Power White:
Removes up to 95% of surface stains in just 5 days
Uses 2% stabilized hydrogen peroxide for brighter, whiter teeth – 2X the leading brand
Whitens safely above and below the tooth's surface
Developed by dentists
Causes zero tooth sensitivity
Enamel safe peroxide whitening
Fluoride toothpaste formulated for daily use
For the next 30 days we used  Luster Now, Instant Whitening Fluoride Toothpaste.
Luster NOW! instantly whitens teeth after one brushing, plus is contains Fluoride for daily use.
Allure Beauty Breakthrough Award Winner
Instantly whitens teeth after one brushing with results that last for hours
Contains Bluverite technology which deposits blue micro-particles on to teeth, creating the optical effect of whiter teeth
Fluoride toothpaste formulated for daily use
Removes surface stains with daily use
Gentle on teeth and safe for dental restorations
Developed by dentists
Causes zero sensitivity
Enamel safe whitening
My family liked Luster Now just as much as we like Power White.   We did not see much of difference between the two.  They both seemed to be one of most effective toothpaste we have used.