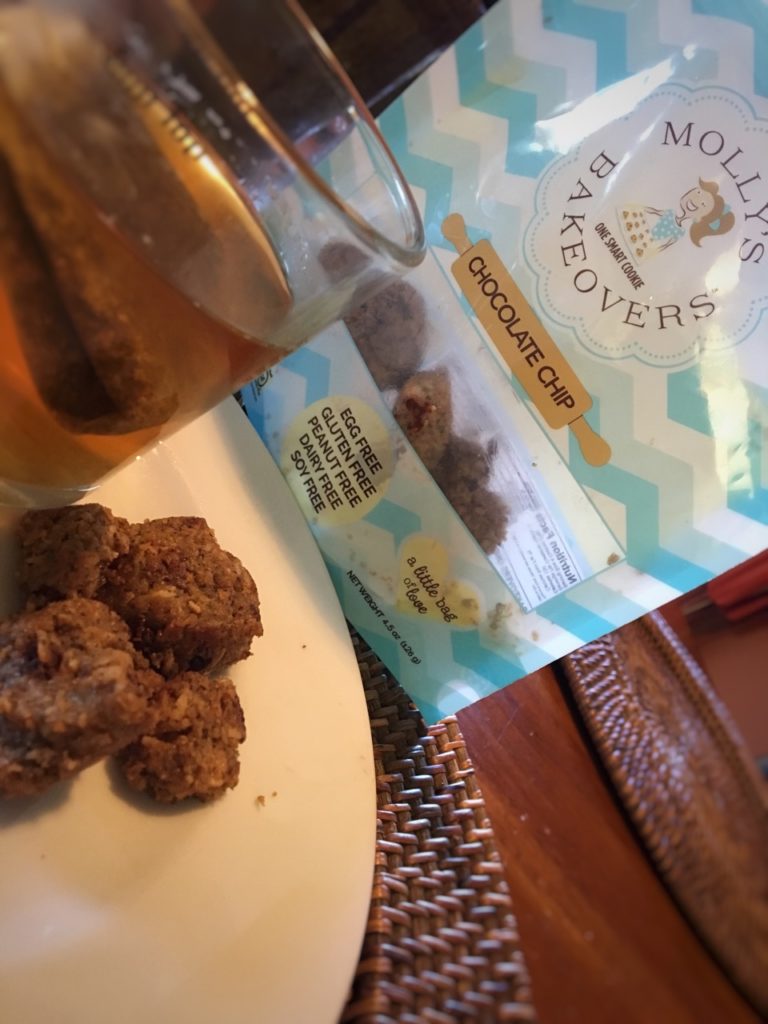 I am not vegan but I eat a lot of vegan friendly foods.
There are a few  vegan food brands that I love and have been enjoying for a few years and I  have now included  Molly's Bakeovers to that vegan list when I buy vegan food.
Molly's Bakeovers are:
Made from only natural ingredients
Nothing genetically modified or processed.
Made without white sugar, sweetened with pure honey or organic coconut nectar (which is low glycemic)
A good source of fiber, and low in sodium.
 Free of gluten, peanuts, dairy, egg, and soy.
Molly's Bakeovers come in these flavors:
Chocolate Chip
Oatmeal Raisin
Paleo & Vegan Brownie Crisps
I am not much of sweet eater so eating vegan desserts are a little more appealing sometimes because I do not feel like I am worried about calories, sweets, fats etc. When I do eat cookies or brownies my top choice would be chocolate chip cookies, then oatmeal cookies  and then brownies.   I could not decide which cookie I should sample first so I opened the chocolate chip and then the oatmeal.  I usually do not eat brownies unless they are piping hot a la mode and are not vegan brownies.   I love hot fudge brownie sundaes only when I am craving something sweet.  That is not too often.
For a couple of days my son and I snacked on the cookies.  We decided  we would save the brownies for a later time because they were not going to be eaten the way we like them.   I liked eating the cookies with a hot cup of herbal tea or just nibbling on a couple without my tea.  This bite size cookies were surprisingly filling.  They satisfied my sweet tooth.
I ate Molly's cookies for a few days sporadically and then one day I came home and my daughter had stopped in and was eating the brownies.  I did not care because I was certain I would not like them too much.    When I walked in, before we could greet each other she said, "These are good!"  She had eaten most of the bag.  She also said, "I could not stop eating them.  Oh, I saved you  a couple…."  As I looked at her I tried one.  She was right!  Molly's brownies were delicious.  Just as my daughter had done I wanted to eat more.  I should have opened the brownies first.
Molly's Bakeovers are tiny bites of deliciousness.  Like a lot of vegan cookies they do crumble a bit but that is okay.  The texture is crisp and a bit chewy.
These cookies and brownies come in a cute resealable packages keeping them fresh.  I opened a pack of cookies and left them in the cabinet for a few weeks.  They still taste fresh.   This small package is packed with quick and easy vegan snacks.  You can just grab and go.
Molly's Bakeovers are healthy store bought vegan snacks.
My family found that we each liked something different about the Molly's Bakeovers.  They are healthy vegan snacks for kids and adults.