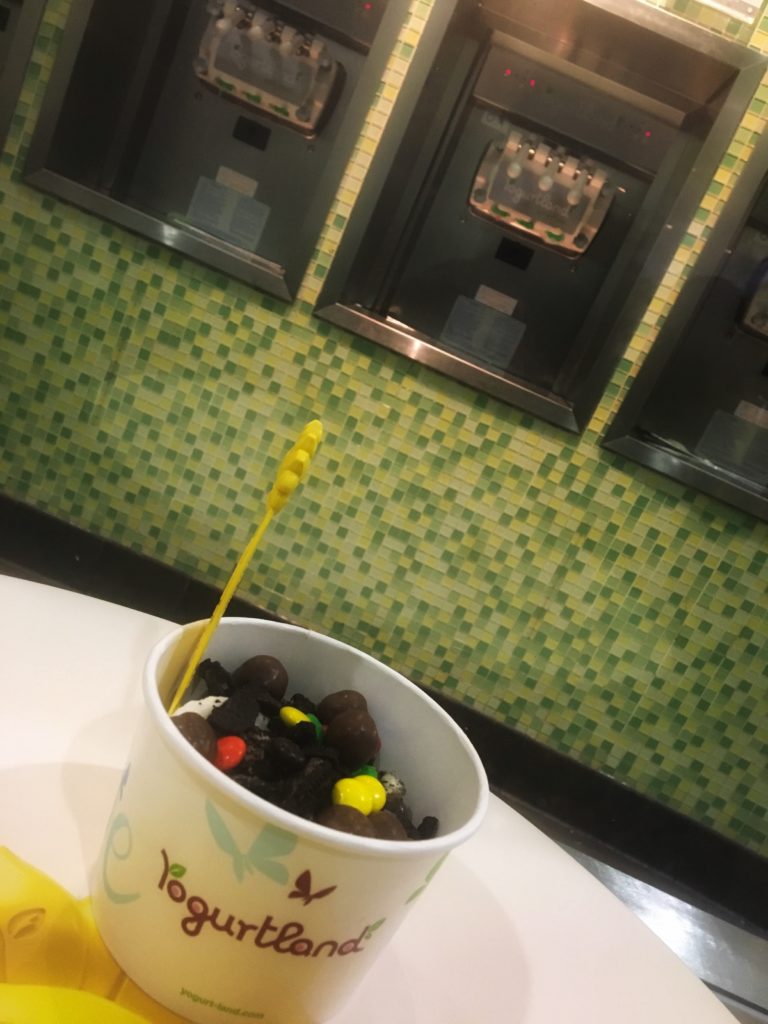 From now until 
October 1
, guests are invited to try the five limited-edition flavors, Blissful Banana Toffee Pie, Molten Lava Cake Gelato, Spicy Sweet Chili Mango Sorbet, Simply Sublime Pear Tart, and Perfectly Roasted Pistachio Almond. Before customizing their yummy yogurt creation, guests will decide to fill an original Yogurtland cup or for an extra $1 they can choose to fill the Hope Cup and equally benefit the following three Yogurtland Cares supported charities:
–       Children's Miracle Network Hospitals – Providing treatment, comfort and hope to millions of sick kids and their families.
–       Exodus Cry – Assisting and empowering victims of exploitation around the world.
–       Rescuing Lives – Rescuing and caring for widows and orphaned children in poverty stricken
It is not too late to support these charities.  They are great charities to donate to.    One dollar can go a long way especially if everyone is giving.
My family went last week and  sampled Perfectly Roasted Pistachio and Simply Sublime Pear Tart.
I love pistachios and in my mind it seemed like a healthier option.  I know…it was in my mind.   I told myself that as I indulged in the delicious flavored pistachio yogurt.
I also like pears and I really like tart frozen yogurt. The name said it all.  It tasted just as I expected.
Perfectly Roasted Pistachio and Sublime Pear Tart were delicious and light.  That was before we added toppings from Yogurtland toppings list.  It just seems wrong to not add toppings.
–       Blissful Banana Toffee Pie- Inspired by the English dessert 'banofee pie,' this flavor will have froyo lovers enjoying every spoonful. By combining real bananas with a toffee base and adding hints of graham cracker and shortbread, this tasty froyo perfectly captures the spirit of this popular, decadent dessert pie.
–       Molten Lava Cake Gelato-  Guests can enjoy this flavor that derives its taste from the French classic soufflé. This flavor exemplifies a perfect chocolate cake, mixing cocoa and shortbread cookie creating every chocolate lover's dream flavor.
–       Spicy Sweet Chili Mango Sorbet- Guests will be able to explore this tasty treat beginning August 21. As a tribute to the popular combination in Mexico, this flavor brings together Alphonso mango with hints of red chili and lemon flavors. This refreshing flavor delivers the perfect balance of sweet and spice in every spoonful. 
–       Simply Sublime Pear Tart- Reminiscent of the Asian pear, this scratch-made flavor will be offered in stores beginning September 4. Starting with a pear puree made with Bartlett pears, this flavor mimics sweet, fresh, and ripe in every spoonful. This tart based flavor will have froyo enthusiasts feeling as though they are biting into a deliciously ripe pear.
–       Perfectly Roasted Pistachio Almond- This no sugar added pistachio almond yogurt will have froyo fans satisfied without the added guilt. Incorporating roasted pistachio butter and real almond butter, this flavor provides the perfect nutty combination that will be sure to please all yogurt lovers.
The new promotional flavors, have been available from August 7 to October 1, give froyo lovers the chance to explore new delicious yogurt combinations and pairings while collecting two special edition spoons. For the first time, Yogurtland is offering three-dimensional spoons. These specially designed spoons reflect the theme of hope with a bright yellow sunflower shape and a charming pink flowerpot shape.
Make your way over to your local Yogurtland and give back.  There is still time.