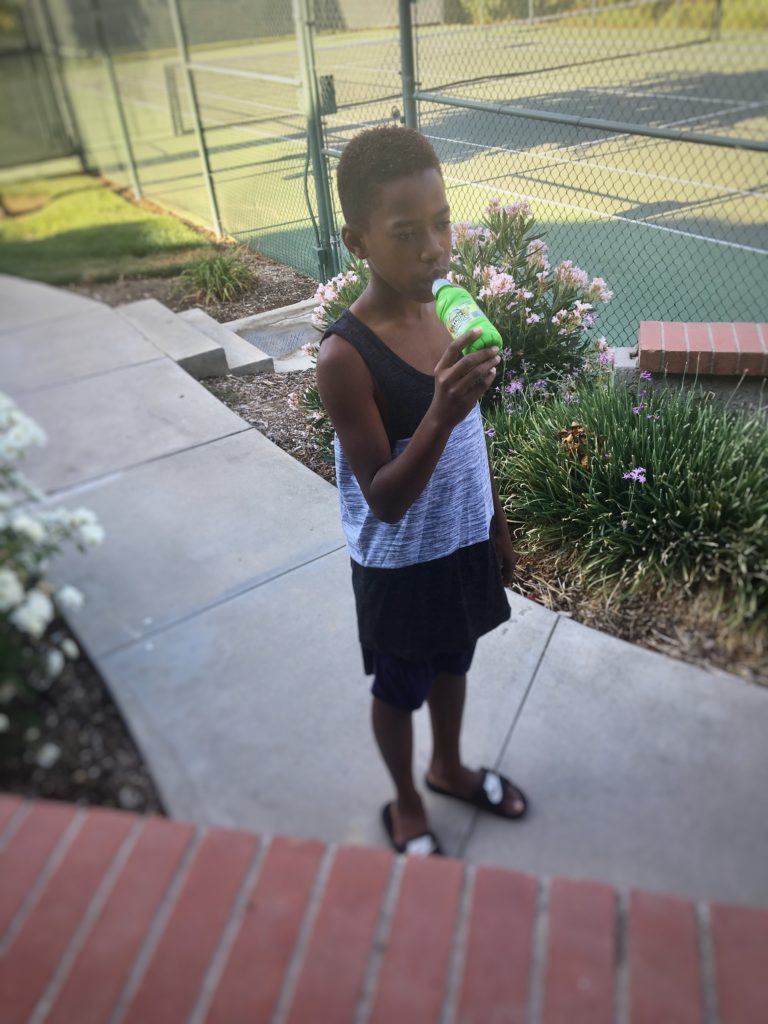 We were not expecting to experience a heat wave during the first week of school.
Keeping my son hydrated while he is at school is always important.  Everyday I send him with water and every now and then I will pack some juice.  With it being so hot I packed both water and a bottle of Fruit Shoot.
Yesterday, we fell behind schedule and we did not have time to sit for breakfast.  I told him to grab a Fruit Shoot and the toasted English muffin I had prepared and head out the door.
Fruit Shoot is a refreshing fruit juice drink for kids that is  ready to keep up with them and their "thing", whatever their thing may be. It's made with real juice from concentrate, plenty of water and with no artificial flavors or high fructose corn syrup and they just launched a NEW Fruit Punch Flavor!  I love that there is no added sugar.  My son is none the wiser because he said it taste really sweet.   He is not a big fan of sweets.  I was concerned it may be too sweet for him, but he said it was not.
My son tried Fruit Punch, Wild Berry Grape and Apple flavors.  He liked all three flavors.
Today, I packed a bottle of Fruit Shoot in his lunch.  It fit conveniently in his lunch box.
He has grabbed a bottle to drink on the way to football practice.  He really likes  the sports cap.  The bottle is reusable,  but we never reuse it.  We gave the bottles to the football team fundraiser to recycle.
The package and convenience of Fruit Shoot is nice.  The only concern I have is that some of  the bottles did not seem full.  I am not sure if the juice evaporated or if each bottle was half full to begin with.  There were three bottles that we experienced this with.  They were in the refrigerator the entire time.  I do not know what happened.
Outside of that, Fruit Shoot has come in handy for us while on the go or packing lunch.  They are good kid drinks.
About Fruit Shoot:
2 different varieties: Made With Real Sugar (green cap) and No Sugar Added (silver cap)
6 unique variants: Fruit Punch (new as of April 2017), Strawberry & Raspberry, Berry Burst, Orange & Mango, Pink Lemonade, Apple and Wild Berry Grape in our current lineup!
Single serve bottles (SRP $0.99-$1.29) and 6-packs (SRP $2.99-$3.19) Fruit Shoot is sold in over 30 markets worldwide
In the UK, 2 bottles of Fruit Shoot are sold every second*