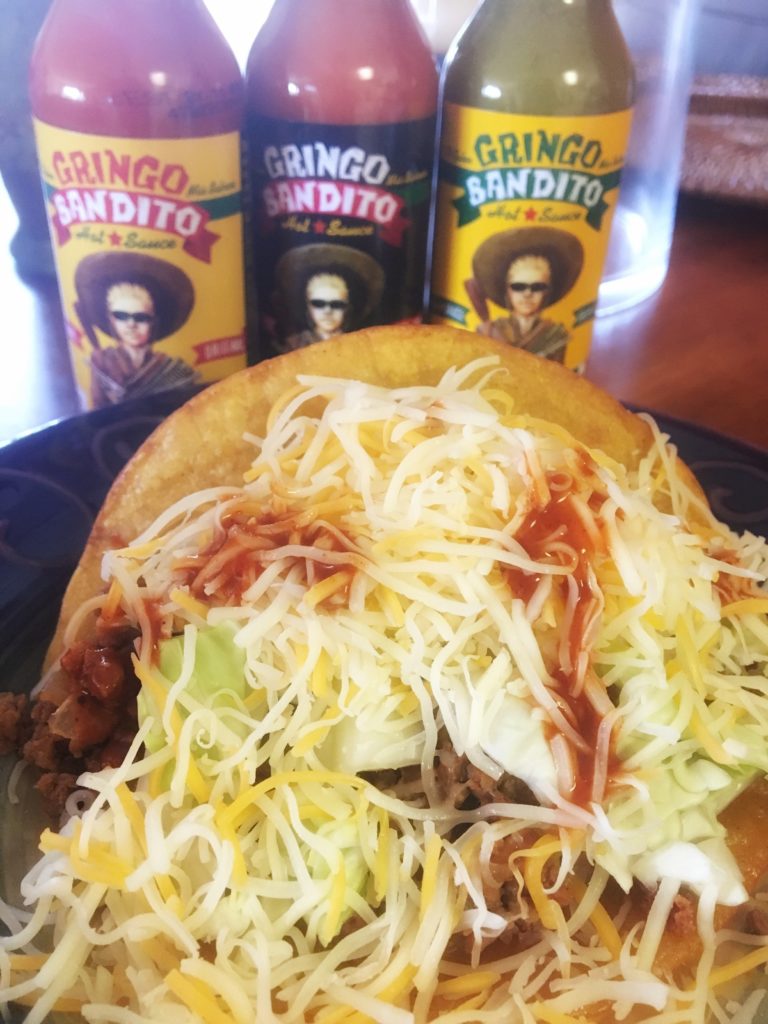 Over the years I have tasted many types of hot sauce.  I have to admit Gringo Bandito is definitely one HOT hot sauce.
I could not wait to make tacos so I could try the Original Red Sauce.  I thought since it is original it would not be too hot.  Although I am not from the South, my southern routes kicked in while eating this hot sauce.  I am usually able to tolerate anything hot.
After I prepared the tacos I decided to pour quit a bit of hot sauce on my taco.  Let me just tell you…"It was a super hot hot sauce!!!   I immediately thought to myself, 'If the original was hot, how hot could the  Gringo Bandito Super Hot be?'   Although the hot sauce was hot, I still enjoyed it.  Have you ever eaten something that is good, but it is tearing your mouth up and you cannot stop eating it?  That was the experience I had with this hot sauce.  On top of the sauce being so hot, I had seasoned my meat to be quit spicy.  If I had known the Gringo Bandito sauce was going to be so hot I would not have made my turkey taco meat so spicy.   I made sure that I did not put so much hot sauce on my other taco that I ate later.
Since I knew Gringo Bandito was one of the the hottest hot sauce I ever had, I decided to use it in my spicy bbq wing recipe.  This was a hit with my family.  It gave the chicken just the right kick paired with my sweet bbq sauce.
I also have the Gringo Bandito Green Sauce.  I have not tried it yet.  I plan on making chicken enchiladas.  I am sure it will go well with enchiladas.
So far I have recipe ideas in mind to pair with Gringo Bandito.   If I run out of recipes  I can  always head over to the Gringo Bandito site for a little help.
I ran across a Griingo Bandito YouTube video.  Ironically I have tried Chronic Tacos and their hot sauce as well.  It was interesting to see the Gringo Bandito and Chronic Tacos Challenge. This had to been an awesome challenge because these are both very HOT hot sauces.
Gringo Bandito was hotter than I expected.  After tasting it I figured out how to make it possible for me to eat.  This hot sauce can be used as a condiment or as an ingredient in many recipe.