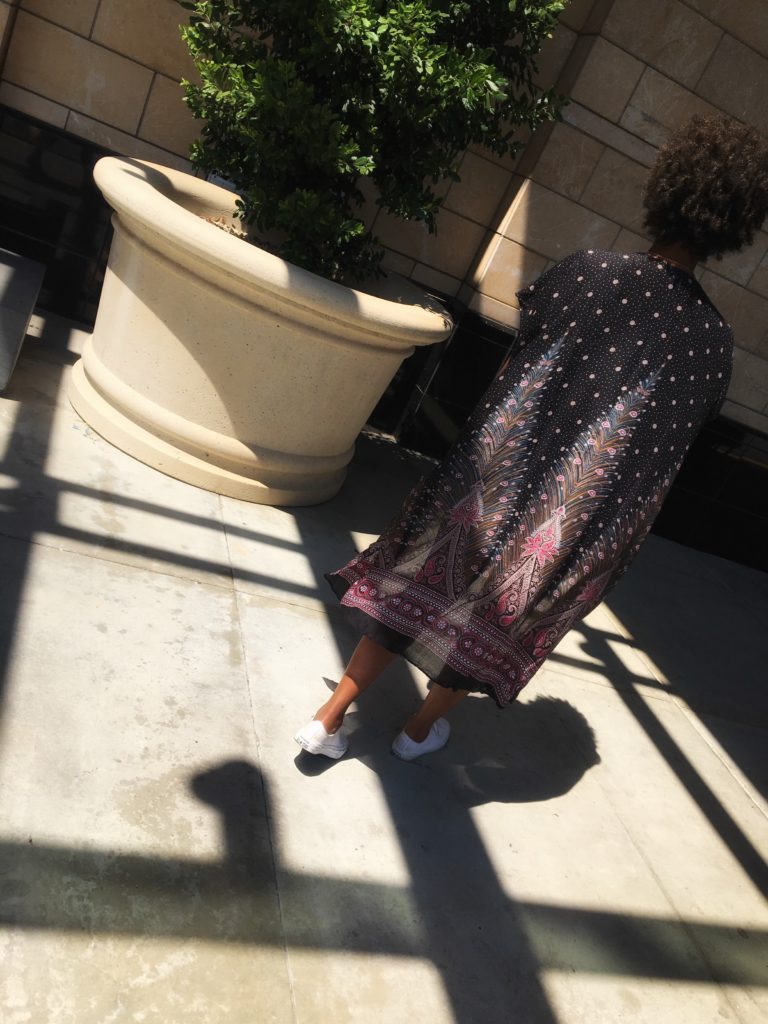 I have been wanting a new kimono for some time.   I had been going into one of my favorite stores casually looking for one, but nothing stood out.  I have now stopped going into the store looking for a new kimono because I recently received a Black and Red Peacock Kimono  from  One Tribe Apparel .
One Tribe Apparel is a Bohemian fashion brand that began when two travelers fell in love with Thailand's Bohemian styles, and decided to bring them back to to the west in a socially conscious way.
All of their products are sourced and made in Thailand by local artisans who are paid fair wages.  And for every purchase of one of our products, they make a donation to the Elephant Nature Park in Chang Mai, Thailand, which rescues and cares for endangered animals so they can roam freely in a safe environment.
After receiving hundreds of photos from women around the world posing in their clothing,  they realized there are no better models than their One Tribe community. That's why they created the first International Crowdsourced Lookbook, which uses visual storytelling to showcase their unique styles across six continents and 16 countries – modeled exclusively by their customers.
I think I may have an understanding as to why they have taken this approach.  I recently wore my kimono and I received many complements.  The day I wore it I went shopping with my daughter and I was stopped a few times by people that were complementing my kimono.  Ironically, I was in my favorite store that is known for their Bohemian styles and a few of the customers complemented my style.
The complements were a pleasant surprise, because on this day I did not like my appearance.  My outfit was cute, but I was not pleased with my weight.   My daughter had taken a photo of me and I discovered that I had gained more weight and I was wearing shorts.  My shorts did not look like how they used to when I wore them before.   How did I not notice?  All I could think of was hitting  the gym and eating lean immediately! The people that were approaching me had no idea that I was feeling this way.  Little did they know their complements made my day.   No matter what size I am  this kimono looks good.  It is one size fits all.  This is perfect for the heavier and thinner me.
My One Tribe Apparel kimono is definitely a classic piece.   I did not need anyone to tell me that it was cute.  I was just not comfortable with myself on the day I wore it.  I have always owned who I am and wearing Bohemian styles allows me to feel free.    There are so many ways I would like to wear my new kimono.  I can wear it with shorts, jeans, dresses.  I can also wear it with flats, tennis shoes, boots or booties.  I can create so many cute boho outfits.
One Tribe Apparel also has a full line of pants, tops and bags.   I suggest you head over to the One Tribe Apparel site and check out their women's bohemian clothing line.