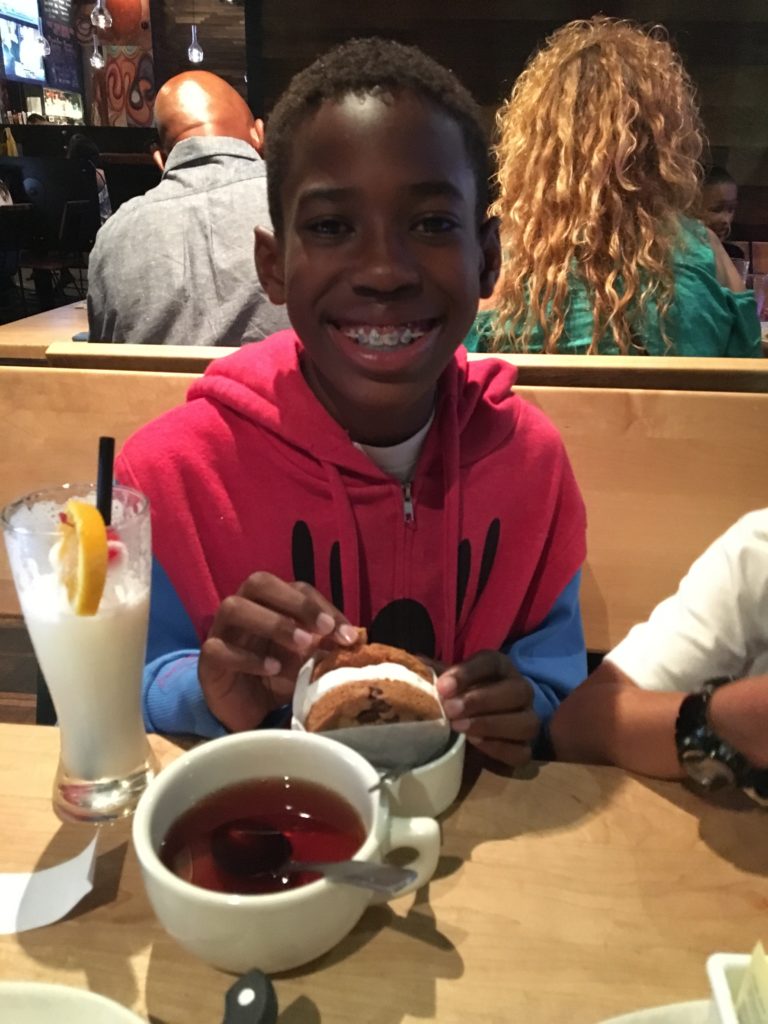 This year my son wanted to spend his birthday in San Diego.  After a fun filled day at SeaWorld he wanted to top his day of celebrating at STACKED.
STACKED has become one of his favorite restaurants.
Knowing he was dining at STACKED later that evening gave him something else to look forward to.  He is the type of child that loves celebrating.  It does not matter if it is his birthday or someone else's birthday.  He loves to have a good time.
STACKED was definitely the perfect place to celebrate.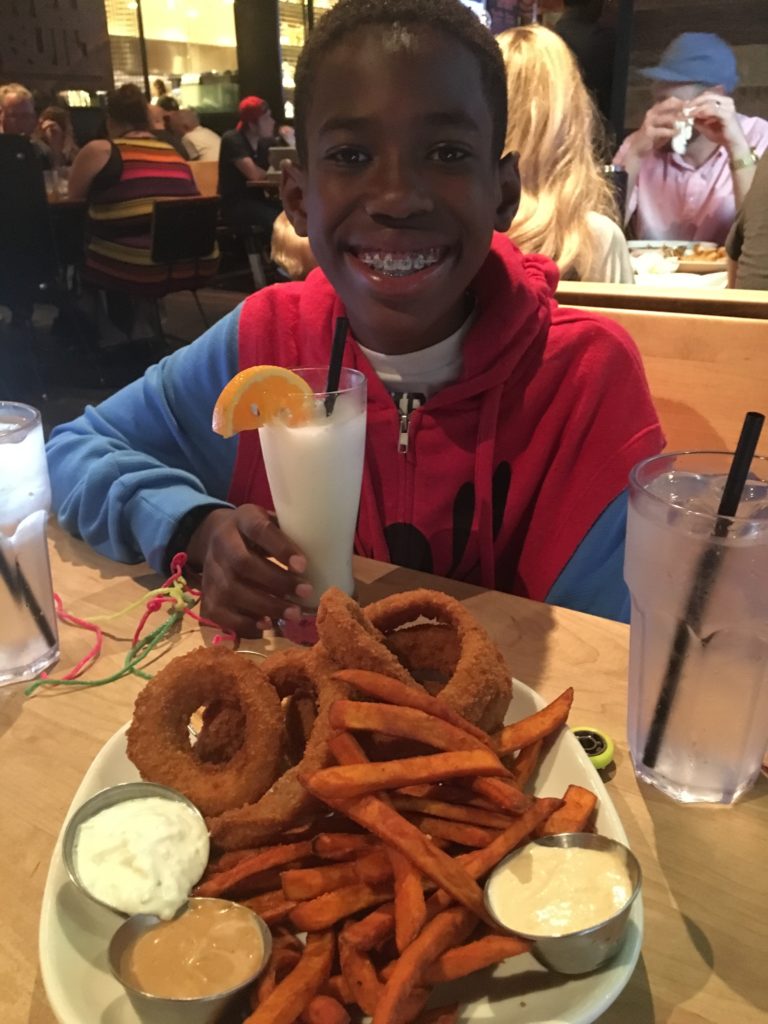 After a long day in the heat and drinking at SeaWorld we still felt dehydrated.  We could not wait to get the restaurant.   The first thing we all ordered was something to drink.   We all had non alcoholic drinks along and  lots of water.   My son loves the virgin Pina Colada.   The kids got a kick out of ordering the non alcoholic beverages.  We ordered strawberry margaritas and strawberry daiquiris as well.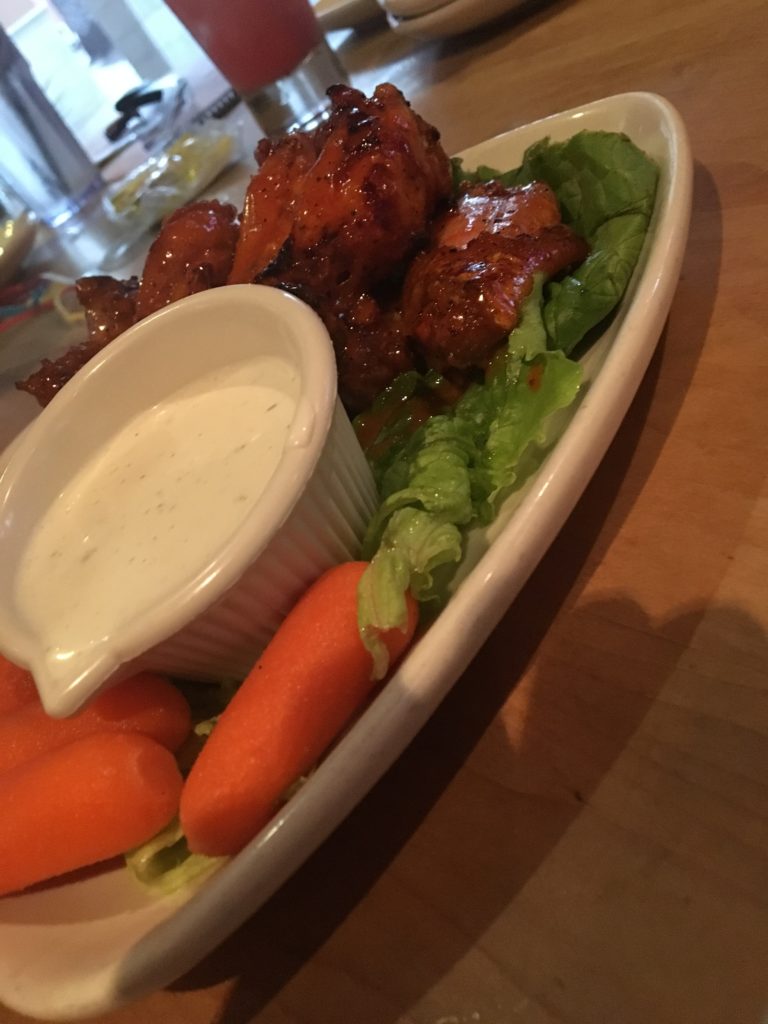 I know we came to eat, but for a second all we could think of us getting something to drink. These drinks hit the spot and they were so delicious.   After our thirst was quenched we all agreed on a couple of appetizers.  We decided to wing it with an order of Habanero Wings.  They were so delicious.  Within seconds the wings were gone leaving only the carrots.  We all laughed when I pointed out no one at the veggies.  Feelings of guilt crept upon everyone and we each ate a carrot.  You have to eat your veggies!  We also mixed it up with an order of  onion rings and sweet potato fries.   We had never had either the sweet potato fries or  the onion rings at STACKED before.  Our waitress suggested we try the garlic aioli sauce with the fries.  Oh my goodness…this was the perfect combination.  We devoured both orders of fries and onion rings.  We sampled barbeque sauce and ranch with the the onion rings.  I think someone in our party wanted just ketchup.  They were not willing to try new things.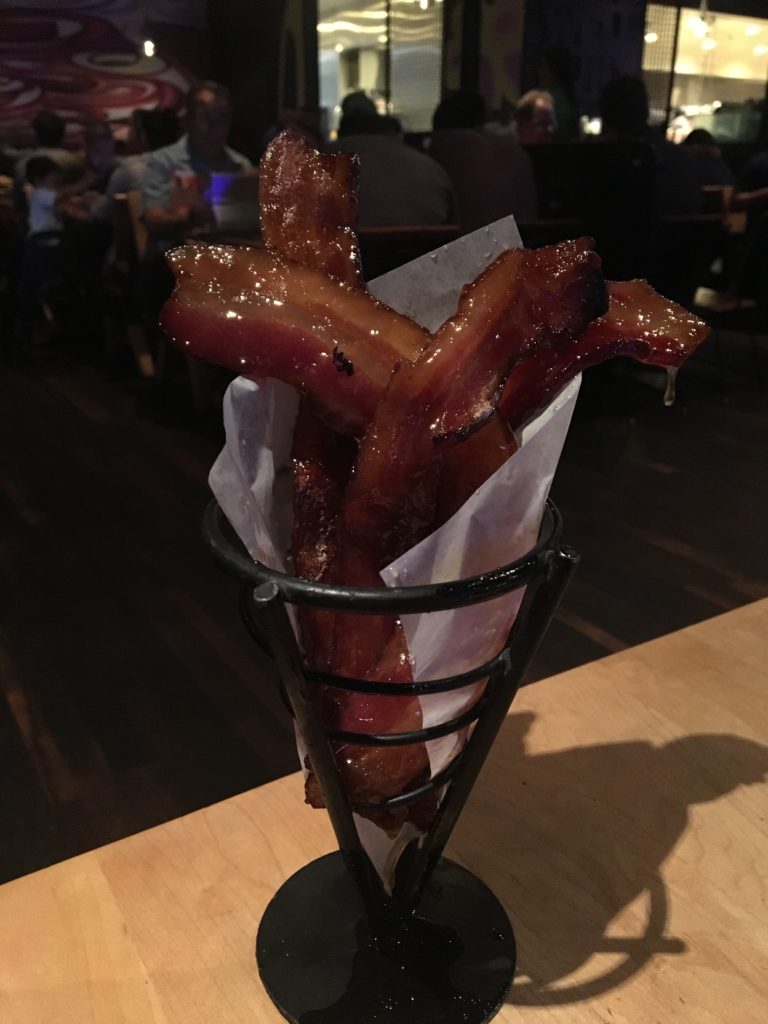 My son and I do not eat pork, but I remembered that my daughter says the candied bacon is very delicious.  She is always telling someone about it.  I had to place an order for everyone that did eat pork.   They loved it.  The looks on their faces while eating the strips of bacon as the sweet juices of maple syrup and brown sugar dripped made me wish they offered it with turkey bacon.  I would love to try some.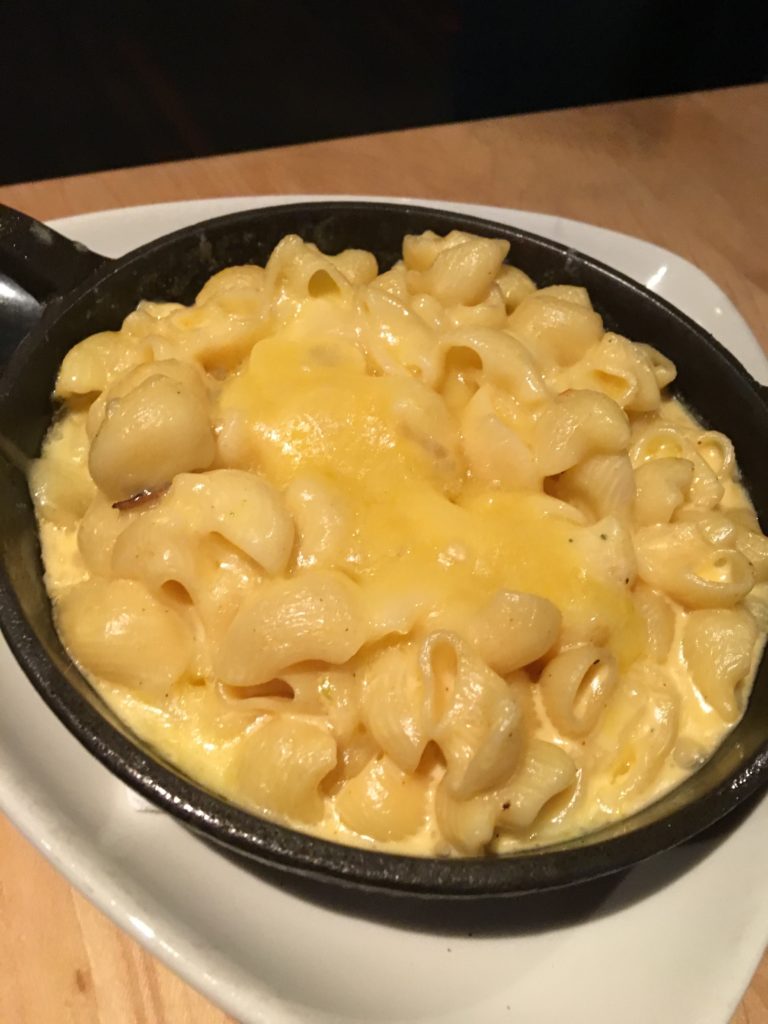 After several drinks and a couple of appetizers our stomachs were pretty satisfied.  This was the first time we were not very creative while ordering.    For the first time I tried the Asian Chicken Salad and it was good.   The portion size is pretty large.  After all of the food I had eaten I could have shared it with someone.  It was so delicious.  I ate all.  I definitely over ate.  The other people in our party ordered soup,  mac and cheese and the kids mini burgers.  Thank goodness for kid friendly menus.  My son was the only person that built his burger.  He ordered a chicken sandwich.

When we first arrived the hostess was aware that it was my son's birthday and asked me what dessert would he like.   Later, when we were done with dinner our waitress asked what would we like to order for dessert.  My son ordered exactly what I thought he would.   At first I thought the hostess did not share with her that it was my son's birthday.  But, I had to keep in mind everyone else may want dessert as well.   While we thought our dessert was being prepared all of a sudden  what seemed like the entire  STACKED wait staff approached our table,  singing Happy Birthday to my son.    We were all surprised.
STACKED is definitely one of those places to eat and have fun.  I know why my son says this is one of his favorite restaurants.
Thanks STACKED for putting a smile on his face.