For years I have wanted to trade stock in the easiest way possible, but was always intimidated.  I did try it through my job when I worked in corporate, but nothing really came out of it.   Two weeks ago I received a Stockpile gift card and have finally started trading.
I am excited about my new Stockpile account.  Nothing about it is intimidating.    It is actually exciting.  I am not making a ton of money, but I love logging into my account to see how much my money has grown.
Stockpile was created a few Christmases ago, by Stockpile founder, Avi.  He thought it would be neat to give his nieces and nephews some stock in their favorite companies instead of more stuff. But the ones he wanted to give — Apple and Google — were too pricey, and the process was such a hassle that he gave up and bought more toys. He couldn't get the idea out of his mind, though, and figured there had to be a way.  And that's how Stockpile was born.
I am glad Avi figured out a way because I want to I want to give these gift as well.  This definitely one of the best places to buying shares for kids.  I know my kids will love receiving Stockpile gift cards.  They love money and are interested in trading.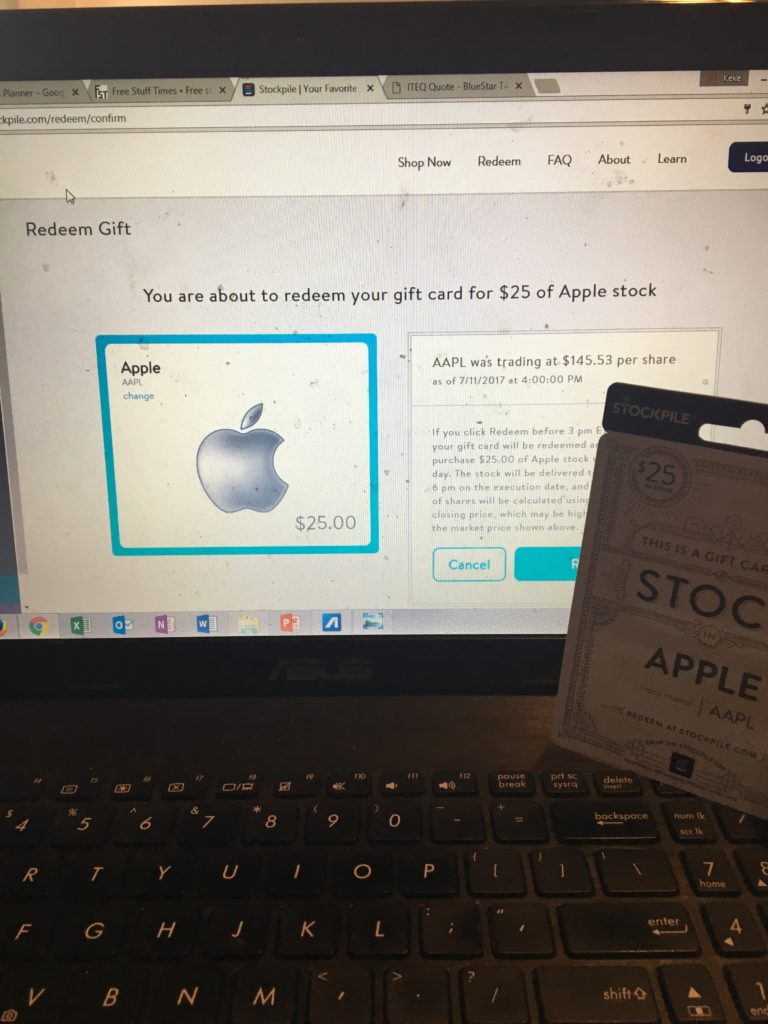 On July 11th I started out with a $25 in Apple stock.
After about two weeks my total assets are at $26.13.  Today, seems like a good day, because when I logged into my account early this morning I was at $26.00 and then a couple of hours later the amount moved up to $26.13.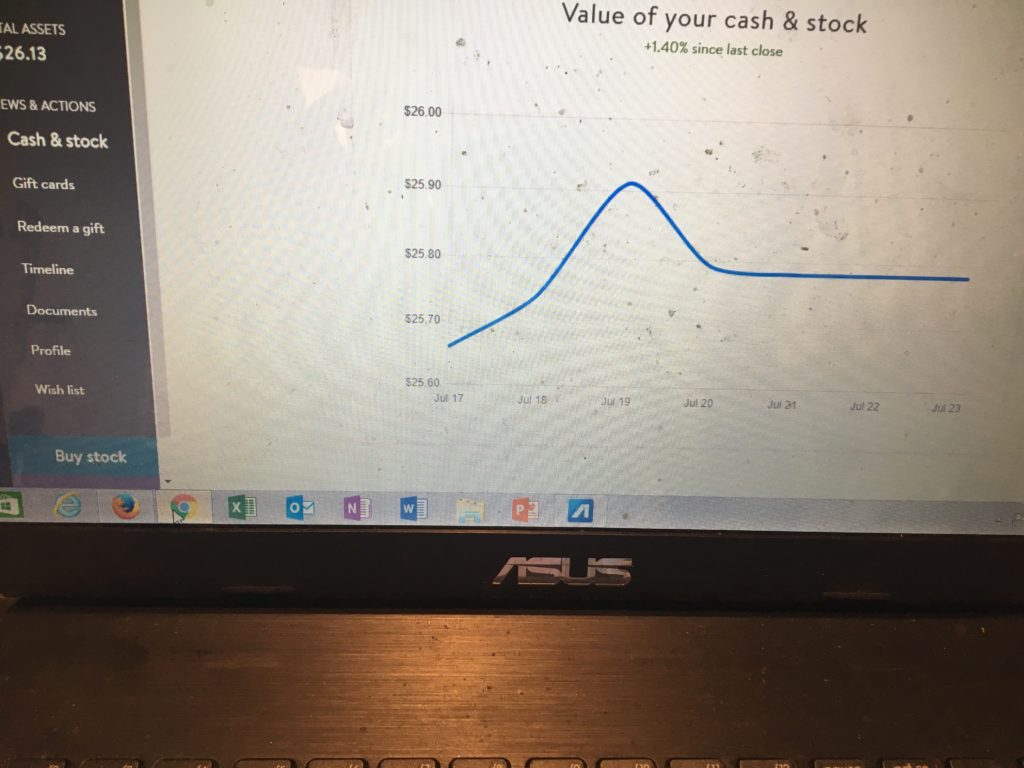 The process for setting up my account was very easy.  After creating my account.  I then followed the directions and added my card information.  My account was not instantly set up.  After inputting my card information it took 24 hours to process.  I received an email  when the my account was up and running.  I was trading!
I was also given a handbook that gives you best online trading tools.   I have not read it completely, but I am telling you this is such an easy process.  I am sure I will  need it, because I want to invest in more stock.
Ever since the day I created my account,  I have been watching my money grow and I am so excited.
If you would like to see how Stockpile works here is $5 in free stock for you!  You will receive $5 in free stock  in your account today and can start trading.  Look at it like a free practice stock trading account.
Trust me Stockpile is an easy and affordable way to invest in stock.  I think it is best online share trading platform
Disclosure: In exchange for my honest and unbiased review, I received a $25 gift card to try out Stockpile. This post contains a referral link. I am not a market professional and not responsible for gains or losses that you may experience. I am not affiliated with or own an investment in any company or brand mentioned, and have no plans to do so. Securities products are not FDIC insured. Not bank guaranteed. May lose value."