Growing up my parents loved to take family road trips.    I, on the other hand have failed in that area until recently.  For the past two years I have been on a mission to share with my son and daughter the beauty of road trips.
We live in California and there are so many wonderful places to visit.  Our most recent trip was to San Francisco.   I am so embarrassed to admit this, but this was my son and daughter's first time visiting San Francisco.   We had the pleasure of staying at the Hilton San Francisco Union Square, which is in the heart of everything.
For some time now I have told them they would love all that San Francisco has to offer, especially the food, entertainment and the vibe.
When we first started going on  family road trips my 11 year old son was about eight or nine and he absolutely despised them.  He refused to understand how fun they are.  He would just sit and stare out of the window.  He would not read a book, or play games or anything.  It has taken some time, but on our trip from Los Angeles to San Francisco by car we played games like Eye Spy With My Little Eye.  We listened to music and sang, we had awesome conversation.  My daughter and I should have taken turns driving,  but she drives a lot less than I do on these trips, but it is fine.  I enjoy it.   It is now a family joke.
Our drive to the Hilton Union Square was five and half hours and it was not bad at all.   The best part was when we finally made it to San Francisco.  As we sat in traffic to cross the bridge my son and daughter were so excited.   My daughter had not stepped one foot out of the car but, was insisting she loved it!
When we arrived at our hotel I was so thankful we were staying at the Hilton.   The hustle and bustle of guests checking in and out, guest lounging in the lobby and dining in the restaurants added to the excitement of being here.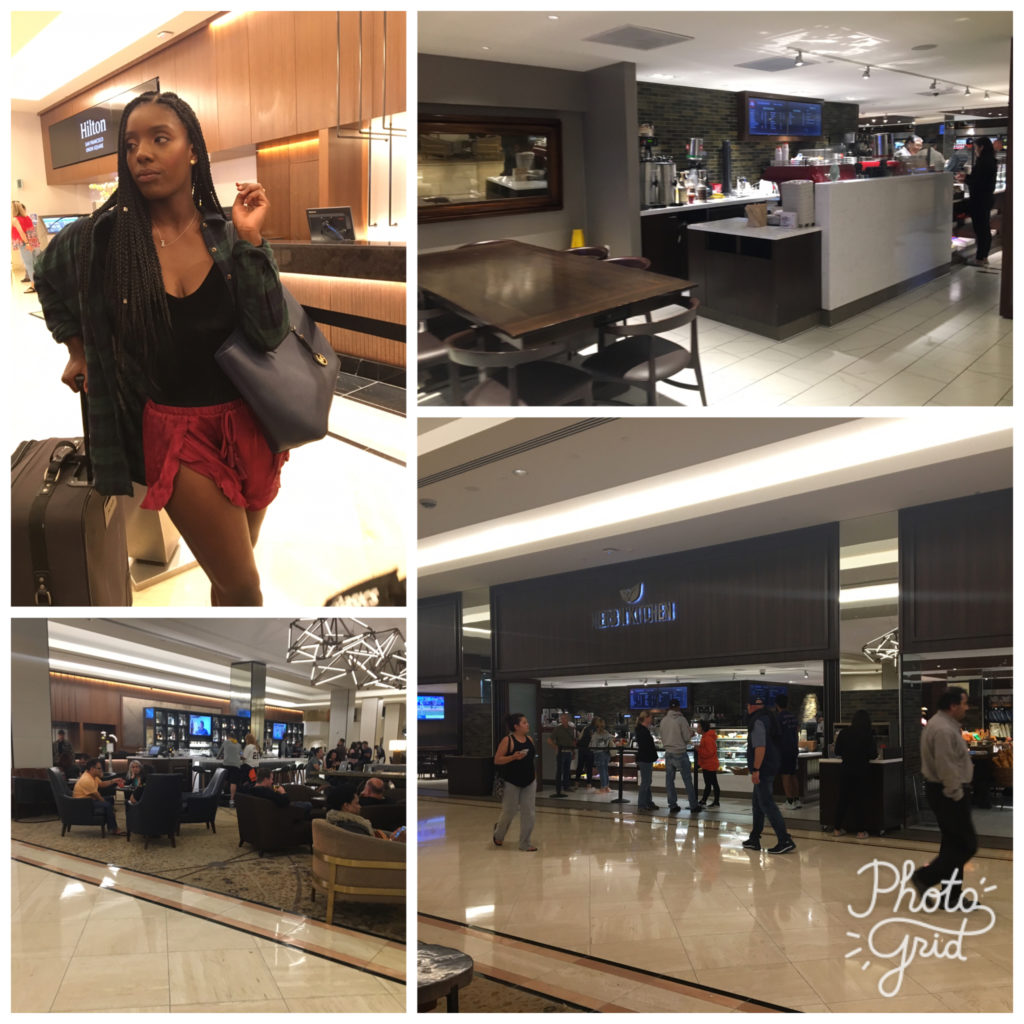 Although there was so much going on checking in was great!  The front desk clerk took the time to share maps of local dining, shopping and things to do in the area while going over our reservation confirming we had a double with two queen beds.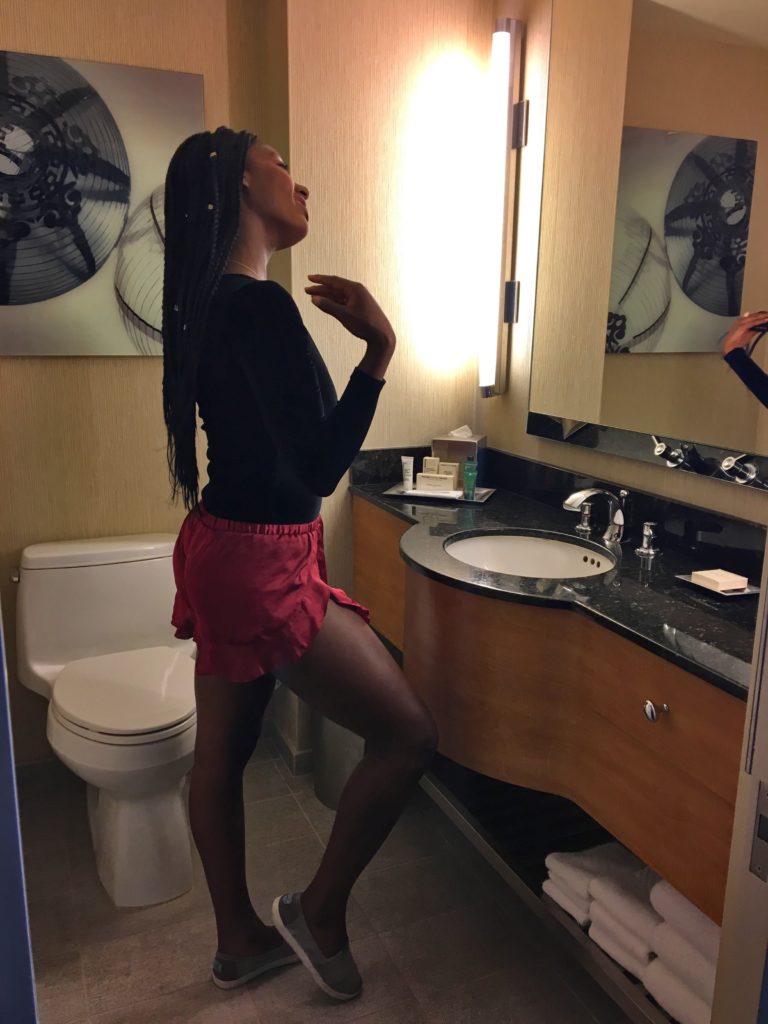 After checking in we made our way to our room on the 36th floor.  There was nothing we did not like about it.   The modern, clean bathroom was fully stocked with toiletries and towels.   We immediately changed out of our clothes that we rode in so we could hit the streets.  While we were changing there was a knock on the door and a nice gift was delivered to us that contained lots of goodies that welcomed us as special guests.  It was packed with something for each of us.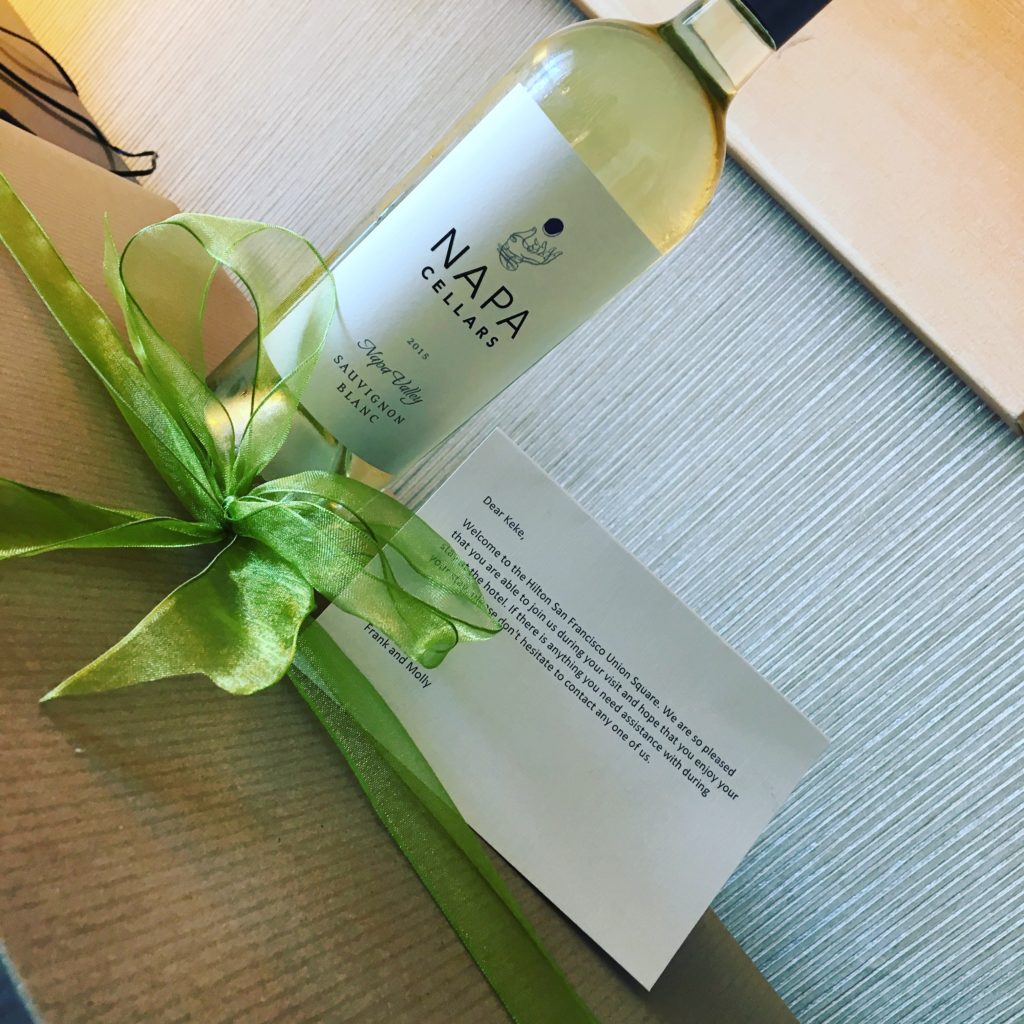 With so much to do we spent our time coming in and out of the room.   While we were there we enjoyed every moment.  We absolutely loved our skyline view.  The comfort and warmth of our room was very welcoming and much appreciated when we returned  each time after all of the running around we were doing.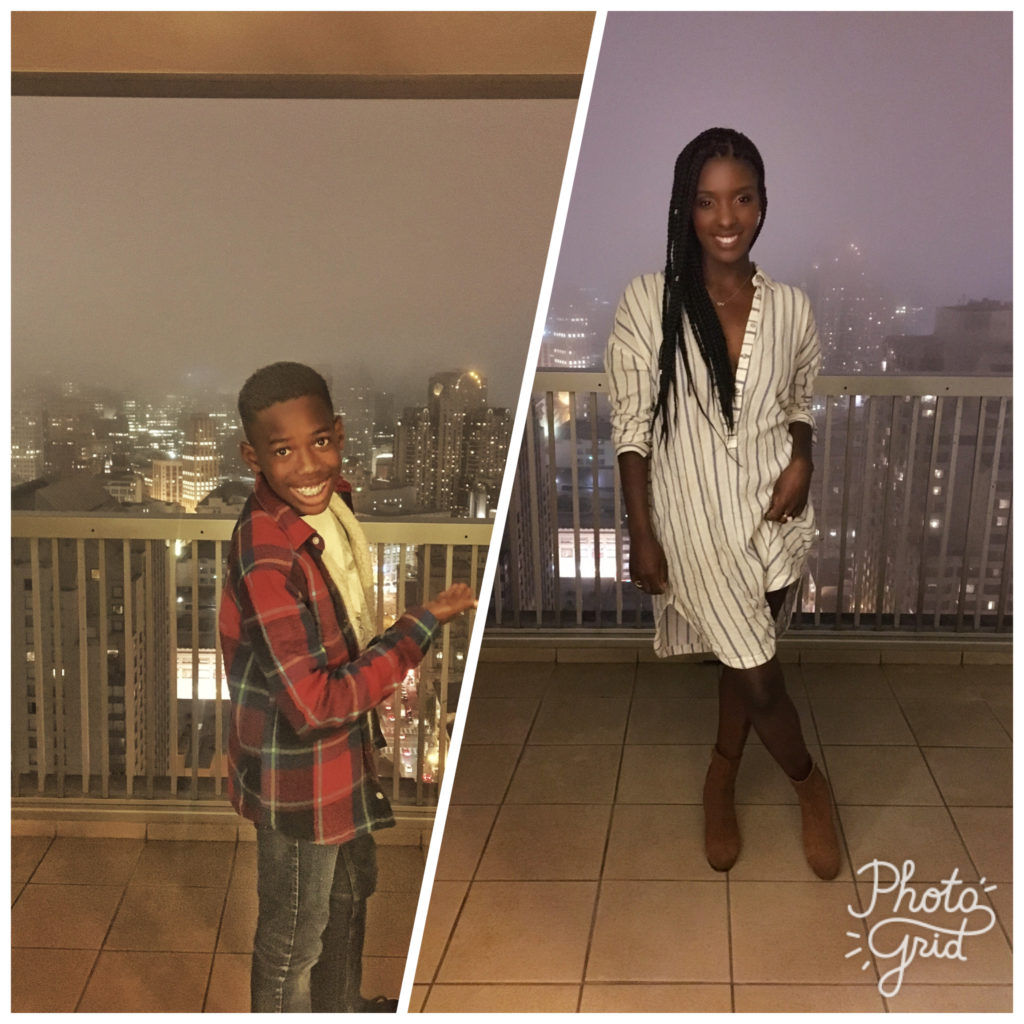 We are pretty active people and take trips that include some type of adventure.  Although we did a lot of walking and that was a workout in itself; we did find the fitness center.  My son was so geeked to see boxing bag.    The amateur that he is was hitting the bag without gloves and his hands were a bit sore later.  We had gloves with us in the car.  I am sure he learned his lesson.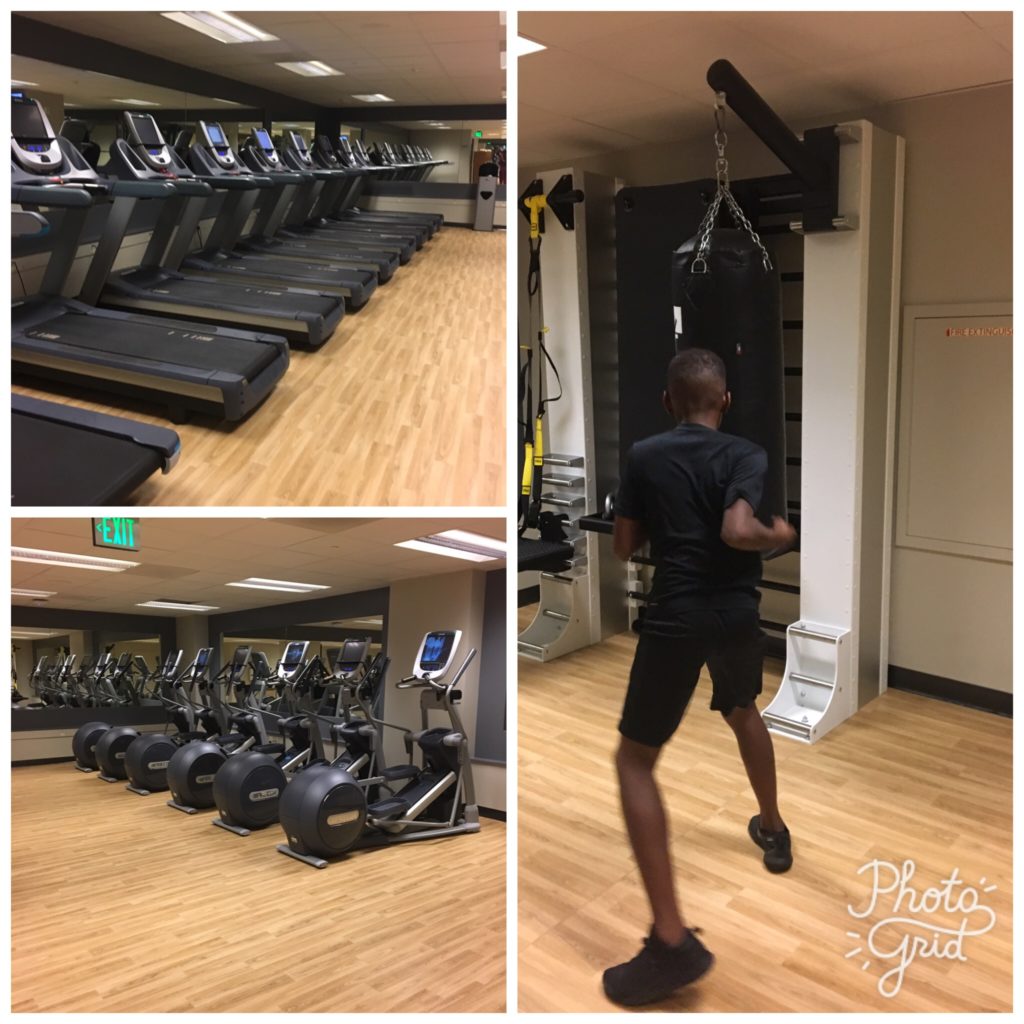 We dined in restaurants that had amazing views of the city.    My daughter was preparing for trips to Hawaii and London this summer, so we did a lot of shopping. Some stores offered to mail some things back for us.  While shopping we enjoyed the street performers and the large crowds.  Everything felt so alive.  My daughter kept saying, "I want to live here."   Throughout our trip I almost felt that we would be leaving without her.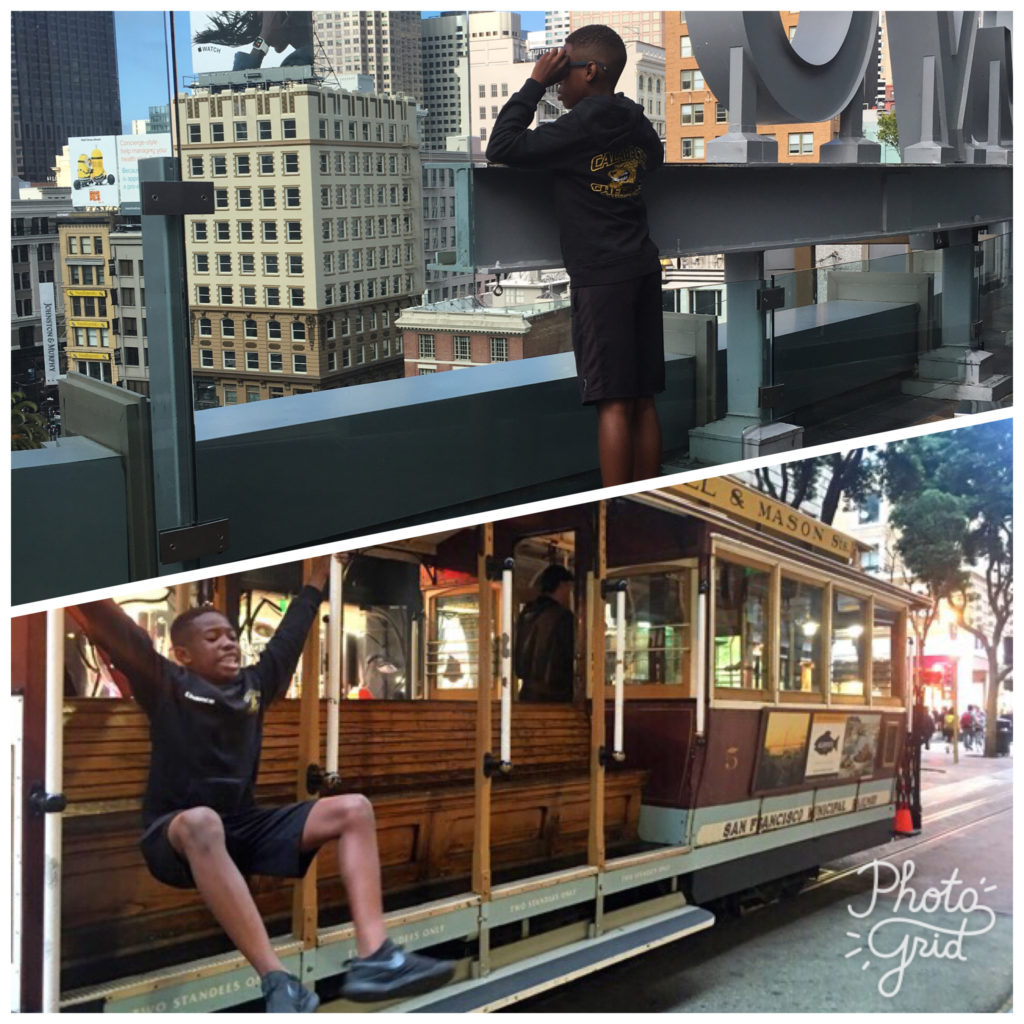 Although, there is so much to do around the hotel there is a lot to do inside as well.   We could not wait for late evening, well night in our case to have appetizers and drinks at CityScape, which is on the 46th floor of the hotel.   The views were incredible and the ambiance was just as nice.  My son joined us as well.  It is an adult like atmosphere, but children are welcomed.   I felt a little embarrassed that he was up past his bed time, but we were on a mini vacation.  After we left CityScape we went back to the lobby.  By this time it was 11 p.m.   My feelings of embarrassment disappeared because there were other children in the lobby and on the streets of San Francisco with their families having fun as well.  Our night did not end there.  We went back out and walked the streets.  We ended up at a nearby 24 hour cafe.  We did not want the night to end.  But of course we had to go to bed and start things over the next day.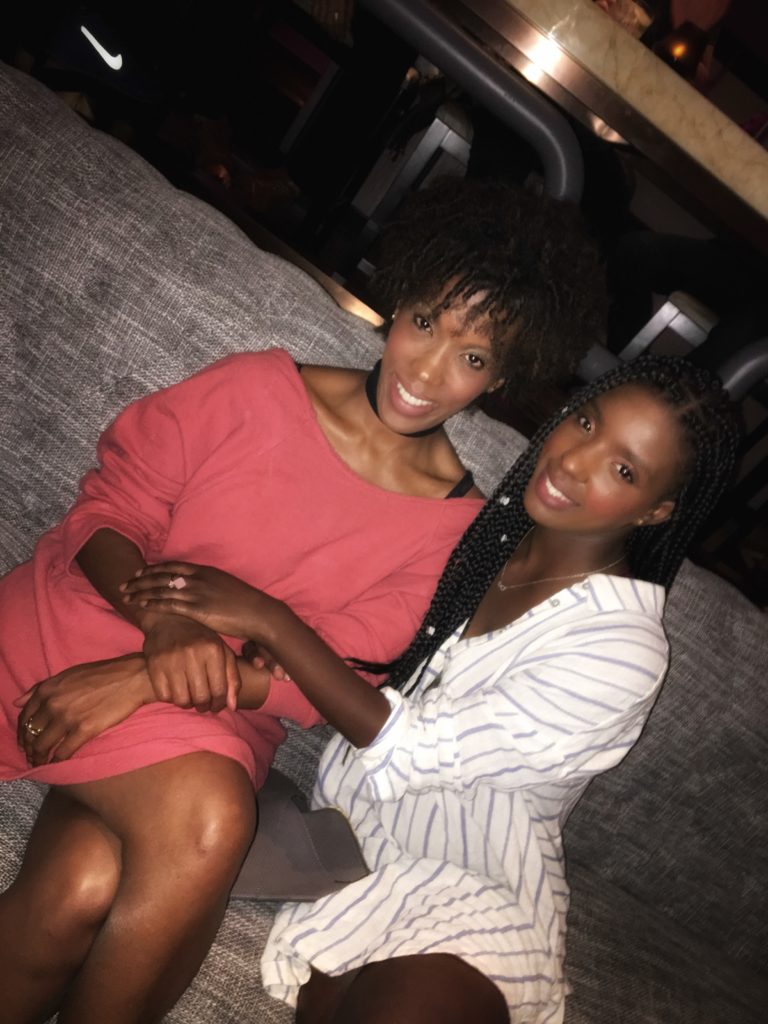 We eventually made our way back to our room.  After all the things we were doing we needed the comfort of soft beds.  I am sure we slept like babies. Well…I know I did.  We slept with the balcony curtains open and awoke to the beautiful San Francisco skyline.   Then we were off to start our day of activities again, but not before having breakfast.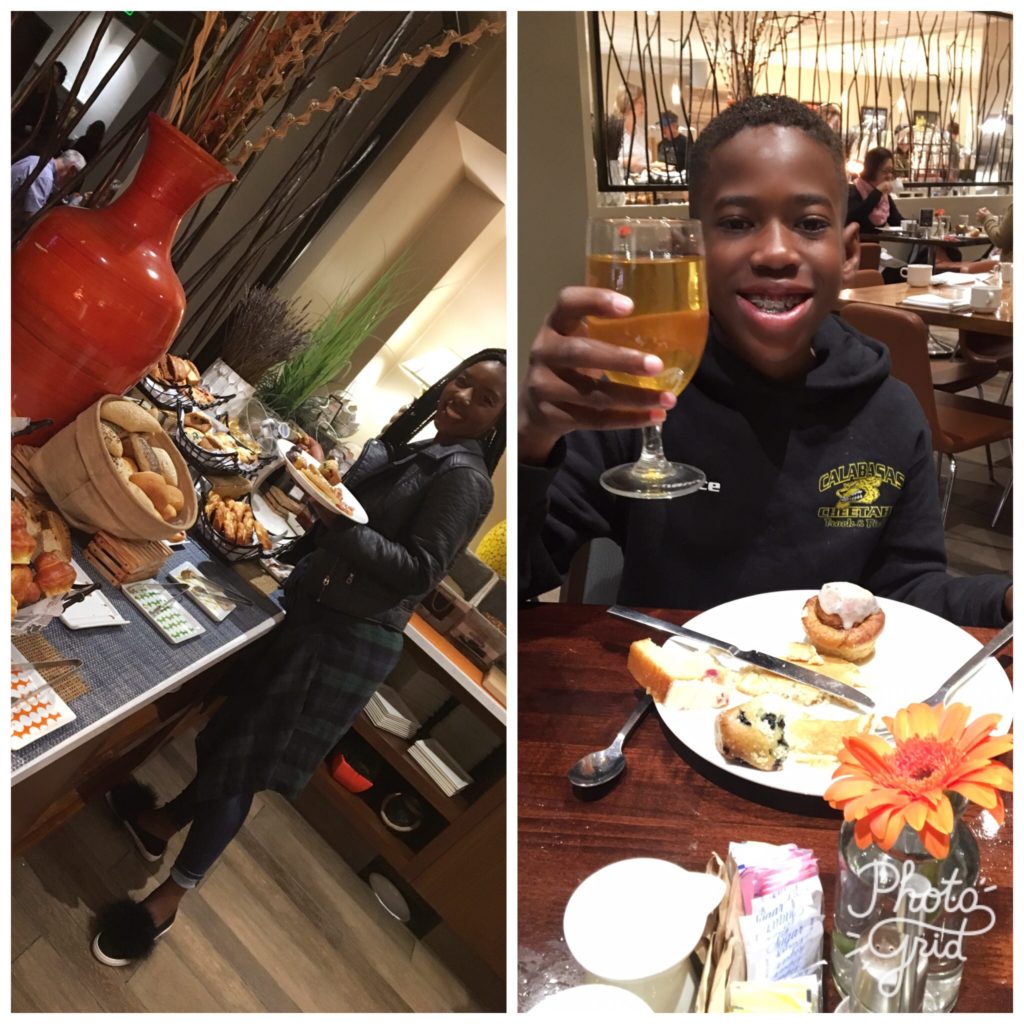 We dined at Pouched.  It is located inside of the hotel offering a wide selection of menu items such as omelettes, pancakes, muffins, rice, cereal and so much more.  After all of the running around we were doing I kept asking our server for cranberry juice, orange juice and water.  My son and daughter seemed like they tried almost everything.  Not only was the food delicious, but the service was just as nice.
We had a great time.  The Hilton San Francisco Union Square is one of the best places to stay in San Francisco bay area.