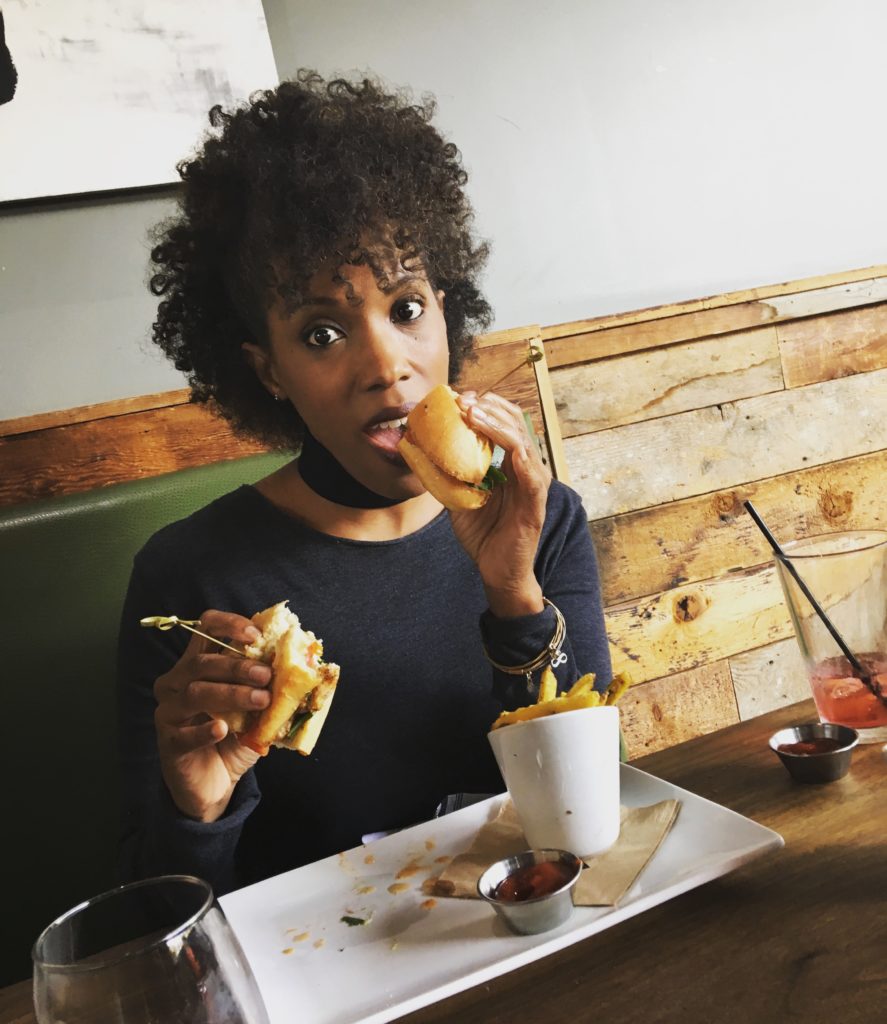 Looking over the menu before we dined at Eureka did not prepare us for what we were about to experience at Eureka at the Village in Woodland Hills.
Prior to visiting the restaurant I had looked over the online menu and thought I knew what I wanted to order and kind of speculated on what my son and daughter would order, since I know them so well.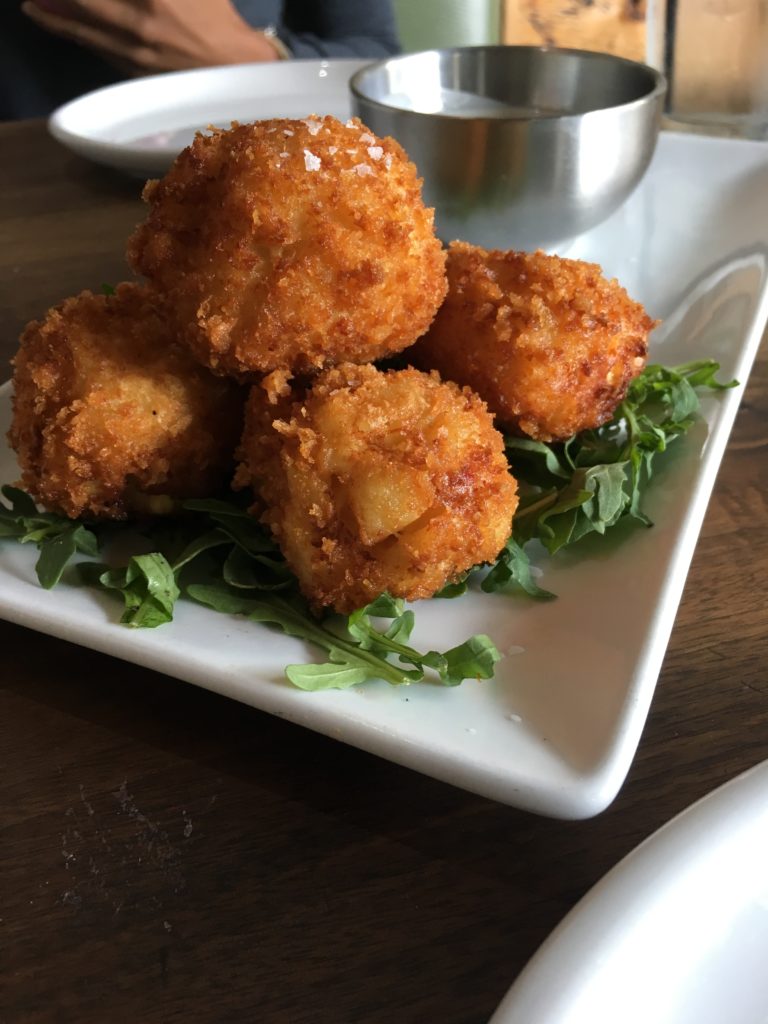 I knew it would be hard to decide on what to order as an appetizer.  We love Brussels sprouts.  We do not eat a lot of fried food so I thought everyone would agree on ordering the Crispy Glazed Brussels Sprouts with herb oil and macadamia nuts when the waiter told us they were fried.  When we told him we were trying to decide between that and the Mac N' Cheese Balls,  he told us they were both very delicious.  We took a vote and the Mac N' Cheese Balls won.  We made a great choice.  I really liked the shell shaped pasta, Fresno chili and beer cheese sauce.  These balls were eaten in a flash.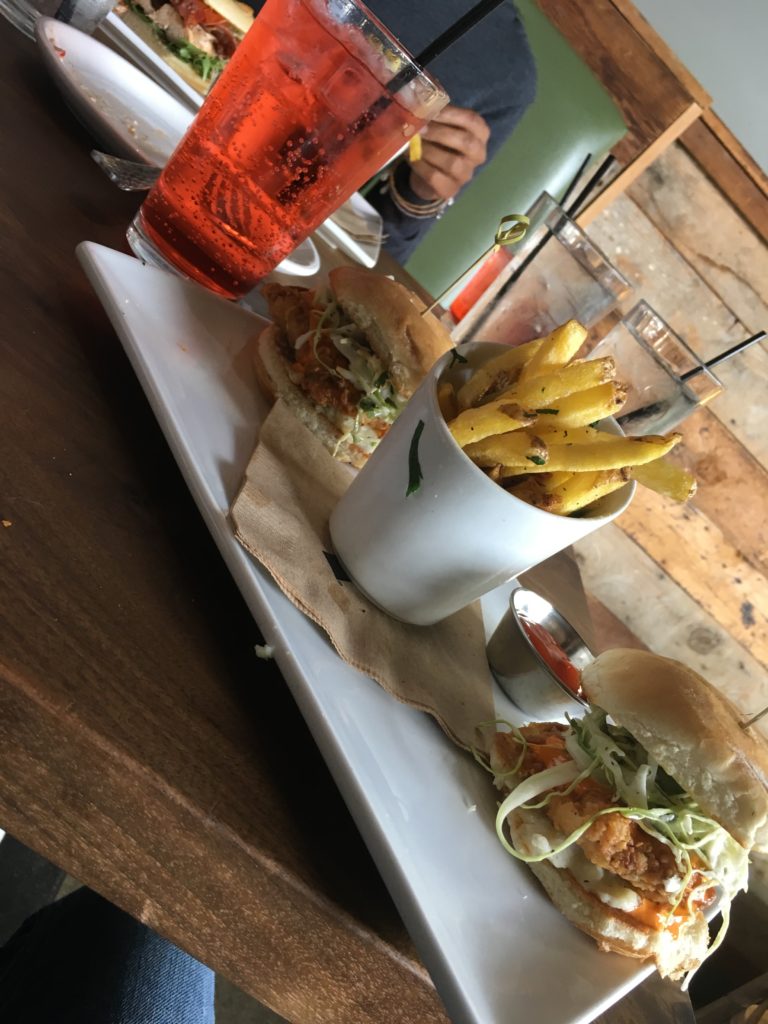 When it was time to place our order for our entrees that is where things changed.  We all decided to try something completely opposite of what we said we would order.  My son loves chicken sliders.  He has only had the simple ones with bread and chicken.  When he said he ordered the Fried Chicken Sliders that come with mashed potatoes, reaper chili sauce, confetti slaw and  signature hand cut fries;  I asked him several times if he understood that the mashed potatoes, reaper chili sauce and confetti slaw would be in the slider. He kept saying, "Yes mom."   He knew what he wanted and was very pleased when he ate it.  He offered to share some with me.  I could not resist.  I had to to taste it.  He was right, it was delicious.  I ordered the Napa Chicken Sandwich grilled chicken breast that comes with roasted Roma tomato,  pesto, Havarti,  pancetta,  arugula and  signature hand cut fries and needed to eat my own meal.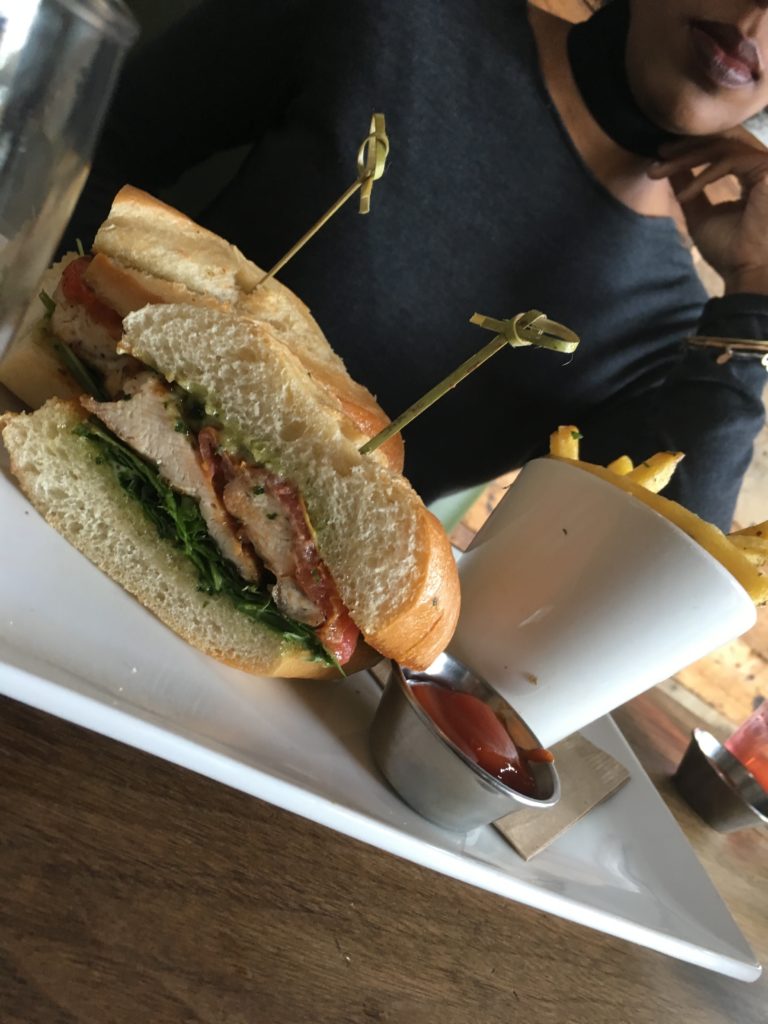 I had intentions of ordering the Pan Seared Salmon sauvignon blanc sautéed salmon that comes with asparagus,  zucchini,  red onion, red pepper,  fennel, roasted beets, avocado,  arugula,  lemon vinaigrette. I do not no what got into me. The Napa Chicken Sandwich was calling my name, not to mention french fries are my favorite food.  I do not eat them often, but after I was told the fries at Eureka were delicious I did not want to just taste them.  I needed my own order.   I think after my son and daughter ordered less healthier options I decided I wanted something heavier too.  Why not treat myself.  I did make a couple of changes.  I did not have havarti because I do not eat it.  I made an awesome choice.  My sandwich was mouth watering and was a great way to treat myself.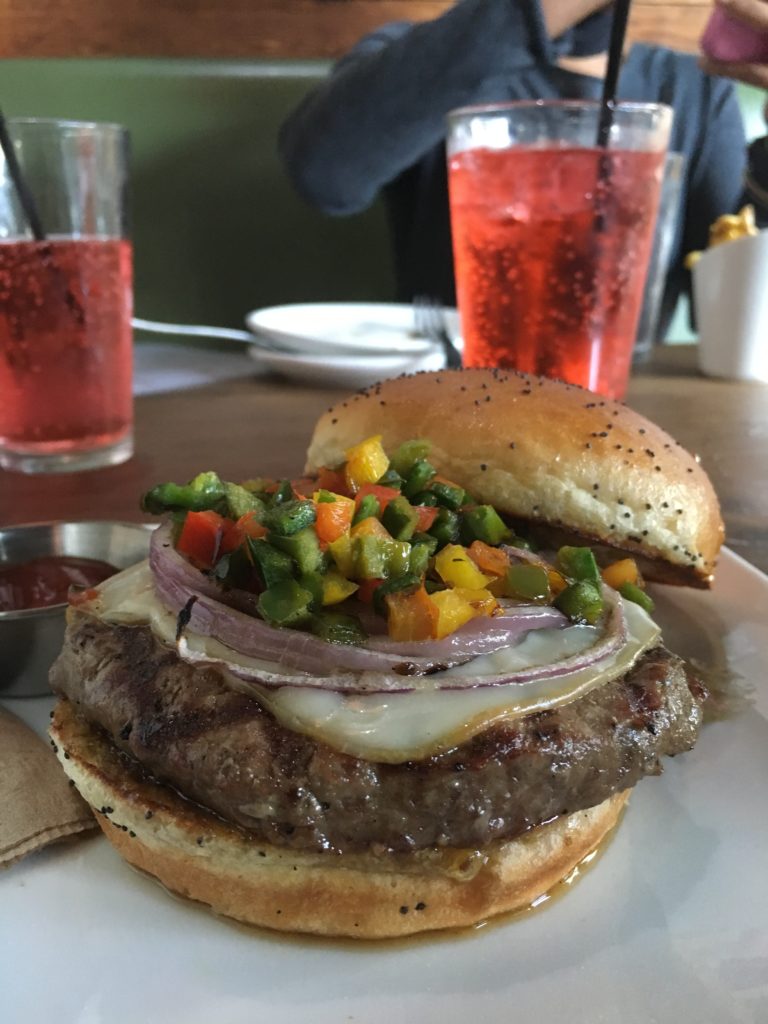 When it came time for my daughter to order this is when thinks went completely different.  She has been a vegetarian turned vegan and I thought she would order according to her diet.  I was completely wrong.  The waiter told her about the Bison Burger that comes with bacon-infused jalapeño jam , charbroiled tri-color peppers,  grilled red onion and smoked mozzarella .  He told her that this was something a lot of people order.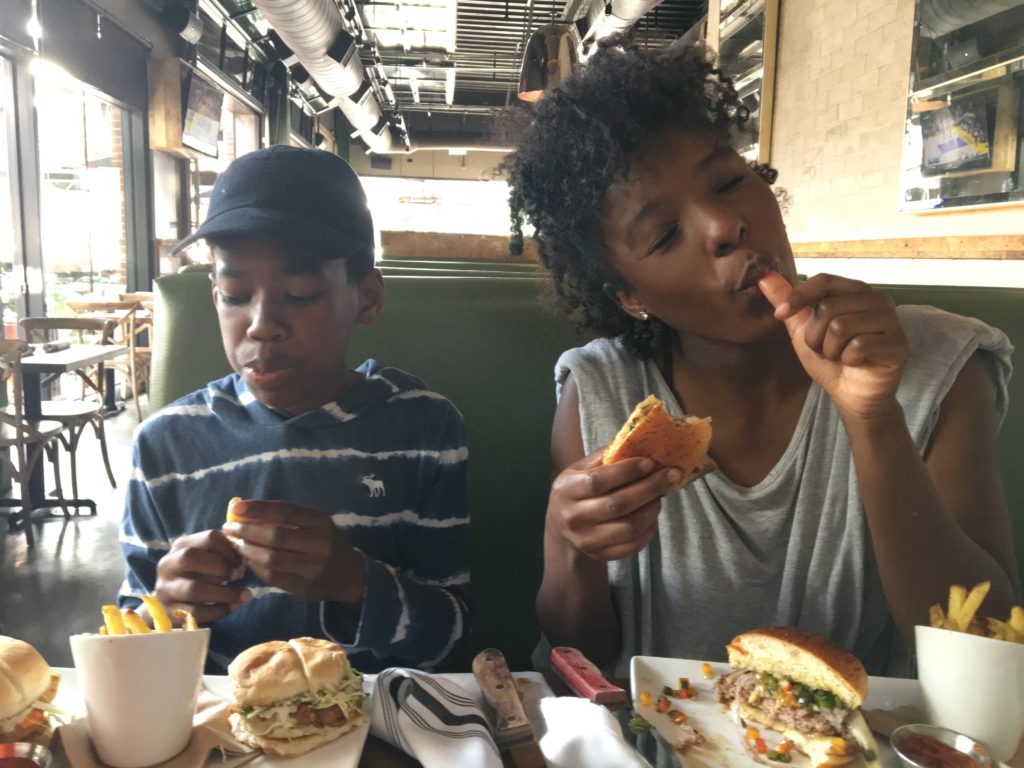 I do not know what went off in  her brain, but she ordered it.  Mind you,  I stopped eating beef and pork years before she was born and this has not been in her diet.  I think she tried steak for the first time two years ago.  When her burger arrived she was more than pleasantly surprised.  She loved it!  She has called me since then and talks  about the bacon-infused jalapeno jam.  She says she has never had a burger like this ever.  It was the best she has ever had.  I guess she did it right, by having her first gourmet Eureka burger.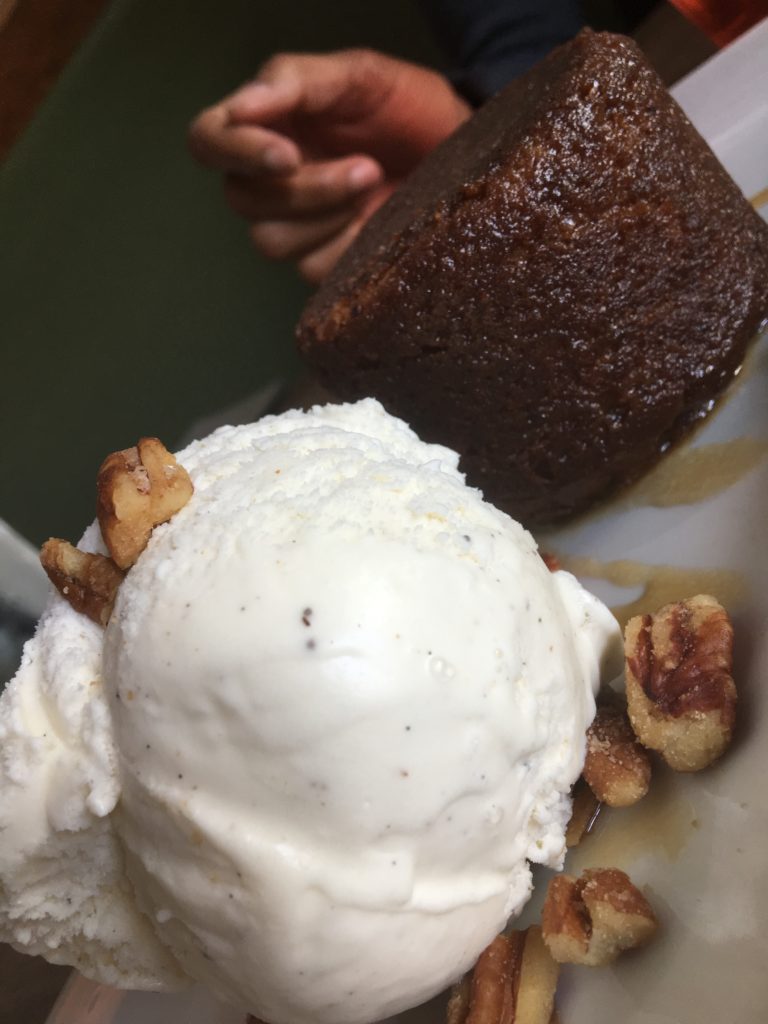 We had to make room for dessert and I am glad we did.  We had never had Bourbon Barrel Cake.  It comes with pecans, caramel and vanilla bean ice cream.  It was so good.  We love dessert that is hot and a la mode.   This is the only dessert on the menu and I can understand why.  I do not think anyone would not like it.

This dining experience was not what I expected.  My son discovered he likes mash potatoes in his sliders.  My daughter decided she was not a vegan that day.  She is back to her old diet, but I do not know how she will do when she dines at Eureka again.  I loved my chicken sandwich, but will have to try the salmon.  We all tried something new and loved it!  Eureka restaurant is a casual restaurant that has unique, gourmet meals.