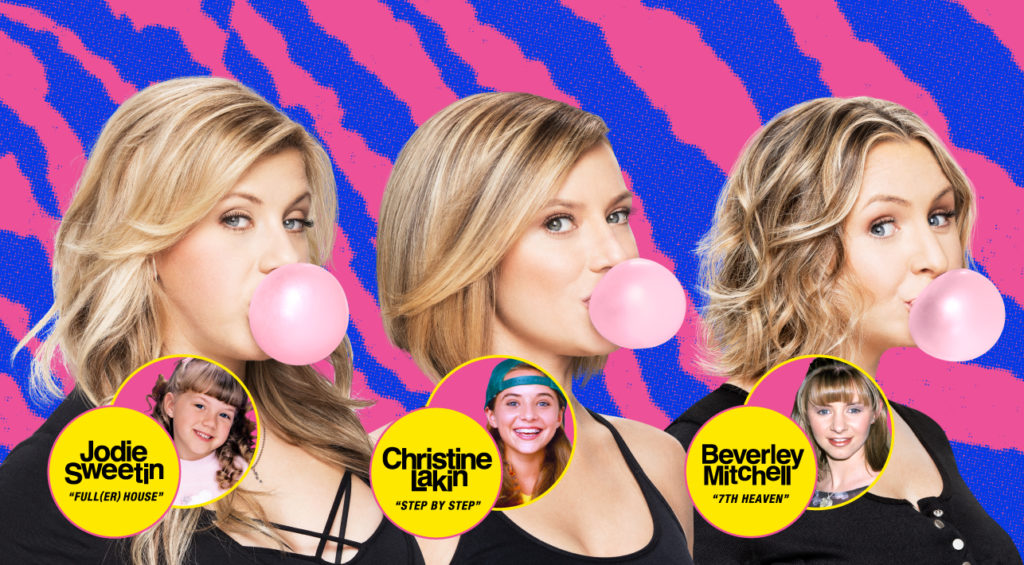 Jodie Sweetin (Fuller) House), Beverley Mitchell (7th Heaven) and Christine Lakin (Step by Step)  are all grown up and are hysterically funny in their new series Hollywood Darlings.
Hollywood Darlings premieres on April 12, 8pm ET/PT.
The trio of 90's fan favorites who are real life friends are playing exaggerated versions of themselves as they navigate motherhood, careers and life in LA.
I watched the series pilot and was in stitches while watching the show.  By the time show ended I was literally laughing out loud.   At first I had to adjust to seeing them as adults.   That was not hard to do, because I could not stop laughing at the things I could relate to and the hilarious situations they were getting into.
As a mother I find that I need to laugh a little more, hang out with my girlfriends and basically just unwind.  This show reminded me of the many things I forget and the importance of true friendship.
Hollywood Darlings highlights these real-life friends who share a common bond of being former child stars who grew up in the 90's limelight.  This a bond is apparent.  A strong and loving energy was felt while watching the show.  The beauty of their friendship screams through the screen in this improvised series.
When asked how do they feel about being on an improvised show as opposed to a scripted show.  Beverely Mitchell said, "  You get to play.  You get to try new things out.  You get to try out jokes.  You get to try out all different sorts of scenarios.  It is kind of like you both write and act in your own little play while you are doing it and I think that is really fun.  As an actor you always have those moments were you kind of think of things that you would want to say, or how you would want to do a scene or something like that.  You know us from family wonderful television.  This gives us a chance to stretch ourselves a little bit and jump a little more into the adult realm of comedy and humor.  I think this is a fun opportunity for people to see us in a different light.  We're women in our 30's.  We are adults!"
According to Christine Lakin when the show came about and they were approached by their executive producer Jimmy Foxx, who wanted to put together a sort of  90's like dream team of women he grew up with on TV,  or like maybe had a crush on, or who felt kind of like you, or felt like friends to people as they grew up.  He approached the three of them and they said, "Well you know we're actually friends in real life."  That kind of blew his mind.  The fact the we actually knew each other."  After talking things over they began to think, what if they did a show were they heightened their personality traits.  They took kernels of their real life and expanded those into episode ideas and story-line ideas.  For example, Jodie Sweeten said, "My character  is definitely cynical and dark than I am in real life."
I was drawn into nostalgia when I saw special guest stars were other former child and adult stars from the 90's.  Hollywood Darlings will feature cameos from Soleil Moon Frye ("Punky Brewster"),Andrew Keegan ("10 Things I Hate About You"), Tamera Mowry ("Sister, Sister"), Lance Bass(NSYNC), Andrea Barber ("Full House"), Nicholle Tom ("The Nanny"), Heather Tom ("Y&R"),Patrick Duffy ("Dallas," "Step By Step"), Staci Keanan ("Step By Step") and Wanya Morris(Boyz II Men).
This is a show that I can relate to as a mother, but my 22 year old daughter who grew up watching these young ladies will enjoy Hollywood Darlings also.  Although, she doe not have any children she can relate to living life as a women with a great group of friends.  No matter how old we are as adults we get ourselves into some situations and need to laugh about it or at ourselves.  These ladies have it down.
This show made me feel good.  I cannot wait to see what happens next.
Don't forget, Hollywood Darlings premieres on April 12, 8pm ET/PT.  In the meantime check out the Hollywood Darlings clip.