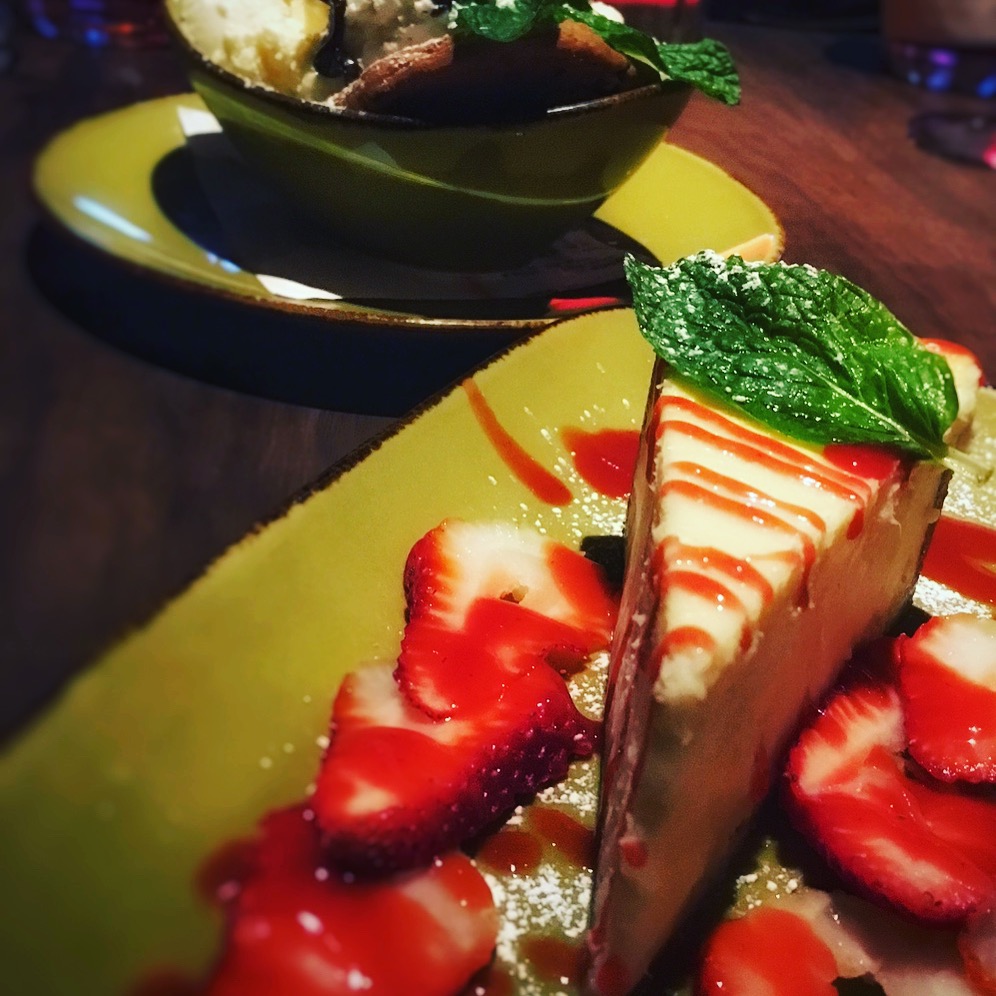 There has been a buzz about the great restaurants that are at The Village in Woodland Hills.   I may be a little late to the party, but my family and I dined at Jimmy's Famous American Tavern at Westfield Topanga.
After hearing my daughter  and a couple of my friends talk about Jimmy's famous American dishes I finally  experienced what they had all been talking about.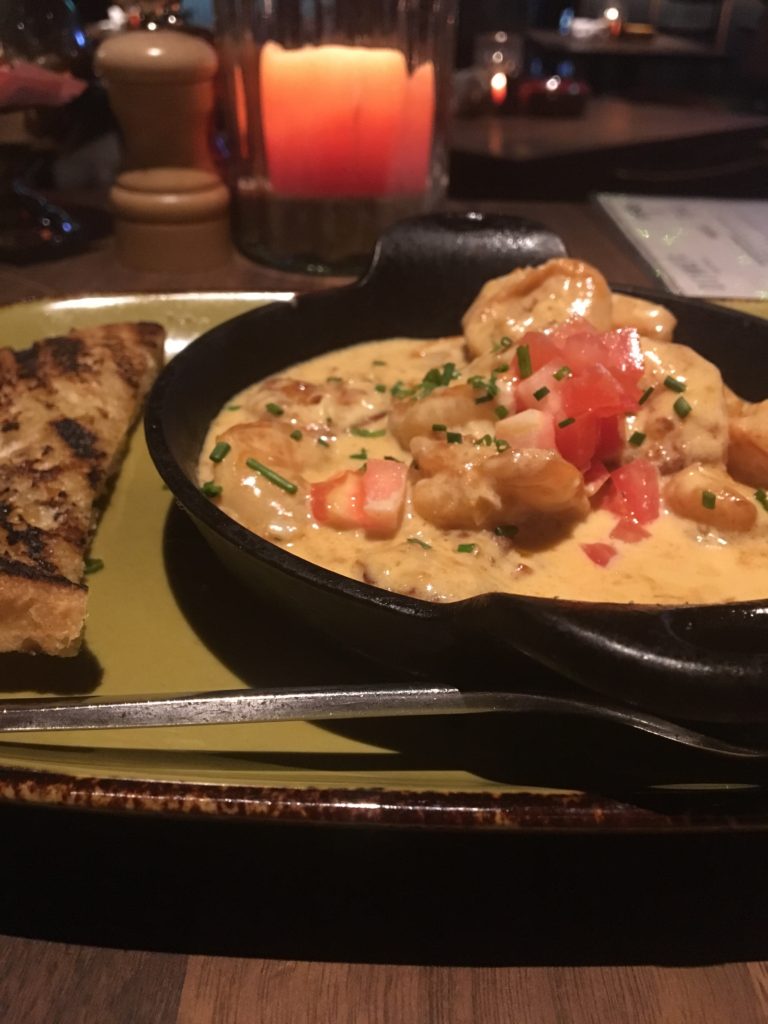 As soon as we walked into Jimmy's I was sold.  I had not eaten a thing, but the dim lights, great music selection and friendly staff was a great way to start the evening.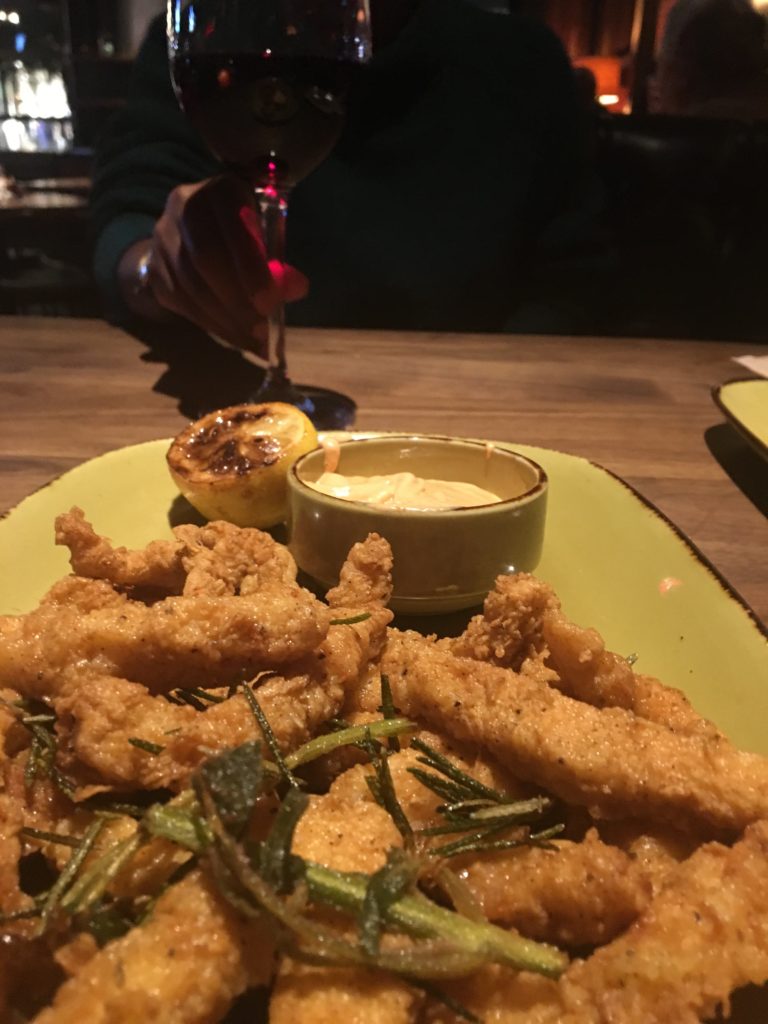 When our waiter asked if we would like to start off with some appetizers I immediately asked him about the Whiskey Shrimp – Bourbon flamed with Cajun Spices, Shallots & Dijon Mustard.   He gave it his seal of approval, so we ordered the shrimp and an order of Town Dock Calamari – Crispy Sage, Rosemary, Serrano Chiles, Remoulade upon his suggestion.  I told him my son does not like calamari.  He looked at my son and told him not to worry.  This calamari did not have tubes and tentacles.  Aside from that he assured him that he would really like it.  He was absolutely right.  We all loved it.  It was cooked to perfection.  My son now says he will only eat calamari at Jimmy's.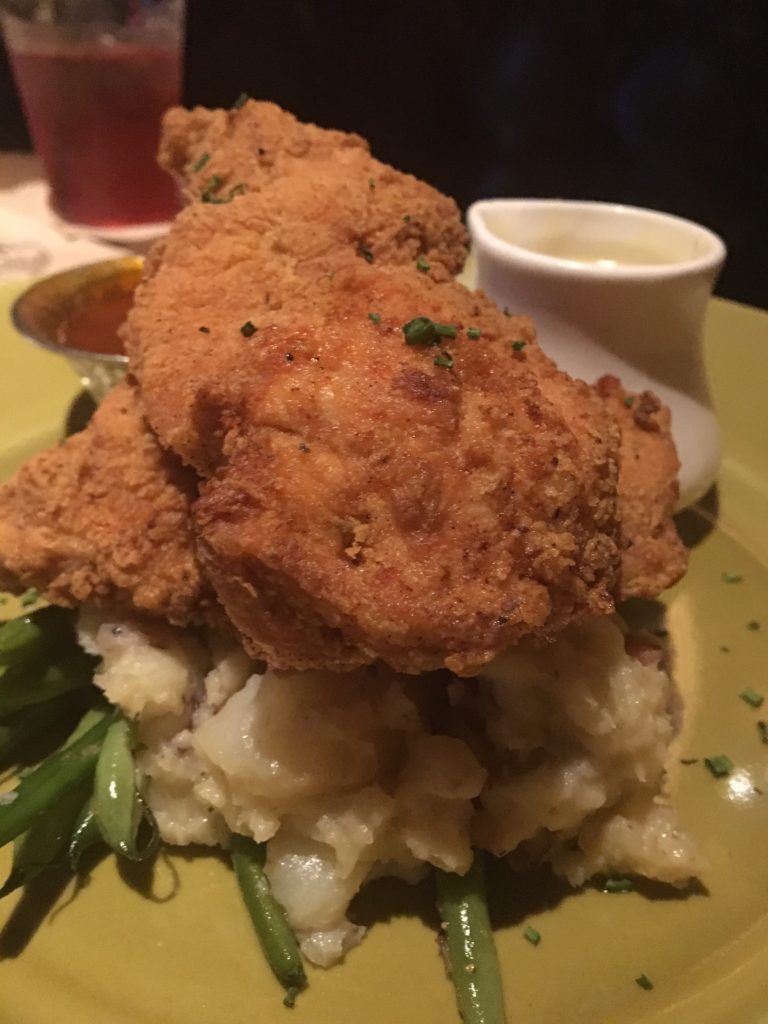 When it was time to order our meal my son asked for the chicken and waffles.   Once again our fast thinking waiter had to try and convenience him to try something else.  Chicken and Waffles are served only during brunch on Saturday and Sunday.  My son had heard so much about Jimmy's chicken and waffles he came to the restaurant with one thing on his mind and that was to order some chicken and waffles.  It all worked out because the waiter was sure he would like the Southern Fried Chicken – Garlic Mashed Potatoes, Thyme Gravy, Green Beans.  He was right again.  Let's just say someone's plate was clean when it came time for dessert.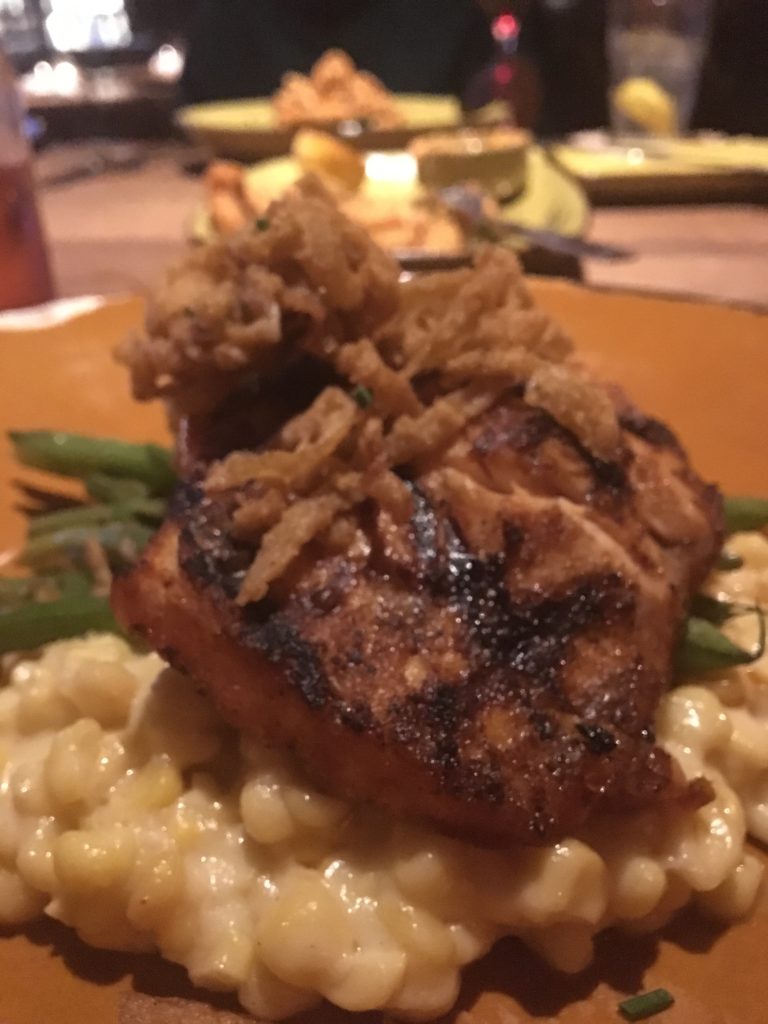 My daughter and I both knew we wanted the BBQ Spice Crusted Salmon – Creamed Corn, Green Beans, Bacon, Crispy Onions.  We do not eat bacon, so they did not add bacon.  Before I could pick up my fork I heard a voice from across the table saying, "Oh my goodness…this creamed corn is so delicious."  I immediately picked up my fork and was pleasantly surprised.  Neither of us usually like or eat creamed corn.  Jimmy's was on a roll.  We were all eating foods we normally do not like.  It has been a few days and my daughter called me and mentioned that creamed corn.  She really liked it.  The salmon was juicy, flaky and cooked very well;  just like I like it.  The green beans were nice and crisp.  I usually do not like to mix my food, but I tasted a fork full of everything combined and oh my goodness.  It was something that kind of just happened, but I am glad it did.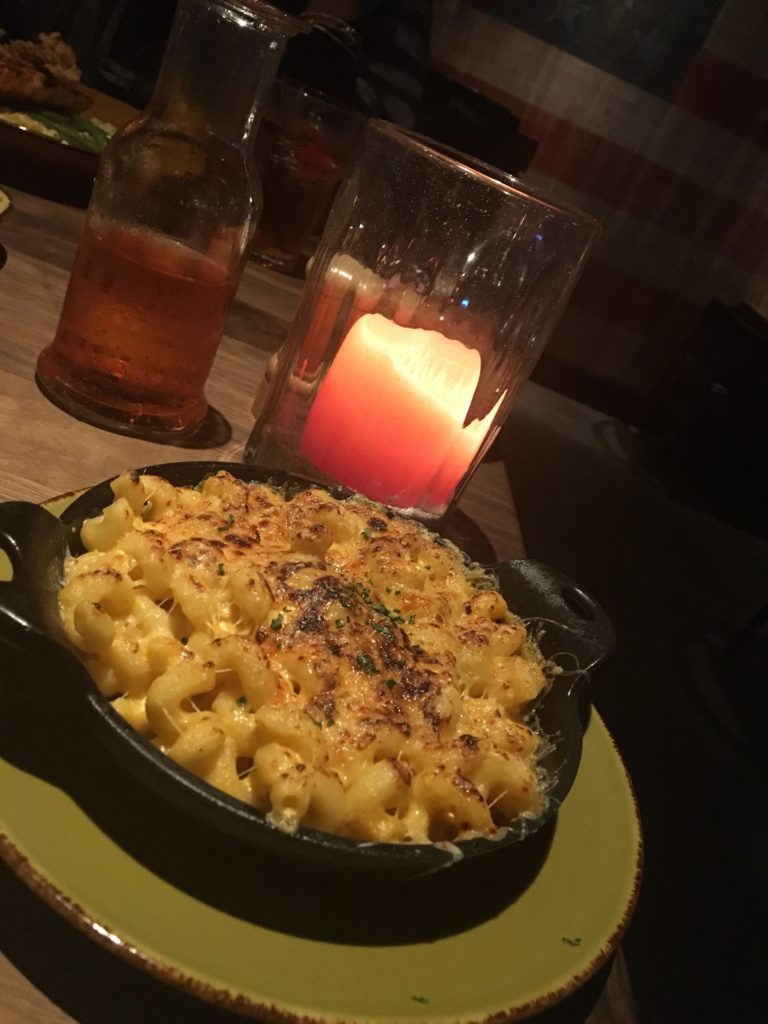 My son and daughter love macaroni and cheese so they ordered a side of White Truffle Mac & Cheese.  I could not understand how they were consuming all of this, but I guess when the food is so delicious you will eat even if you are full.   My son actually asked it he stop eating to leave room for dessert.
Cheesecake is his favorite dessert and he had to leave one favorite dish in order to have room for another.
My daughter and I shared Jimmy's 'Old School' – Warm Chocolate Chip Cookies, Vanilla Bean Ice Cream, Hot Fudge, Whipped Cream & Roasted Peanuts.  After we asked the waiter how large the serving size would be and he told us it was pretty large; he was kind enough to have it prepared with one chocolate chip cookie.  I am so happy he did because that one serving was enough for us. I paired my dessert with chamomile tea and my daughter had coffee.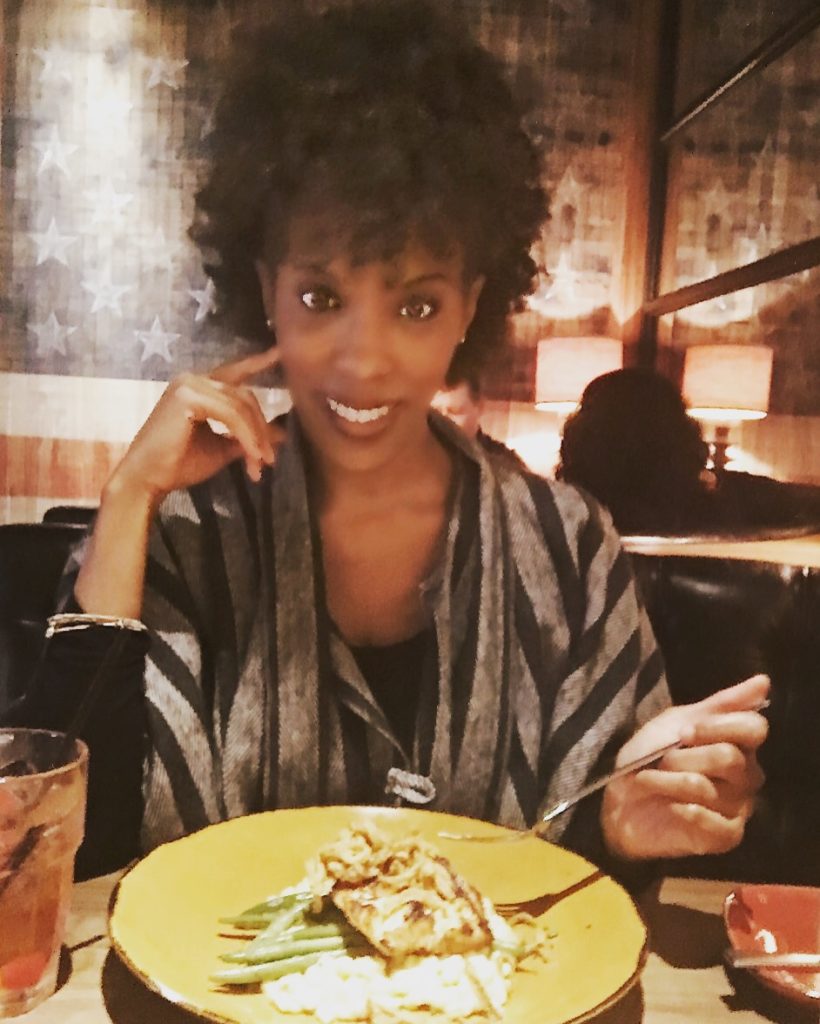 On this night I understood what the buzz has been all about.  Jimmy's Famous American Tavern was more than I expected it is one of the best restaurants in Woodland Hills.   Every dish was delicious!  I cannot wait until we return.  My son has to try the chicken and waffles.