This post was sponsored by Nature Made as part of an Influencer Activation for Influence Central and all opinions expressed in my post are my own.
I have always tried to maintain a healthy lifestyle.  A few years ago I began to question if  I was really healthy.  After giving birth to my 11 year old son my body began to go through some changes.  My hormones were all over the place and I was severely anemic.   I was eating right and working out, but I was not consistent with taking my vitamins.  My body was vitamin deficient.  It seems as though I needed every vitamin possible.   I was tired, gaining weight and unhappy.  I am sure I felt some other things and was unaware or ignored them.
Recently I started taking Nature Made Multi Gummies. The day I started taking them I was a nervous wreck.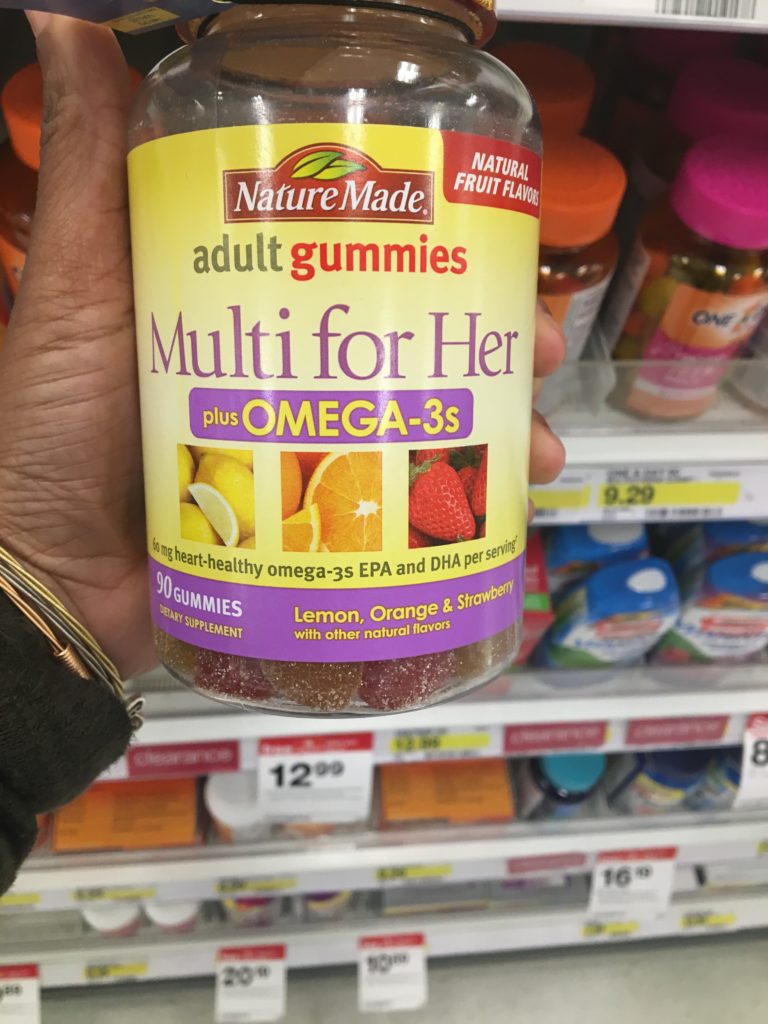 The night before, I was crying because I was faced with the realization that my hair was shedding.  I noticed it a few weeks prior, but for some reason I did not think anything of it.  On this day as I combed my hair I found myself taking hair out of the comb and tossing it into the trash.  While in tears I called a few people that reminded me this may happen after surgery, because of the affects of  my hormones.  As I sat during my conversations I remembered my doctor telling me to find a good multi vitamin.  She said it was important.  I knew it was important, but never did I think my hair would start to shed.  I wanted to have more energy and all of that good stuff.   I did not want to lose my hair after I had just started growing back from a bald cut.
I could not get to the store fast enough.  I have been taking Nature Made Multi For Her Gummies everyday.  My emotions are still all over the place, but my hair is not shedding as much.  I have a little more energy since my surgery.   I will start to take hair, nail and skin vitamins soon.  I actually went on a very short hike yesterday.  I was not out of breath.  I was not tired or dizzy.  I felt good.   In the past, I would exercise and feel like I was dying.  I would eat things that I should not because my body was not getting the proper vitamins.    I am gradually beginning to feel like I did before having my son.  I am not saying these adult gummy vitamins have solved all of my problems, but they are helping.  My surgery was to help some of these issues as well.  Taking these gummy vitamins are a great help.  All of these things are working together and I am feeling better. † These statements have not been evaluated by the Food and Drug Administration. These products are not intended to diagnose, treat, cure or prevent disease."
I am getting a little healthier everyday.  Nature Made has been a brand I have used for years.  It is supporting me with my overall wellness.
Nature Made actively pursues health and wellness through product innovations, quality ingredients and being #1 Pharmacist Recommended so they can be the best partner to people and their health goals, little by little, every day. 
I used to question if gummy vitamins worked.  I always thought of them as a vitamin for kids.  I have been giving my son gummy vitamins for years and he is rarely sick.  He is very active and happy.  Since I have been taking them I think they seem to be just as effective as taking a capsule, pill or tablet.  I have not experienced anything that would make me think otherwise.
Aside from them working effectively they are some of the best tasting vitamins!
Nature Made has Nature Made One-Up Your Health Facebook Weekly Motivation and Sweepstakes.
Nature Made Vitamins has partnered with Women's and Men's Health to sponsor promotions on Facebook where you and your friends can win weekly prizes that motivate you to stay healthy.  There is nothing like motivation when you are trying to get healthy or maintain a healthy lifestyle.
From February 27th through April 9th, you may enter for a chance to win a prize through the Nature Made Facebook page to view the Sweepstakes posts for the corresponding Weekly Entry Period. Enter by completing the call-to-action for that post, which will include submitting your comment as a reply to the post to earn one entry for a chance to win only the prize featured in that Post.
Prizes range from Blue Apron, Lululemon and Sephora gift cards as well as FitBit's and a one-year membership to Nature Box!
You can also enter for a chance to win prize in the Nature Made Sweepstakes.
From February 27th through April 9th, you may enter for a chance to win the Grand Prize by visiting http://www.naturemade.com/oneup and clicking where indicated in order to complete and submit the registration form for one (1) entry into the Grand Prize drawing
Spa vacation will include a 4-day/3-night trip for two to the Red Mountain Resort in Ivans, UT
Good Luck!