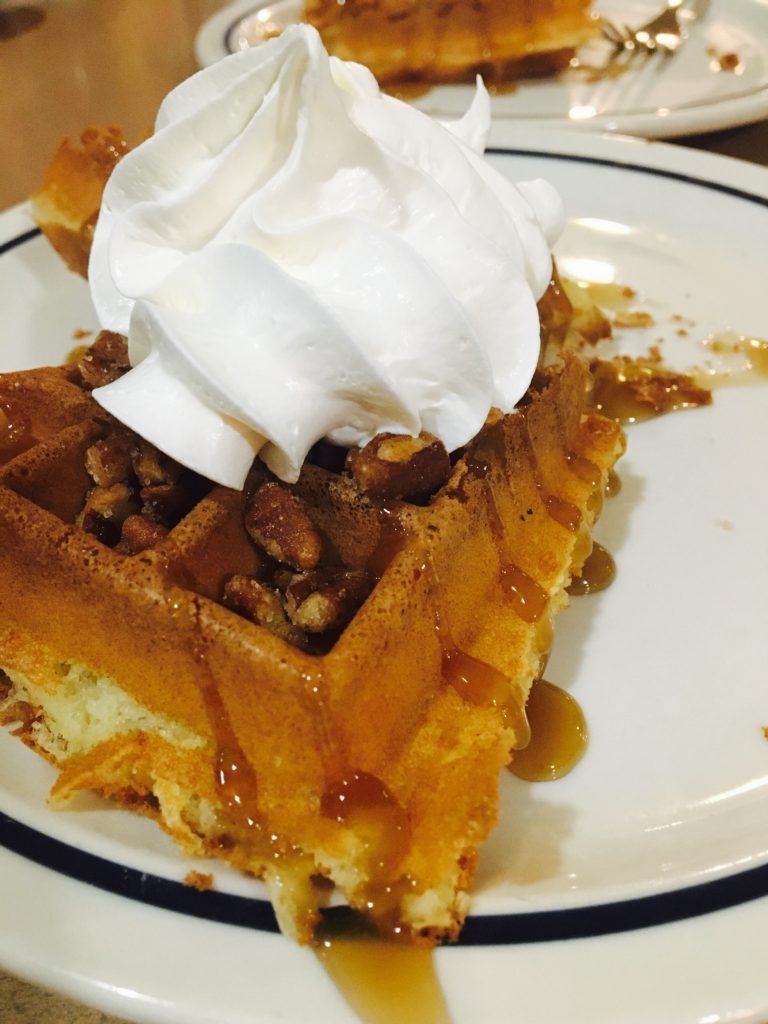 From February 13- April 10, 2017 IHOP restaurants is using popular bakery flavors as inspiration for its latest line-up of limited time menu delights called Sugar, Spice & Everything Nice. This innovative twist on bakery favorites will be available nationwide at IHOP restaurants.

The delectable trio of offerings blending cinnamon, vanilla, honey and maple pecan flavors into freshly made signature IHOP dishes like French Toast and waffles include: Sticky Bun Waffles, Red Velvet French Toast & Cinnamon Roll French Toast!
When I told my family about this new menu selection we all decided on what we would order before we arrived.  We all agreed that we would order something different so that we could each sample the different meals.  Well that did not work.  We all ordered the Sticky Bun Waffles and one person insisted on ordering the Original Buttermilk Pancakes.  Mind you they were the one person insisting we try the Red Velvet Pancakes.  I just could not understand why they did not order them. The one thing we did agree on was that we all wanted to enjoy our meals as a combos.  We had a choice of eggs, bacon, sausage or ham.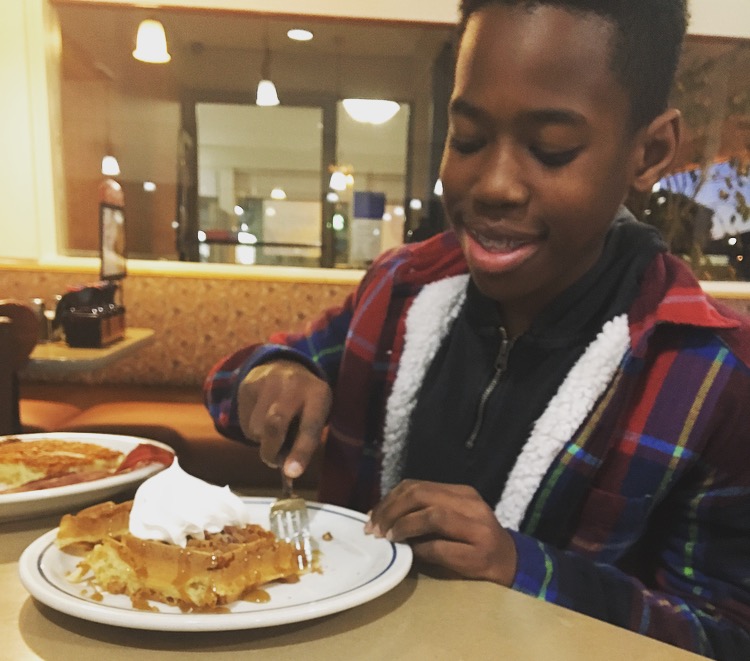 I am sure the other flavors were delicious, but the Sticky Bun Waffles were good!  Two thick Belgian waffle triangles drizzled with sweet maple glaze and topped with honey glazed pecans.  I almost opted to not have the pecans, but I am glad I did keep them.
When my plate arrived I could not decide if I wanted to add syrup because the waffles were sweet without it.   While I sat deciding, my son had the syrup in his hand.  We agreed that they could be eaten without syrup.
Although we did not stick to our plan we were all happy.  We did not go wrong by selecting the Sticky Bun Waffles and the Original Buttermilk Pancakes.
If you decide to order the Red Velvet French Toast or the Cinnamon Roll French Toast here is what to expect.
Red Velvet French Toast: One slice of rich, chocolaty, cake-like French Toast topped with cream cheese icing.
Cinnamon Roll French Toast: One warm cinnamon roll dipped in batter and grilled before being topped with cinnamon roll filling and drizzled with cream cheese icing.
I did mention Red Velvet Pancakes.  They are on the menu as well.