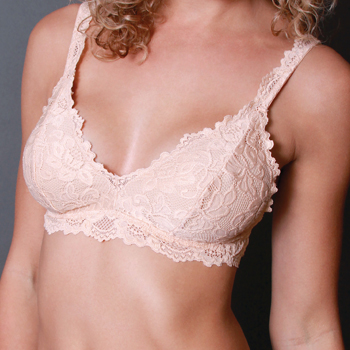 When I ordered my Coobie Classic Lace Bralette I was expecting for it to fit as well as the other bra I have made by them.  Unfortunately, that was not the case.
I wear a size 34B.   While looking at the size chart I felt like I should order a size small.  According the chart, I need a size medium.  A medium fits sizes 32A-38D.
When my bralette arrived I immediately tried on.  As I stood with a loosely hanging bralette on my visions of wearing this with different outfits sadly disappeared.  The bottom of the bralette fit a little but there was not a snug fit.  The straps were hanging and the cups were loose.  This was not a supportive lace bralette. Finding a bra that fits is important.
I then decided I would give the bra to my mother.  I just knew she would like it.   I know she wears clothes that will go well with a bralette.  She is larger than I am, so I knew it would fit her for sure.  My mother loves receiving gifts.  She was excited when I gave her the beautifully laced bralette.  Like me she immediately tried it on and to our surprise it did not fit her either.
This bralette did not look as it did on the model on either of us.
The size chart for this bra is a little off, it does not seem to be a proper bra fitting chart. If given the opportunity to order from Coobie again, I would order a size small.  If it was offered in a size extra small I may try that to be on the safe side.  I understand the importance of finding a bra that fits and the Classic Lace Bralette size medium was not my size.
It is unfortunate that I did not get to wear this pretty, sexy, versatile and comfortable bralette.  I was looking forward to trying out the adjustable straps.  There is also  a mid strap hook on the back so that you can wear it in a racerback style.
This does not change my positive view of Coobie bras.  I have ordered the one size fits all bra and had no problems.  Coobie bras are usually comfortable, supportive fashionable.