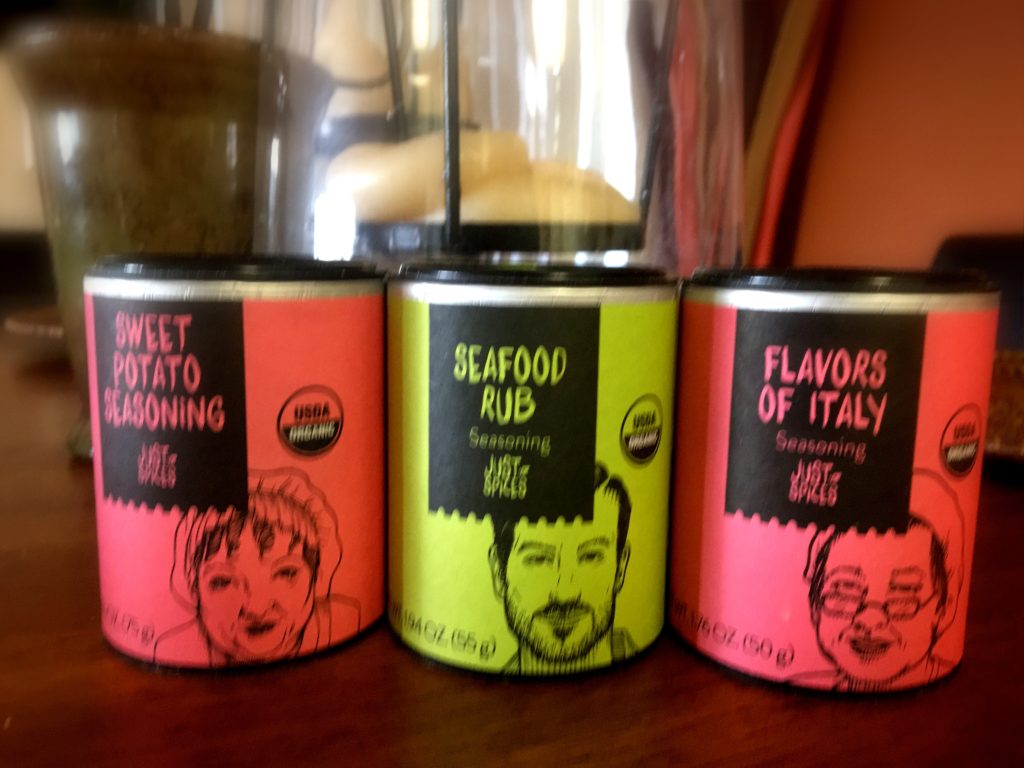 My family and I love baked sweet potato fries and could not wait to try Just Spices' Sweet Potato Seasoning.   Although it was easy it was not as tasty as we thought it would be.
Just Spices' has created a natural seasoning to enhance the flavor of our  potatoes and give it a special twist. This blend of hearty mustard seeds, sharp ginger, crushed sea salt, sweet paprika, lemony tellicherry pepper, warm nutmeg, fresh garlic, sweet brown sugar, and spicy chili pepper.
Preparing my baked sweet potato fries was very simple.
How to make baked sweet potato fries with Just Spices' Sweet Potato Seasoning:
Heat oven 350 degrees
Thinly slice on medium sized sweet potato
Place sliced sweet potato in bowl
 Season with Sweet Potato Seasoning to your liking
Add olive oil.  Make sure each sliced piece has oil.  Not too much
Place flatly on a baking sheet.  With our with out foil.
Bake for 30 minutes or until crispy.
(Note)  They will get crispier after you take them out to cool.
My family will eat them like this or sometimes a make a dipping sauce.  In this case we opted to eat them with dipping sauce.
The flavor was rather lite.  The next time I prepare it I will use more.
I like that Just Spices' products:
Are USDA Organic Spices
Have no enhancers
Have Pure Flavor
Come in cute little packaging
Are easy to use
Are great for someone learning to cook.
You can buy organic spices online.
In recent years I try to prepare our meals with natural spices in order to avoid using lots of salts.  So finding new flavors for our meals is very important to me.
Sweet, spicy & beyond
Just Spices' U.S. portfolio offers a diverse selection of spices – including options for sweet breakfasts and savory dinners, blends for meat lovers, vegetarians and omnivores alike. The initial 20 U.S. house blends comprise BBQ Popcorn Seasoning, BBQ Seasoning, Extra Spicy Seasoning, Flavors of Italy Seasoning, Flavors of Mexico Seasoning, Guacamole Seasoning, Hickory Rub, Oatmeal Spice Blend, Pancake Blend, Pizza Seasoning, Pork Rub, Savory Eggs Blend, Seafood Rub, Smoothie Boost, Spicy Garlic Blend, Spicy Popcorn Seasoning, Steak Rub, Sweet Potato Seasoning, Texas BBQ Dip Seasoning, and Vegetable Broth Seasoning. In addition, Just Spices makes the ordinary extraordinary, offering salt and pepper – the two essentials that no kitchen can do without – with a twist: Murray River Salt, lovely pink flakes from Australia with a mild flavor, and crushed Tellicherry Pepper, a slight nutty variety sourced directly from India's Malabar Coast.
Theses seasonings can definitely shorten your prep time when cooking, so far I am not too sure about the flavor.  I am hoping the others I try win my family over.