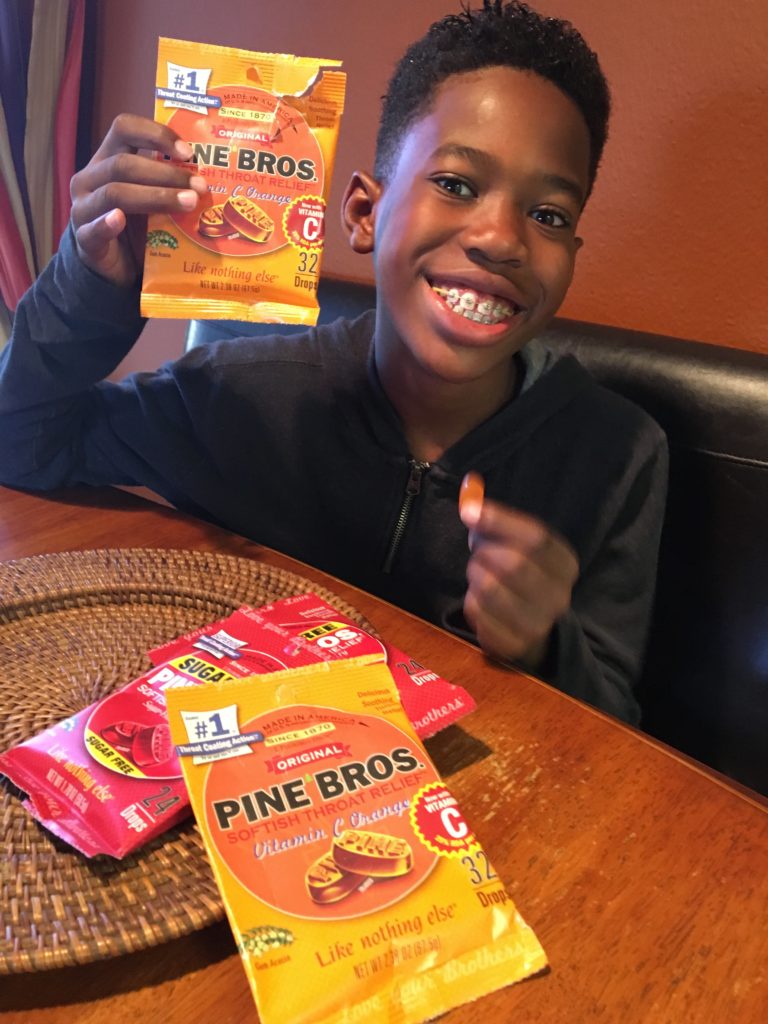 When it comes to soothing our throats my family always turns to Pine Bros. Softish Throat Relief.  Pine Bros. comes in many different flavors that my family enjoys.   Recently, they have come out with two new throat drops Vitamin C Orange and Sugar Free Cherry.
We have always liked Wild Cherry.  This is a flavor that we argue over in our household.  Everyone wants Wild Cherry, but we do like Licorice, Lemon Lime and Natural Honey.  These are the  flavors we like when the Wild Cherry is gone.  When I heard there was a Wild Cherry Sugar Free I thought it would settle things.   Well, it did not.  No one noticed the Wild Cherry was sugar free.  They started with the regular and when that was gone started using the sugar free.  There is not a difference in taste.  This weekend and at the start of the week we all needed to coat our throats.  This weather has been very unpredictable. Not to mention my daughter that is in college takes them year around.  She keeps them in her car, purse and book bag.  She is always requesting packages of Pine Bros.  She has severe asthma and allergies and she says this the brand that works best for her lungs and throat and of course her preference is Wild Cherry.  She did not notice the difference either.
We were all convinced we would not like the Vitamin C flavor.  To my surprise we really liked it.   It did not taste too much like citrus.  I needed it desperately yesterday.  After two drops my throat felt fine.  It was fast acting and the texture is not as hard as the Licorice or Wild Cherry.
My family absolutely loves the new flavor drops. Pine Bros. is a brand I trust and these new products have made me love them even more.   They are keeping up with the times.
Yes,Pine Bros. is keeping up with the times and  they have come out with a fun and entertaining mobile game called Thumbopoly! It is essentially a slot game where you can win fun brand name prizes and gift cards by playing daily and gaining points. You can find their game on the app store.  Who does not like to win prizes?  I know I do. I sweep as a hobby and love the thrill of winning prizes.  If you love playing games this is a great way to pass time by playing a game where you can instantly win.  The prizes are sent to your email after you win and it is completely free.
Lastly, you can find Pine Bros. at CVS, Rite Aid, Safeway, Kroger, Walgreens, Walmart or at your local drugstore or supermarket. If you are looking for sugar free cherry it can be found at Harris Teeter, Harmon and Shoprite.  Vitamin C orange can be found at Kinney Drug.


Disclosure:Product and/or compensation was received in exchange for review.