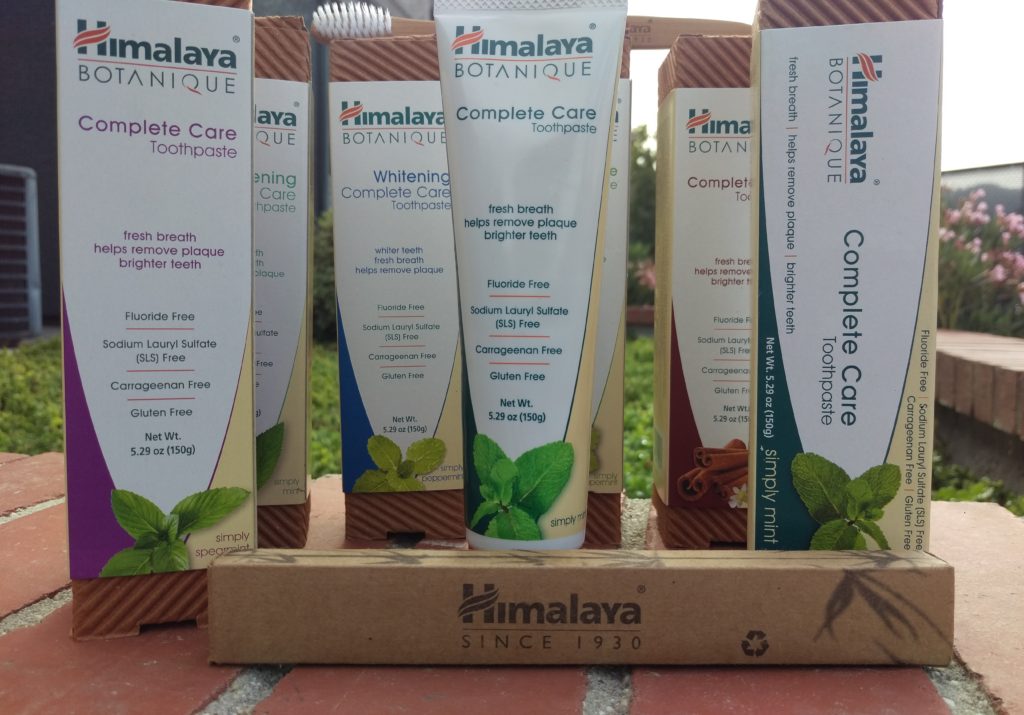 Dental care has been a huge topic in my household.  We could not have started using Himalaya Botanique Complete Care and Whitening Complete Care at a better time.
My 11 year old son has finally crossed over from using children's toothpaste to adult toothpaste.  It was not an easy transition because he complained of how hot adult toothpaste tasted to to him.  I then began looking for an organic toothpaste that was not too minty.  I needed something he would tolerate that would give him clean teeth and fresh breath.   While I was on this toothpaste, he was not brushing as he should and would get irritated and swollen gums.  I have had to take him to the dentist twice to help the swelling.   This was getting out of control.  His dentist told him he would not be able to get braces if he did not brush his teeth.  Since then he has gotten braces and is brushing his teeth twice a day and sometimes after meals.  He is now using Himalaya Complete Care Toothpaste.  He thinks the best part of this toothpaste is it is not too minty for his mouth.  I like that it is mild and natural.
Himalaya Botanique has different ingredients that gives you a different toothpaste experience.
Neem – Cleans teeth and gives this formulation its sparkle.  Neem is history's original housekeeper and works to keep the mouth clean.
Pomegranate – An astringent fruit extract that helps support healthy-looking gums by tightening the tissues.
Triphala – A traditional detox formula in ancient Ayurveda composed of the three myrobalan fruits for clean teeth and radiant smile.
Xylitol From Birch Tree – Not only a tooth friendly sweetener, but it has also been clinically studied to support good oral hygiene.
The Whitening toothpastes, Papain and Bromelain, the enzymes from papaya and pineapple, help remove surface stains, so your smile shines brighter than ever.
My entire family loves this toothpaste.  My daughter has been looking for a natural toothpaste and was pleased to see that this toothpaste is:
Floride Free
Sodium Lauryl Sulfate Free
Carrageenan Free
Gluten Free
She has tried natural products that do not work.  She is the type that will continue to use them knowing they do not work just because they have natural ingredients.   I am so happy this toothpaste is working for her as well.
Himalaya Herbal Healthcare:
Tastes great
Gives us fresh breath
Helps remove plaque
Gives us brighter teeth
Not only does it work well it easy to locate.  After searching the store locator I have been able to find Himalaya Toothpaste at Sprouts, Whole Foods, Erewhon and the Vitamin Barn.  It does not end there if you head over to their site you will find they are offering free samples.  Click here.

Disclosure: I received this product for free from Moms Meet (momsmeet.com), May Media Group LLC, who received it directly from the manufacturer. As a Moms Meet blogger, I agree to use this product and post my honest opinion on my blog. The opinions posted are my own.