Indoor skydiving at  iFLY Hollywood  is as close as I will get to skydiving and I am absolutely fine with that.  In my opinion iFLY Hollywood is the best skydiving experience in California.
Last week my family and I had our indoor skydiving experience and were literally blown away.
We arrived early in the morning and were full of excitement.  It was like our adrenaline was racing from the moment we signed our waiver until we made our way to the wind tunnel with our fun and knowledgeable instructor Jason.
It is not as simple as going in and being placed in the wind tunnel and you fly.  Thank goodness they had us sit through a video that explained everything we needed to do and then we were quizzed by our instructor.  I felt completely confident.  My plan was to allow my son and daughter to go first.  I was sure that after the video and then watching them I would be like a pro.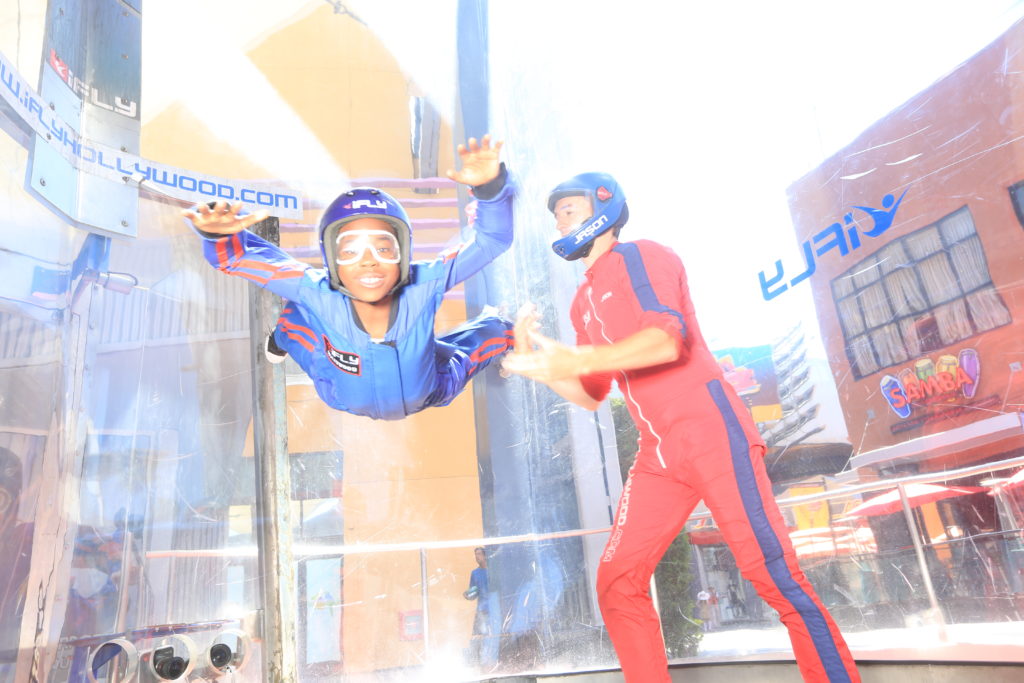 As my son and daughter completed their first flight I just knew I had it.  My son made it look so easy but, I soon realized his 90 pound,11 year old body could do things mine could not.  As I approached the door to the wind tunnel with a smiling Jason waiting for me, I had to do good.  I kept thinking, open your legs, no bend them, make them straight, spread your arms and hands.  Thank goodness Jason was there to instruct me along with the other iFLY employee that was taking pictures.  I really felt like I did good on the first try.  I just knew I was going to be amazing the second time around because this was when we were going to go up higher.  I could not wait.
Once again my son made it look easy.  As the moment came for my second flight I walked towards the door with a smiling Jason waiting for me.   I kept walking through the door.  That was supposed to happen.  I think I was supposed to bend my knees.  All instruction had gone out of the window.  My body began to do everything the video and Jason said would happen.  It is hilarious!  Jason quickly grabbed me by suit and turned me towards the door and I had to start over.  There was no time to take a moment to laugh.  Well, my son and daughter along with another little kid that was there with his dad were laughing and looking at me like what happened.  I think the father of the little boy knew not to laugh because, on his first attempt his helmet flew off as he entered.  He had forgot to fasten it.  Let's just say the older people were over thinking things and making it harder than it was.  I went in for a second time and in my mind I did AWESOME!
At the end of session our amazing instructor put on a little show and showed us how a professional does it.  I was impressed.  After what I had experienced I knew he had to have put in some time and dedication to do such a spectacular job.
After that we made our way back to the locker room to change out of our gear and receive our report cards.  Surprisingly, I did not do too bad.  We all did good.
My son and daughter are already talking about going back.   I wouldn't mind it as well.  We had a great time.
Disclosure: Product/compensation was received in exchange for review.