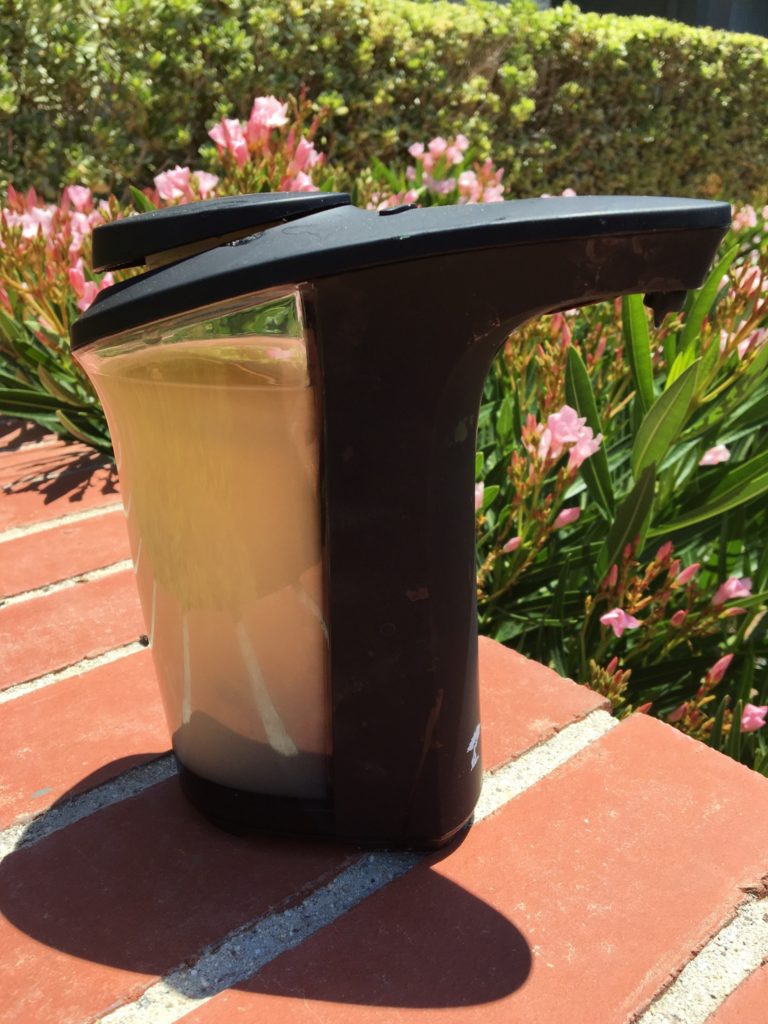 My family has been in desperate need of an automatic soap dispenser.   We got more than an automatic soap dispenser we have a ToiletTree Products  Automatic Adjustable Soap Dispenser.
We are constantly washing our hands, so you can understand why we need this.  We typically wash our hands in the restroom.  Our new dispenser is in the kitchen because when I am cooking I wash my hands a lot or there are times I am telling my son to wash his hands before a meal.  I would prefer he washes them in the restroom, but hey.
This Soap Dispenser features:
A drip-free design that prevents messy counter tops.  Simply wave your hand under the dispenser and the perfect amount of soap will be dispensed.
 Motion sensor technology provides a sanitary, touch-free operation at each use.
With 5 settings to choose from, their unique design allows you to easily adjust the amount of soap being dispensed.
The unit holds up to 500ml of soap or lotion and runs on 4 AA batteries.
The dispenser has done all of the above things.   We did learn one thing.  We like to keep the dispenser on the lowest level in order to have small amounts of soap come out.  It will give you a small amount the first time a hand is placed under dispenser but, if you put your hand under it immediately after the first time a larger amount will come out.  It is like it has to reset.  I love that it can be used for soap or lotion.   Please note:  DO NOT use exfoliating soaps.  I have not tried it, but the instructions say not to do this.
Having this dispenser saves money.  I am able to control the amount of soap that is being dispensed.  It is easy and convenient.  My son gets a kick out of putting his hand under the dispenser and soap coming out automatically.   I also like that it has a modern look along with a modern twist on washing your hands.   Lastly, it  looks good in my kitchen.
You can purchase the automatic adjustable soap dispenser at Amazon.com and www.toilettreeproducts.com
Disclosure:Product/compensation was received in exchange for post.