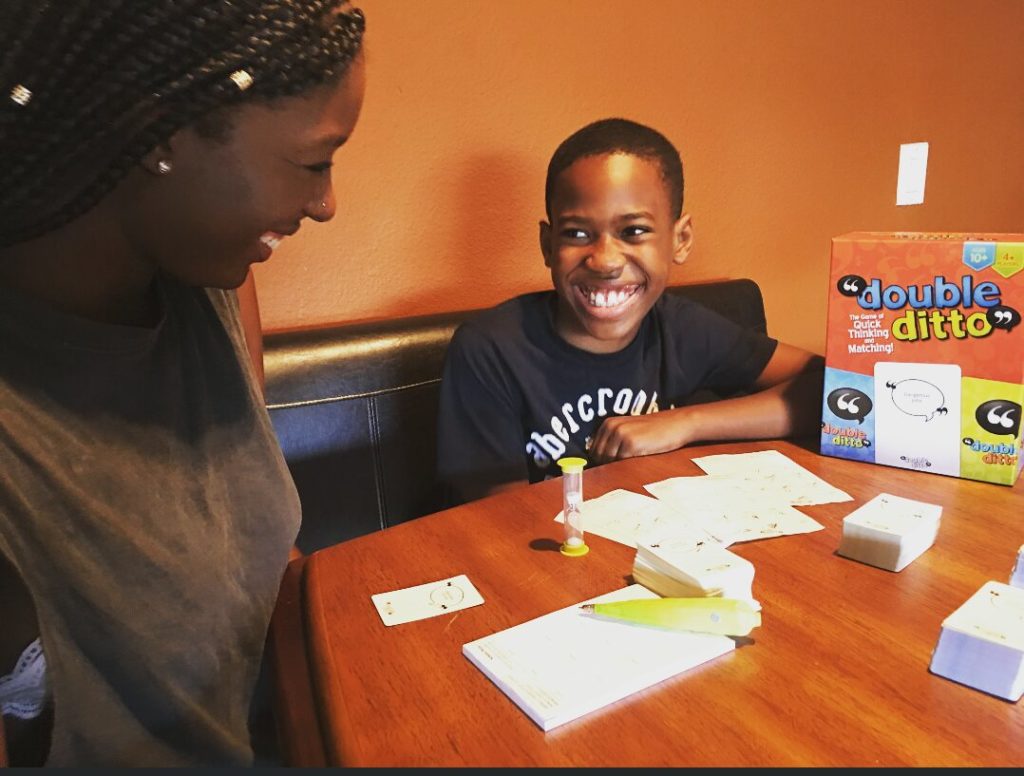 Family game night is any time we feel like playing Double Ditto.  We love it so much we are taking it on our next vacation.
You have to check out Double Ditto party game! It's a  lightly competitive party game that challenges participants to quickly come up with answers to simple (yet fun) subjects like "Things rich people like to do", "Things kids are scared of", and "Commands you teach your dog".   I have tried playing it with my 21 year old daughter and my 10 year old son.

My daughter was concerned my son would find the game a bit challenging, but it is not.  If anything he is learning from it.  If there is a topic he does not understand we keep going and he tries to answer.  I am sure he will understand it the next time it comes around.   I have also learned a thing or two about him.  One of the subjects was, "Another name for beautiful."  When it came time for him to reveal his answers they were, "pretty and hot"  I could not believe my ears.  Hot???  All we could do was laugh.
Double Ditto is very entertaining, fast paced and fun.
This is the kind of game that's a 
great icebreaker for your family gatherings, corporate events and parties! Set up is super easy, and it makes for a really fantastic night ( 
or day) in!
Double Ditto Quick Info Points:
Retails for $19.99

Available for purchase at Amazon.com

For ages 10 and up (possible 8 or 9 if they have strong reading and writing skills)

Works for family night, girls night, birthday parties, holiday gatherings, etc. (Fast-paced, continuous play.)
Launched in Fall 2015
The game comes with 400 category cards, a 15-second timer, score sheets and an instruction card. The Ditto Master reads one of the Double Ditto game cards to the group, and the players have a set amount to time to write down two corresponding responses. Once the allotted time has passed, each player takes a turn reading their answers out loud. The objective is to match the answers given by other players. With each match, the player scores a "ditto!" If the player matches both answers, they score a "double ditto!" The player with the most points at the end of the game wins.
I am telling you Double Ditto is so much fun we always look forward to playing it.   It is one of the best family games.

Disclosure: Sponsored post.