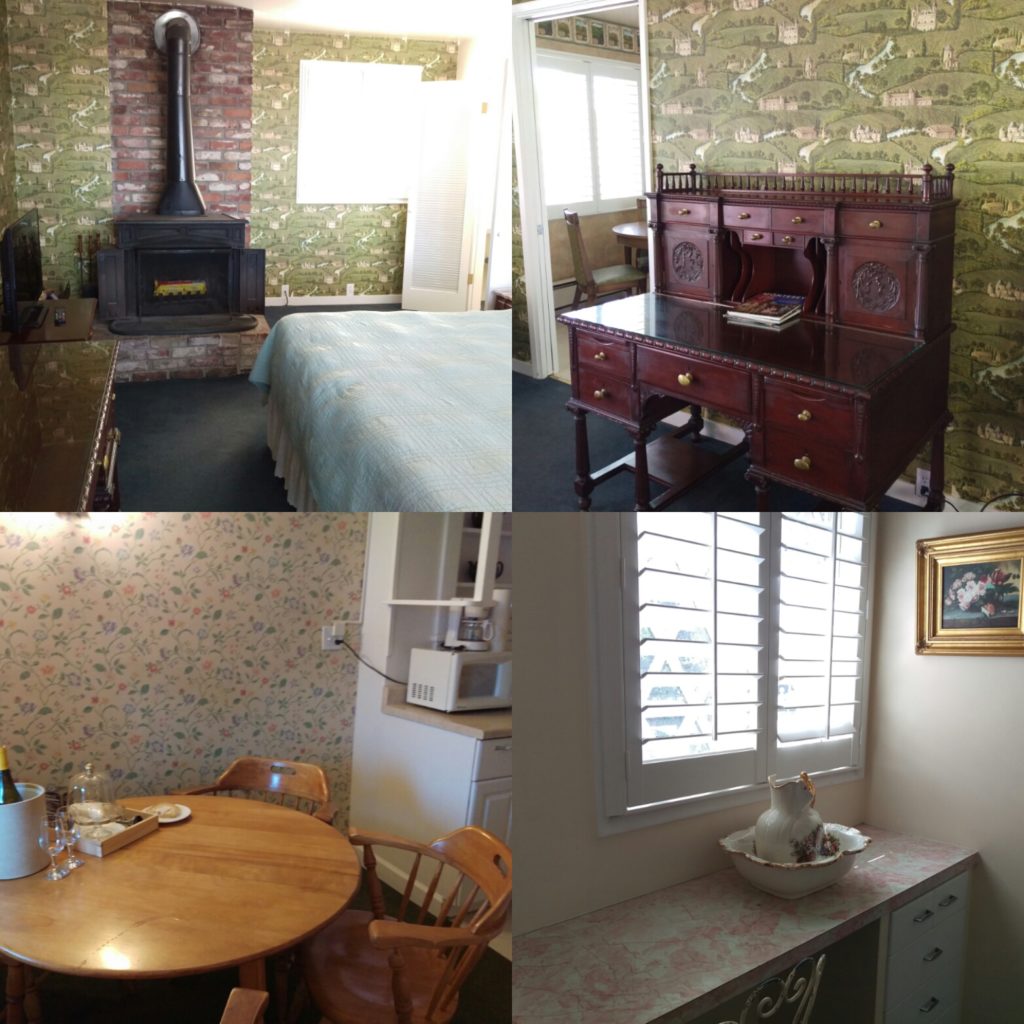 Visiting Hofsas House immediately reminded me of my early childhood living in Europe.
Hofsas House exudes European elegance and good old family hospitality.   Donna Hofsas founded the hotel, a family-run boutique inn in Carmel-by-the-Sea in 1957.
The beauty of the hotel is that it has many of Donna's personal touches and her family continues to add to it by keeping her in mind.  The rooms are decorated by her daughter-in-law Dorris.  They give you the feeling of visiting an old relative and making yourself right at home.
When we arrived, the owner Carrie (Donna's granddaughter) happened to be behind the desk. After a warm friendly greeting by her and the staff,  she asked what we had planned for our first day.  When I told her she immediately grabbed a map and offered suggestions.  I LOVED it!  Her suggestions saved us a lot of time and catered to myself, my 10 year old son and 21 year old daughter.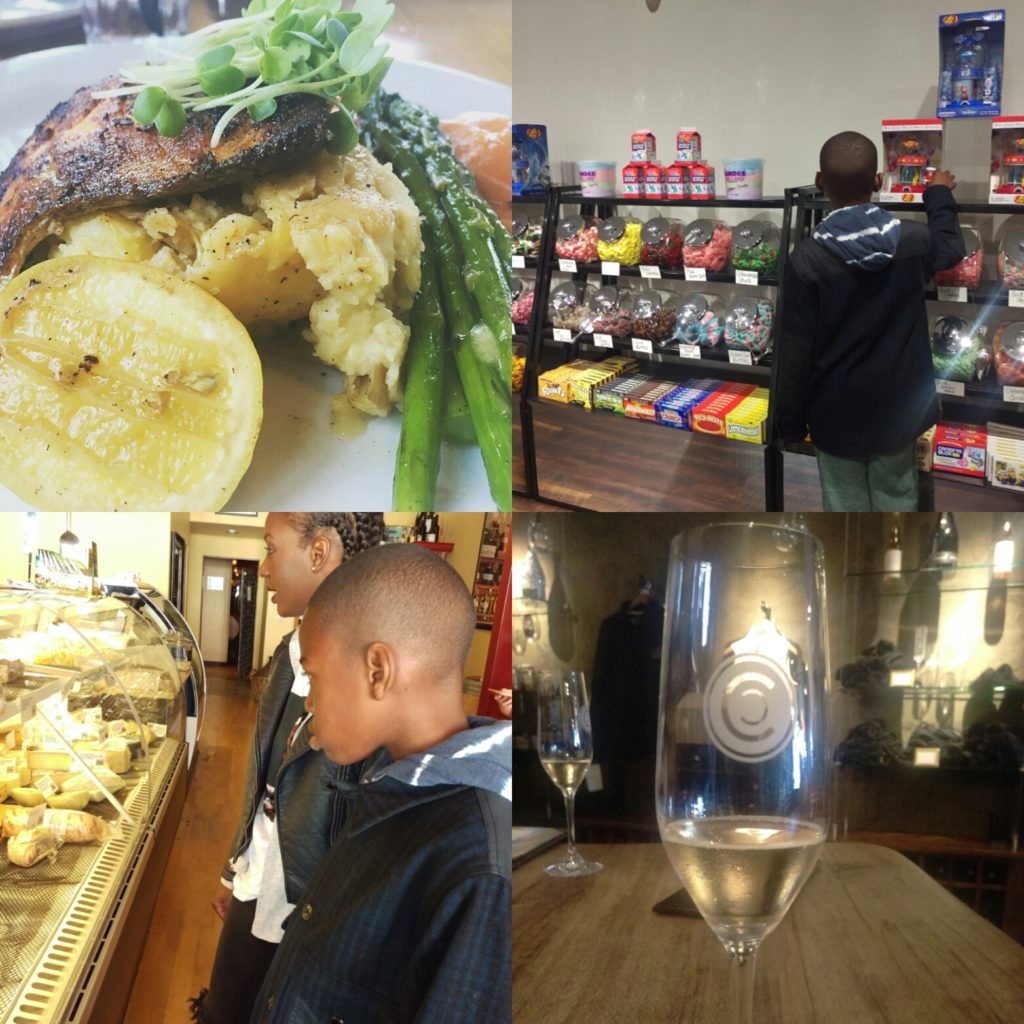 Taking Carrie's advise, map in hand we found ourselves going on a wine walk.  Everything is within walking distance from the hotel.   As we strolled down the street my son said, "I love Carmel!"  He had not done anything yet, but he felt good.  The wine walk gave us the opportunity to see  a lot of the little shops.  I was a little hesitant about taking him until Carrie assured me, that it was okay.  She was right, there were other children seated at tables with their parents as well.   Within a six hour time period we, sampled cheese/real salami, tasted wine, sampled candy, started watching the basketball game while wine tasting and then finished watching it while eating dinner at another restaurant.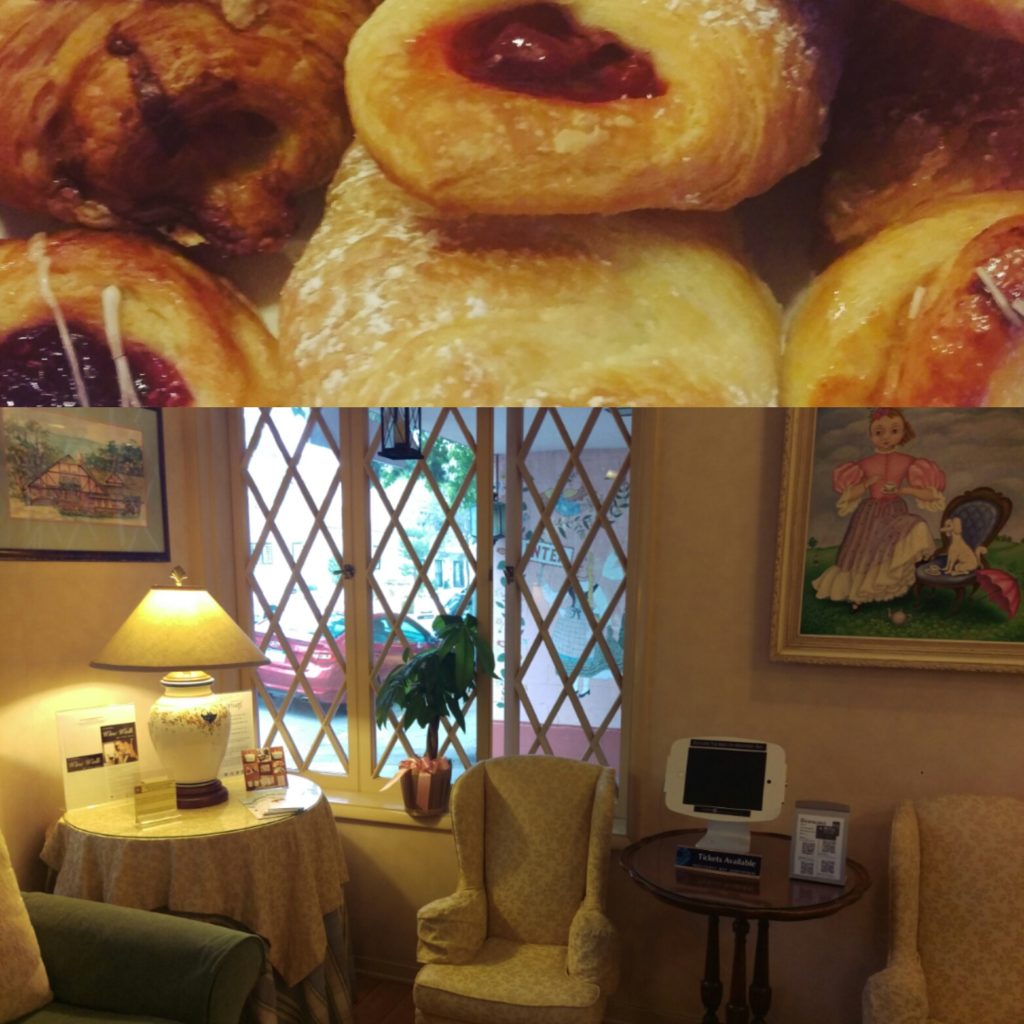 The next morning we had breakfast in the Hofsas House Hotel lobby.   Freshly baked French pastries were placed on a table as Carrie and her staff pleasantly asked, "For here or to go?"  As the guest approached the counter for coffee, hot water (for tea) or just to pick up the already poured orange juice.  Just like home or while visiting family they let you know there was more than enough.  They seemed to love to feed their guest.  They even have a basket filled with candy that is placed on the counter after breakfast.  It is the good kind!  I had to stop myself and my son from eating them all.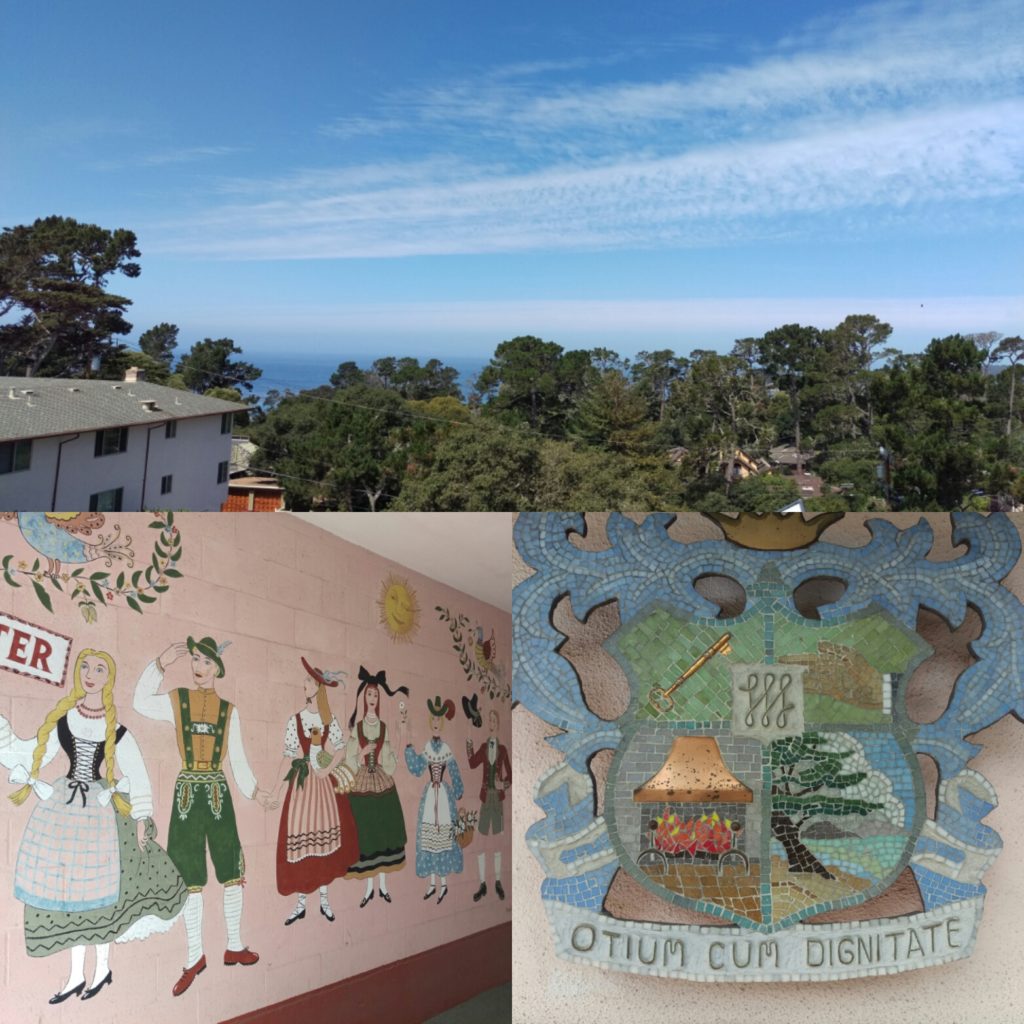 My family decided to eat breakfast in the lobby both mornings we were there.  Hofsas House has many beautiful antiques and a lot history.   I absolutely loved the child antique arm chairs in the lobby.  I noticed them when we arrived just as I noticed the welcoming mural that was painted by Maxine Albro (Donna's friend and commercial artist) in 1957 when Hofsas House was complete.  There was another painting that stood out.  A mosaic coats of arms, whose Latin words mean, "Leisure and dignity."  This was painted by Donna's husband Fred, who was also an artist and photographer.   Hofsas House has a lot of character and history, but it also has some nice views of the ocean and clear sky.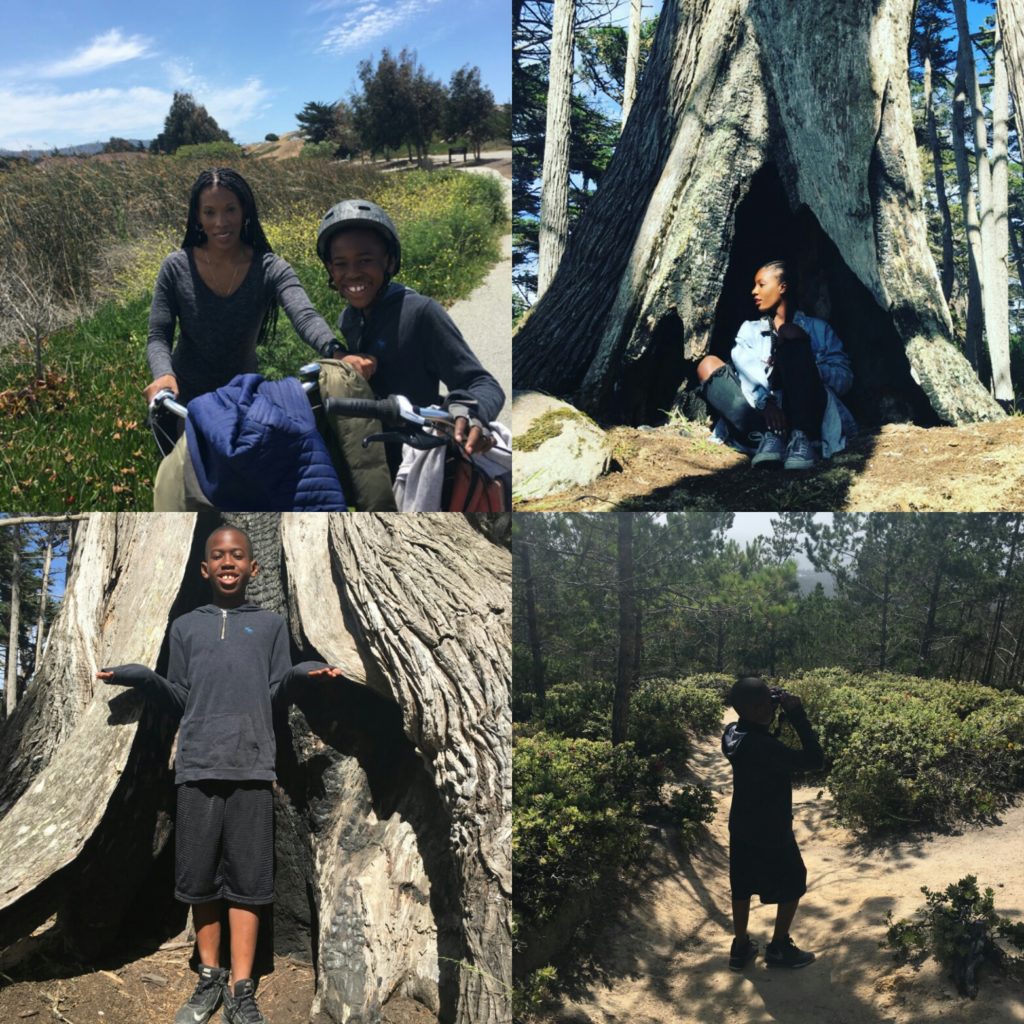 After breakfast Carrie asked us what we had planned.  When she learned that we planned to get a small hike in and bike riding, she loaned us binoculars and again offered suggestions. She really knows all of the things to do in Carmel.    Just like our first day, our second day was fun-filled and busy.  We picked up picnic lunch at 5thAvenue Deli, rode bikes, had lunch at Carmel beach, drove the 17 mile drive, had dinner at the Beach House in Pacific Grove and then wrapped up our evening with more wine tasting.
Our visit to Hofsas House and Carmel-by-the-Sea was awesome!  This was a great way to kick off Summer break.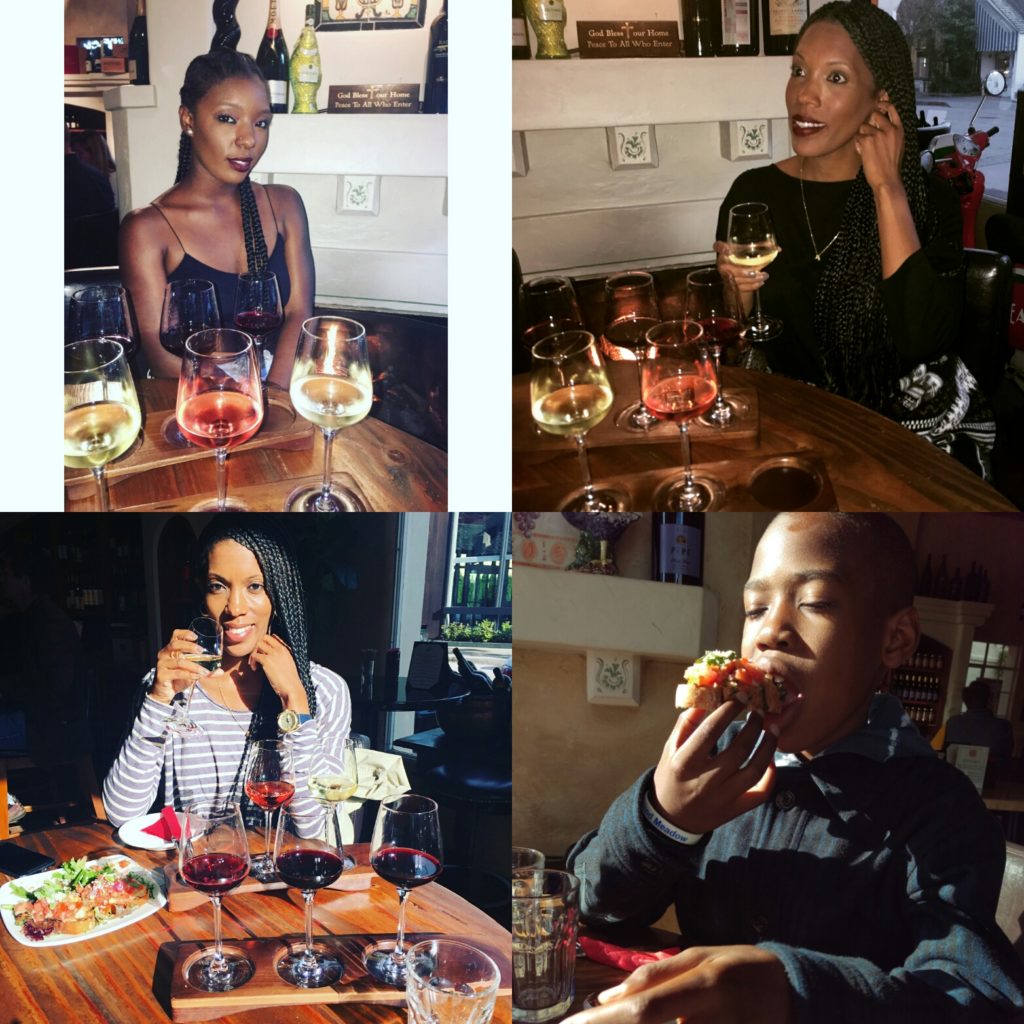 Disclosure: This is a sponsored post.