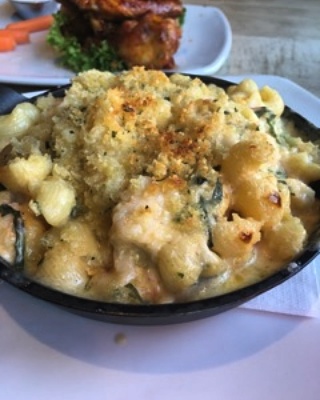 The month of May marked Stacked: Food Well Built 5 year anniversary and we could not have been more than happy to dine at the original Stacked in Torrance, California in honor of this celebration.
Now with four additional restaurants in Thousand Oaks, Cerritos, Huntington Beach, and San Diego, STACKED estimates that guests have customized more than 3 million meals including: 764,323 burgers, 658,673 salads, 305,815 pizzas and 352,825 Mac 'n' Cheese dishes.
We were so excited, we tried to prepare our bellies for an awesome dining experience.  Hey, this was a celebration.  Stacked is 5 years old.
We have dined at the Stacked, Thousand Oaks location so we trying to think of things we would order in advance.  My daughter instantly knew she wanted the Lobster Mac & Cheese.  This is her absolute favorite.  Although this is her favorite we agreed that we would each sample all that was ordered.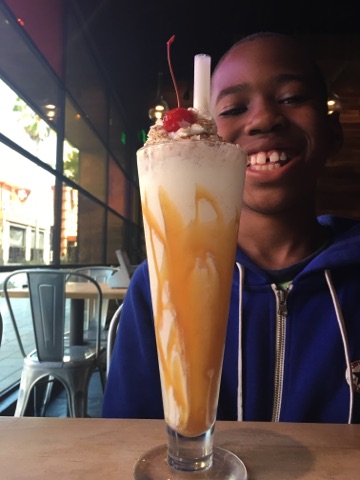 My son on the other hand was dying to create his own shake.   I do not know what he included in his shake.   When I tasted it, it was delicious and he had a huge grin on his face the entire time. He loves using the tablet that is used to place all orders, so this was right up his alley to push buttons. I can only imagine how many ingredients were added to his shake.  I have to watch him, because he is quick with his fingers.  He knows that within minutes of placing your order the food will be brought to your table.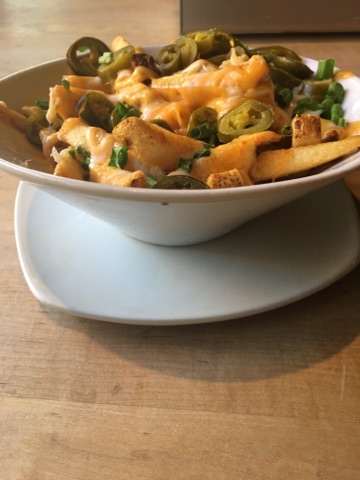 We had never tried the Cheese Fries.  Oh my goodness…these were amazing.  I think we should have ordered two.    We literally devoured these.  As we moved on through the menu, my daughter remembered she heard the Candied Bacon was delicious.  I do not eat beef or pork so I could not sample it.  From the look on her face and the way she tried to describe the delicious taste of thick cut, cherrywo0d-smoked bacon, basted with maple syrup and brown sugar that is slowly baked until caramelized, I tried to imagine everything.  I was just happy to see that she was enjoying it.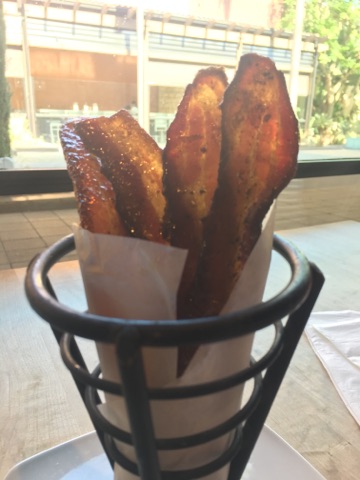 It has been a while since we had wings so we decided to order Wing It!  When I saw there was sweet chili in the ingredients I was sold.  After the first bite, I was secretly hoping no one wanted any of these wings.  As they ate their food, I had most of the wings to myself.  YES!!!! When they looked over I had eaten everything including the carrots.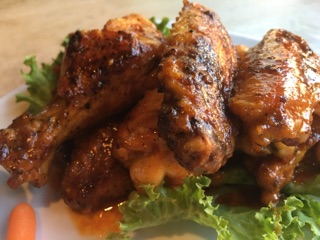 The plan to try new things worked, but we did not build our own meal.  However, I did build a burger that some might say is pretty basic, but I loved it.   Whole wheat bun, turkey burger, STACKED Sauce (amazing), BBQ sauce and an onion ring did the trick for me.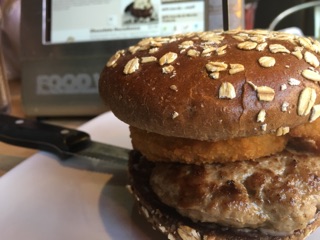 We arrived with empty stomachs and left full and happy.   STACKED knows how to please their guest.  If you build a meal or not, you are going to enjoy your dining experience.  Everything is delicious.
Congratulations Stacked: Food Well Built on 5 years and many more to come.
Disclosure: Sponsored post.