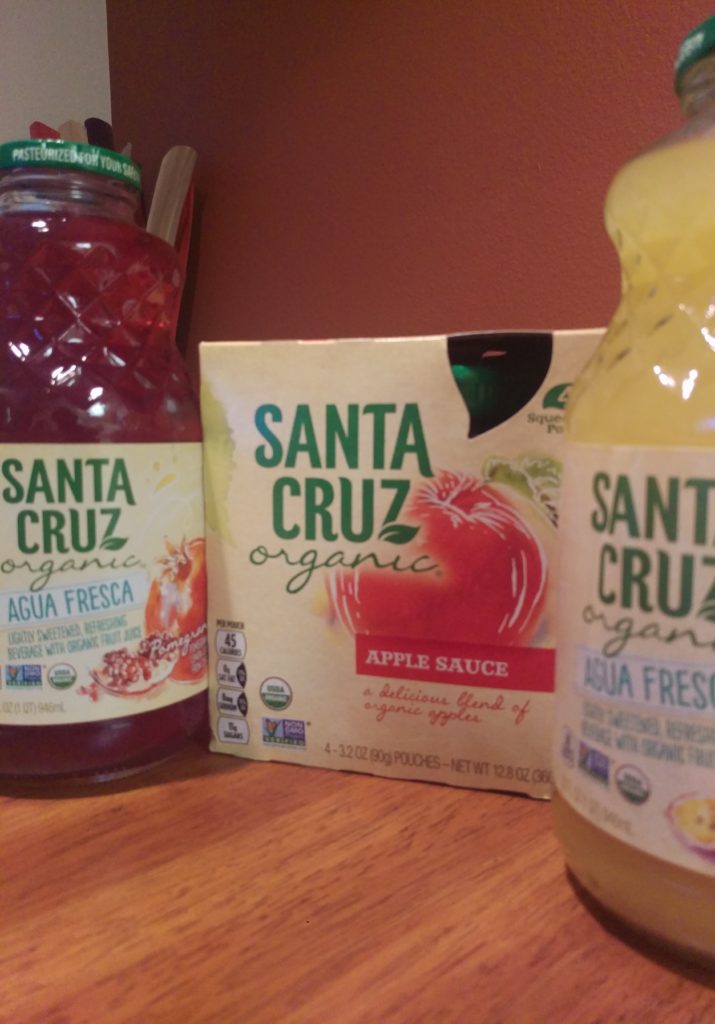 A few years ago while walking down an aisle at Sprouts, I discovered Santa Cruz Organics  lemonades now I have discovered their Agua Fresca drinks. Until recently I thought this was a new drink.  Little did I know it has been around since 1972.
I was initially attracted to the glass bottle, little did I know I would fall for the taste.  Over the years my family has found we each have our favorite flavors.  My daughter and I love the Strawberry Lemonade and Raspberry Lemonade.  My son likes the Mango Lemonade and the Peach Lemonade, although he drinks them all I have to tell him he has to leave some for us.
We still love the lemonade, but a few weeks ago we started drinking the Aqua Fresca drinks.  They come in three delicious flavors, grapefruit, mango passionfruit and pomegranate. Once again we each have our favorites.  My daughter and I really like pomegranate and of course my son wants to drink all of the flavors.  We have not tried the grapefruit flavor.  I need to tell my daughter about it because she loves to drink grapefruit juice.
I have also added the Agua Fresh drinks to my son's smoothies and he likes it that way as well.
The Aqua Fresca drinks are made by blending organic fruit juice and fruit juice concentrate, sugar, a splash of lemon juice, and other ingredients, these delightfully distinctive drinks are reminiscent of the Agua Frescas that have long been popular throughout Central America and the Caribbean.
This is one drink I enjoy giving my family.   With Summer approaching this will be the perfect drink to quench our thirst.
Disclosure: Sponsored post.