"This post was sponsored by ALDI as part of Influencer Activation for Influence Central."
You will not believe what I bought with only $50 at ALDI.
A couple of days ago my family and I did some shopping at one of the new ALDI locations.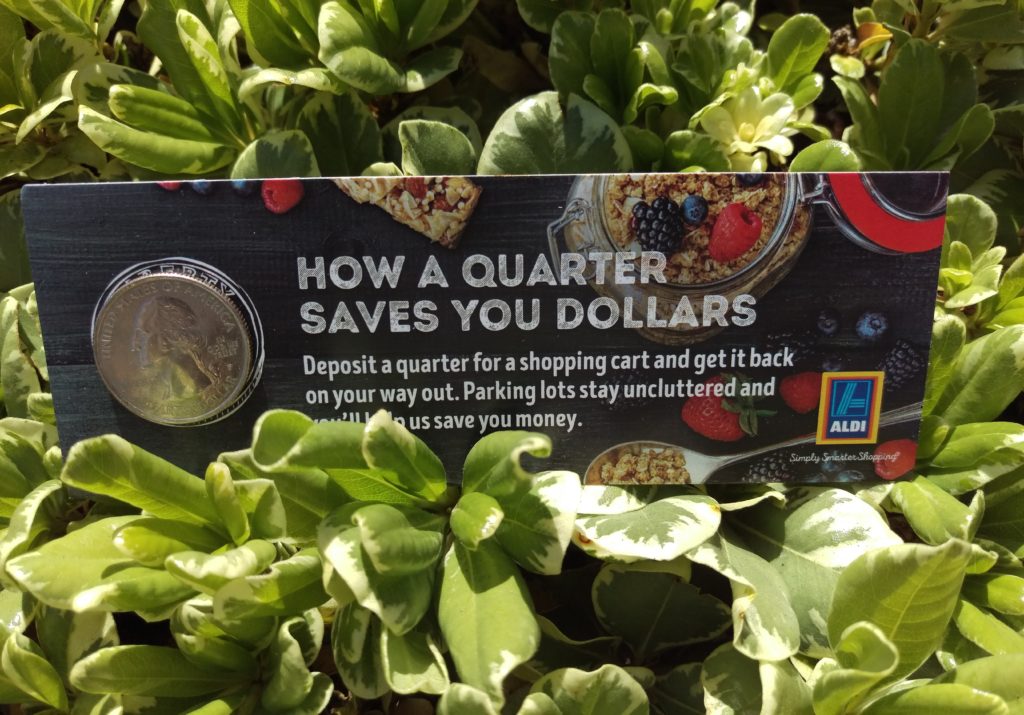 Our shopping experience immediately began when I explained to my son the ALDI shopping cart system and later informing him that he could keep the quarter.  If you deposit a quarter for a shopping cart, when you are done shopping and return it, you get your quarter back.  This is the way ALDI of keeps the parking lot uncluttered.
As we entered the pleasantly clean store we began to stroll the aisles looking at the variety of foods.  We were immediately impressed with the prices.  My budget for this shopping experience was $50 and I knew it would go a long way.  My focus was getting lunch items and a few cooking necessities.
Within minutes of entering the store, we were approached by an ALDI store worker asking if she could assist us with anything.  I had  learned that 90% of groceries ALDI  sells is under its own exclusive brands.  I was interested in finding the SimplyNature® (An ALDI exclusive brand).  She showed us were to find them.  My son loves any type of bar. When we saw the variety SimplyNature® had, we decided to try something new.  He has never had the SimplyNature® Vanilla Chip Chewy Granola Bars.  He has taken some to school and really likes them.
My family strives to lead a healthy lifestyle and loves shopping at any fresh food store, like ALDI.  Today, I sent my son to school with liveGfree® Gluten Free Pretzel Sticks along with Foster Farm Chicken Franks and fresh fruit.
It has been a couple of days since our shopping experience and the items we have purchased seem to have gone a long way.  It is not often I can shop at a store and purchase so many items with just $50.  I am sure I saved 50% on my grocery bill.
My ALDI purchases:
Simply Nature® Vanilla Chip Chewy Granola Bars liveGfree® Gluten Free Pretzel Sticks Honey Crisp Apples
Stonemill Essentials SeasonedSalt
Foster Farm Chicken Franks (24 Jumbo Franks)
2 bottles of Minute Maid Lemonade
Stonemill Essentials Ground Cinammon
2 liter Carlini Grapeseed Oil Blend
Arizona Arnold Palmer Tea (12 pack)
Cucumber
Celery
Eggplant
SimplyNature® Organic Coconut Oil
Stonemill Essentials Garlic Salt (I have never seen this before)
SimplyNature®  Organic Oats & Honey Granola
Specially Selected Bite Size Dry Salami Original Kerns
I love what ALDI is doing, especially in today's economy.  ALDI is providing a way to purchase inexpensive quality food at a reasonable price.  You do not have to break the bank to shop at ALDI.  They have some of the best ways to save on groceries.
ALDI is making it's mark in Southern California and  25 stores are now open.  So head over to you local ALDI store.