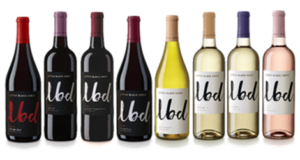 Little Black Dress Wines (LBD) is excited to debut its new modern, sophisticated packaging. Still synonymous with understate elegance, LBD can easily go from casual to black tie. The brand is more than looks – it's about confidence. It's about knowing you've chosen something fantastic, and not having to shout it from the rooftop. And you'll have options for mom ranging from Chardonnay, Cabernet Sauvignon, Diva Pink Pinot, Diva Red, Merlot, Moscato, Pinot Grigio and Pinot Noir.
With lifestyle wine brands steadily increasing their share of category dollars over the last two years, connoting premium and "dressing your best" is ever more paramount. During a Consumer Label Test conducted by Wine Opinions, 74% of respondents and 40% Millennials respondents, stated that they tried new wines based on the appeal of the label.
Millennial audiences and current Gen X / Baby Boomer consumers will find LBD's new packaging:
Initials – Maintains the "handwriting"-style script in the logo for consistency. The new label abbreviates the brand name to its initials appealing to a more Millennial-focused audience.
Dress Icon – Fashion-forward. Unique dress icons bring the brand name to life and strengthen recall. Embossing on the label connotes a premium feel.
White / Black Labels – Maintains a fresh, crisp look for white wines & rosé. Move to a bold, sophisticated look for reds.
Less Gendered – Less kitschy, while maintaining an elegant femininity. Appeals to a larger range of women.
Diva Red – Divalicious Red has been simplified to Diva. To differentiate the LBD red blend from the other LBD reds in Bordeaux bottles, as well as a myriad of other "red blends" predominately in Bordeaux bottles, this variety will be offered in Burgundy bottles. The bottle also conveys a subtle femininity to a "masculine" category. Consumers will also find a new Red Logo, adding a dramatic flair hat was missing from the previous rendition of "Diva" to bring the moniker to life. The fire-engine red used in the logo & capsule personify the bold character of wine.
The new label is definitely appealing to young adults and hey….I have to admit this middle aged women likes it as well.    I like the new look and I like the wine.
I cannot wait to whip out my bottles of LBD dress while entertaining company.
Disclosure: Product/compensation was received in exchange for post.