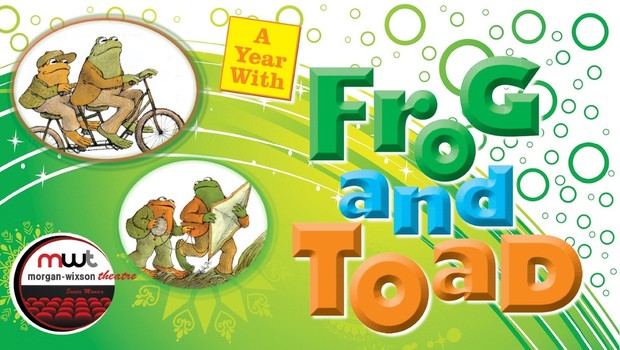 I like to think I am on it when it comes to children's books and plays.   Well, I had a reality check last week when I told my son about A Year with Frog and Toad would be showing at Santa Monica's Morgan Wixson Theater.  I had not heard of it so I thought he had not either.    I was wrong, he has read the book and is looking forward to seeing the play.
A YEAR WITH FROG AND TOAD
A hit on Broadway, A YEAR WITH FROG AND TOAD was nominated for 3 TONY Awards – including Best Musical. Based on Arnold Lobel's well-loved books and featuring a hummable score by Robert and Willie Reale, this whimsical show follows two great friends – the cheerful, popular Frog and the rather grumpy Toad – through four, fun-filled seasons.
Waking from hibernation in the Spring, Frog and Toad plant gardens, swim, rake leaves, go sledding, and learn life lessons along the way. The two best friends celebrate and rejoice in their differences that make them unique and special. Part vaudeville, part make believe, all charm, A YEAR WITH FROG AND TOAD tells the story of a friendship that endures, weathering all seasons.
May 14 – May 29, 2016
Tickets available online at www.morgan-wixson.org or 310-828-7519
Ticket Price: $12, Children 12 and Under $10
Santa Monica's Morgan-Wixson Theatre
2627 Pico Boulevard
Santa Monica, CA 90405
Present the below coupon at the concession stand for a FREE snack. Limit one coupon per party. No cash value.
http://usfamilycoupons.com/coupon.php?regionid=75&bid=12042&dealid=1977 .@usfg
Directed by Anne Gesling
Choreographed by Lauren Blair
Produced by Teri Senior & Michelle Dilworth
Book and Lyrics by Willie Reale
Music by Robert Reale
Based on the books by Arnold Lobel
My son has shared the details of the book with me and I am looking forward to seeing the play
Disclosure: Product/compensation was received in exchange for post.