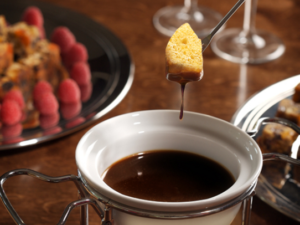 Mother's Day is less than a week away.  Do you have anything planned for your mom?
Chocolate is always the key to any woman's heart, so try taking it up a notch for the special occasion by preparing Bauli's Pandoro Skewer with Chocolate Fondue. Not only is it a fun Mother's Day activity, but it's the perfect sweet treat to show Mom how much you love her!
To make this already-simple recipe even easier, Celebrity Chef Luca Manfè, winner of Masterchef Season 4 takes you step-by-step in this How-To video!
Ingredients
Bauli's IL PANDORO DI VERONA All Natural
1 cup fresh cream
1 cup dark chocolate
1 1/4 cup white chocolate
Directions
Step 1
In a saucepan, add the 1 cup fresh cream and bring it to a boil.
Step 2
In the meantime cut up the 2 cups of dark chocolate and put it in a bowl. Do the same with the 1 1/4 cups of white chocolate and place it in another bowl.
Step 3
Once the cream is boiling, pour it on the top of chocolates (half goes on the dark chocolate and half goes on the white one).
Step 4
Let it seat for 30 seconds and then you can mix all together.
Step 5
Cut two slices of Panettone about 1cm thick, horizontally, eliminating the darker edges. Cut the slices into diced pieces about 1.5cmx1.5cm.
Step 6
Place these slices in the oven for 5-7 minutes until they get golden and crusty.
Step 7
Extract the cake from the oven, let it cool slightly and then stick the diced pieces on the skewers.
Step 8
Serve accompanied by the two hot fondues.
This seems to be an easy recipe that will surely impress your mom.  I know I would be impressed if my children made this for me.
Happy Mother's Day to all mothers.
Disclosure:Product/compensation was received in exchange for post.